Cameron Says No Regrets as He Pockets Six Figure Fee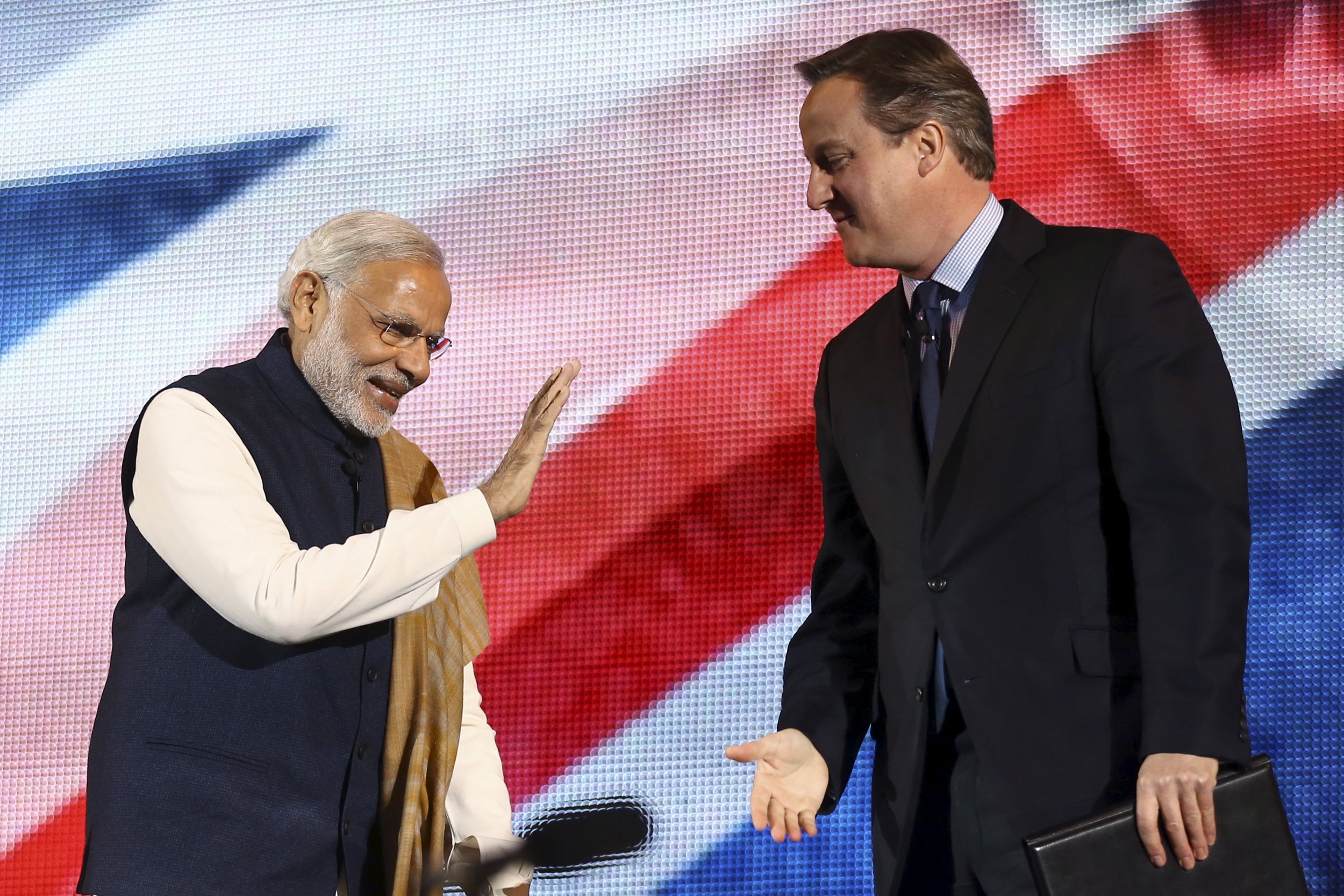 This piece originally appeared on the Riding the Elephant site.
He looked and sounded like the prime minister that he was. There was no loss of agility, humor or conviction when David Cameron ran with his old style, bounce and speed up three steps onto the platform of a conference in New Delhi on Saturday morning.
Whatever one's politics, and whatever one thought of his elite toff's origins and his record when he looked an overconfident prime minister, one could not but admire the style and content of his speech—and regret that such a political talent had been wasted by the unnecessary and disastrous Brexit referendum that he called.
An Indian friend commented later that it was a pity that Indian politicians weren't able to show similar often self-deprecating humor, while an American visitor thought that Donald Trump might not have won the U.S. presidential election if he had faced an enthusiastic Cameron as a rival.
Related: Stubborn May Taught Hard Trade Lessons in India
Perhaps this praise came because the performance was such a contrast with Cameron's successor, Theresa May, who showed no humor or enthusiasm when she made a rather drab visit to New Delhi a month ago, though she relaxed a little when she went on to Bangalore.
The former prime minister was speaking at a Hindustan Timestwo-day conference in Delhi for a fee rumored to be around £200,000 ($254,000), well above levels that he is reported to be charging, including £120,000 ($152,000) for a one-hour speech to Blackstone Properties in New York a few weeks ago. On Saturday, his speech lasted just 15 minutes and was followed by 30 minutes answering questions.
It was, he said, his first public speech outside Europe since resigning as prime minister after the Brexit vote in June. He met Narendra Modi, India's prime minister, on Sunday and told the conference he was "bowled away" by the progress he has seen the government making with "bold decisions to try to fast-forward" economic reforms and growth.
That was an oblique reference to Modi's current controversial "demonetization" exercise, which has removed 86 percent of the country's currency from circulation and caused widespread economic and social disruption.
Cameron, who came to India three times as prime minister and hosted Modi in London a year ago, replied cautiously when asked about this. He said it could help the government's main targets of tackling corruption and widening use of the banking network and the digital economy, as well as increasing the tax base. The objectives of demonetization were "worthy," he added, which was scarcely a wholehearted endorsement.
He started his speech as if he was still prime minister, extolling India and Britain's "very modern partnership" cooperating in a range of areas from investment and trade to terrorism and projects such as smart cities and skills training.
Populist Upsurge
On his speech's theme of "the Western world in crisis," Cameron talked about the rise of populist and extremist political forces in Europe and acknowledged he had lost his job because of a "populist upsurge." While globalization had benefited people around the world, the belief that "the rising tide will raise all the boats" had not come true, and there were many people who thought they had been left behind, while the mass movement of migrants was leading to too many cultural changes, he said.
He still thought the Brexit referendum was the right thing for "a democrat" like him to do and that it was not a dead end for Britain. The country's attempt to be inside the European Union but outside many of its institutions, like the euro currency, would now be replaced he hoped by "being out but in some of its elements."
He did not comment (and wasn't asked) about how that hope jelled with Theresa May's hard-Brexit approach. A victory for Marine Le Pen, the far-right candidate in the French presidential elections, would, he said, be a "body blow" for the European project.
With Trump, 'Look for the Positives'
Optimistic as ever, he said on America's presidential election that "as a free trade man, as a NATO man, I am concerned about some of the things Donald Trump has said. Modern leaders have to make most of the circumstances. Let's start to look for the positives."
Finally, at a time when England has lost two matches in its current Test series with India, he avoided controversy and praised the English team and said its skipper, Alastair Cook, was one of the best batsman in the world.
With that, the former prime minister left the stage, declaring that his future interests and activities would include writing a book on his time in politics, development issues, a youth-oriented national citizen's service of which he is president and promoting research on dementia and Alzheimer's.
His son, he said, had asked when he left for the flight to India, "Why are you wearing a suit? It's not as though you've got a job."
John Elliott writes from New Delhi. His latest book is Implosion: India's Tryst With Reality (HarperCollins, India).
Read more from Newsweek.com: