Campaigner-in-Chief: Trump Rallies Supporters in Florida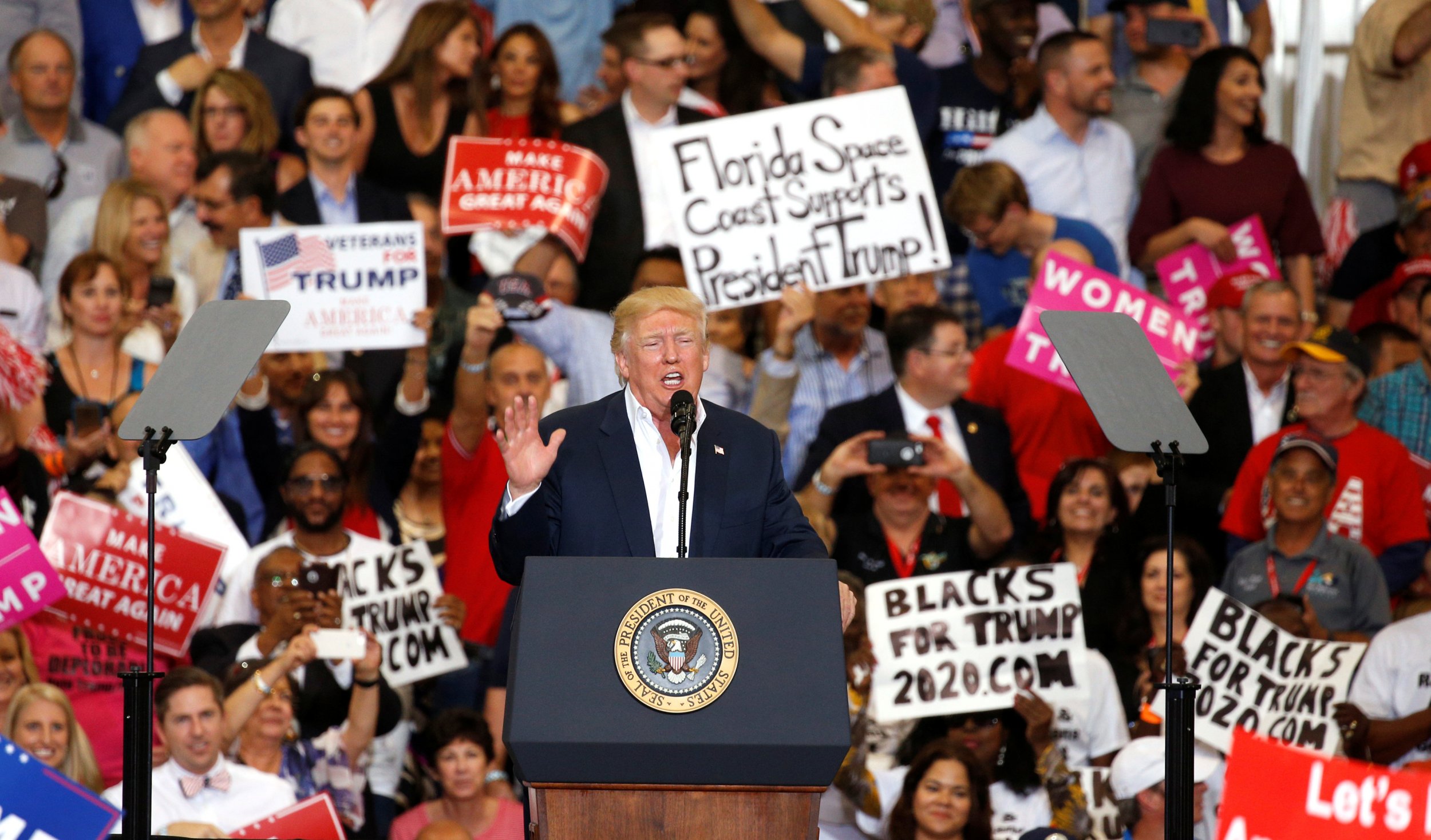 President Donald Trump escaped the political confines of Washington, D.C. for the more friendly environs of Melbourne, Fla. on Saturday, where he held a rally before a boisterous crowd at an airport plane hangar and promised "change for the ages."
Announcing no new initiatives or goals, the president delivered a greatest hits set; repeating the criticisms of the judiciary, Democrats, Congress and the press that mark his daily Twitter feed. At turns boastful and mocking, Trump was in full campaign mode, whipping the crowd into a frenzy over being part of a "movement that is sweeping the country" as he reiterated his policy goals on national security, trade, international relations, infrastructure, taxes and more. One of his recent fixations did not make an appearance, though, as calls for investigations into the Trump team's ties to Russia meant no mention of FBI probes into Russian hacking of the fall election or the fall of National Security Adviser Michael Flynn over his handling of pre-inauguration calls with a Russian official.
Travel Ban
Trump denounced the "very sad" decision by the Ninth Circuit Court of Appeals to not lift a stay on his refugee ban and temporary travel halt from seven Muslim-majority countries, while promising a revised executive order in the "next couple of days."
RELATED: Leaked tapes reveal Trump among 'special people' at golf club
He again argued that the decision was wrongly decided and read from the text of the Immigration and Nationality Act of 1952, which he and his supporters cite as justification for the supposed legality of the executive order in question. "The statute is so plain and so clear," Trump said. "Every word of the statute is a total kill for the other side."
While the 1952 law does give the president wide latitude to "impose on the entry of aliens any restrictions he may deem to be appropriate," Trump did not mention its many amendments or the Immigration and Nationality Services Act of 1965, which restricted the president's ability to curtail immigration on the basis of "race, sex, nationality, place of birth or place of residence."
Casting the order as one of national security, Trump said, "The president has the right to keep people out of if he feels it's in the best interest of our country."
EPA
Trump praised the confirmation of EPA critic Scott Pruitt as head of the agency, likely fanning fears of environmentalists by pledging to "unfree all of those companies" that have allegedly been stymied by environmental regulations.
"They were clogging up the veins of our country with the environmental impact statements," he said. And with Pruitt and Trump in charge, "they can build what they want to build."
International Relations, Trade
The president wants to "build safe zones in Syria and other places," and in echoes of his "Mexico will pay for the wall" vow, Trump said the Syrians and others will pay for the zones as "The Gulf States have nothing but money."
On a day when Vice President Mike Pence tried to reassure European allies that the U.S. will honor its commitments to the international organization, he then went on to again complain about NATO "not paying their bills."
Trump also promised to pursue "peace through strength," while painting a picture of a military that employs outmoded equipment. He's ordered advisers to come up with plans for a "great rebuilding" of our military while vowing to do "a great job for our veterans."
The president boasted about pulling out of the Trans-Pacific Partnership—a "job-killing disaster"—and said multinational trade deals "where we get caught in quicksand" are a thing of the past. Under Trump's administration, the U.S. will only pursue bilateral trade deals, as he "believes in two simple rules—buy American and hire American." He also repeated his pledge to place large tariffs on any American firms who move overseas and try to sell their products in the United States.
Media
What would a Trump rally be without attacks on the media? The president did not disappoint, telling the crowd that he wanted to speak to them "without the filter of fake news."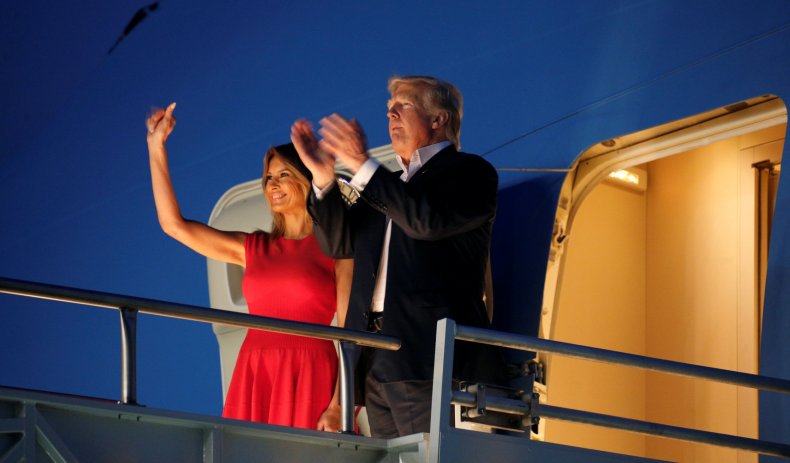 Emphasizing his view that the press is an "opposition party," he accused media of making up sources "in many cases" because they "don't want to report the truth."
"They've become a big part of the problem," Trump said. "They have their own agenda. And their agenda is not your agenda."
"We will continue to expose them for what they are," he said. "We 're not going to let the fake news tell us what to do."
Trump also repeatedly pointed to the size of the large crowd and insisted that the media would refuse to acknowledge the turnout, perhaps still smarting from the larger turnout for the Women's March on Washington as compared to his inauguration crowd.
Security
Trump vowed to "make our inner cities safe again" while delivering a very law-and-order message Saturday. He's directed the Department of Justice to "take a very firm, firm stance " to protect police from violence and will "stop the drugs from coming in" by going after international cartels.
"Safety is a civil right. We will fight to make America safe again," Trump said.
Taxes
Trump promised to "lower tax rates on the middle class" while reforming the tax code to make it "more fair."
He called on Democrats to join him in those efforts, but claimed that they only want to raise taxes "very substantially."