Texans Prepare for Concealed Guns on Campuses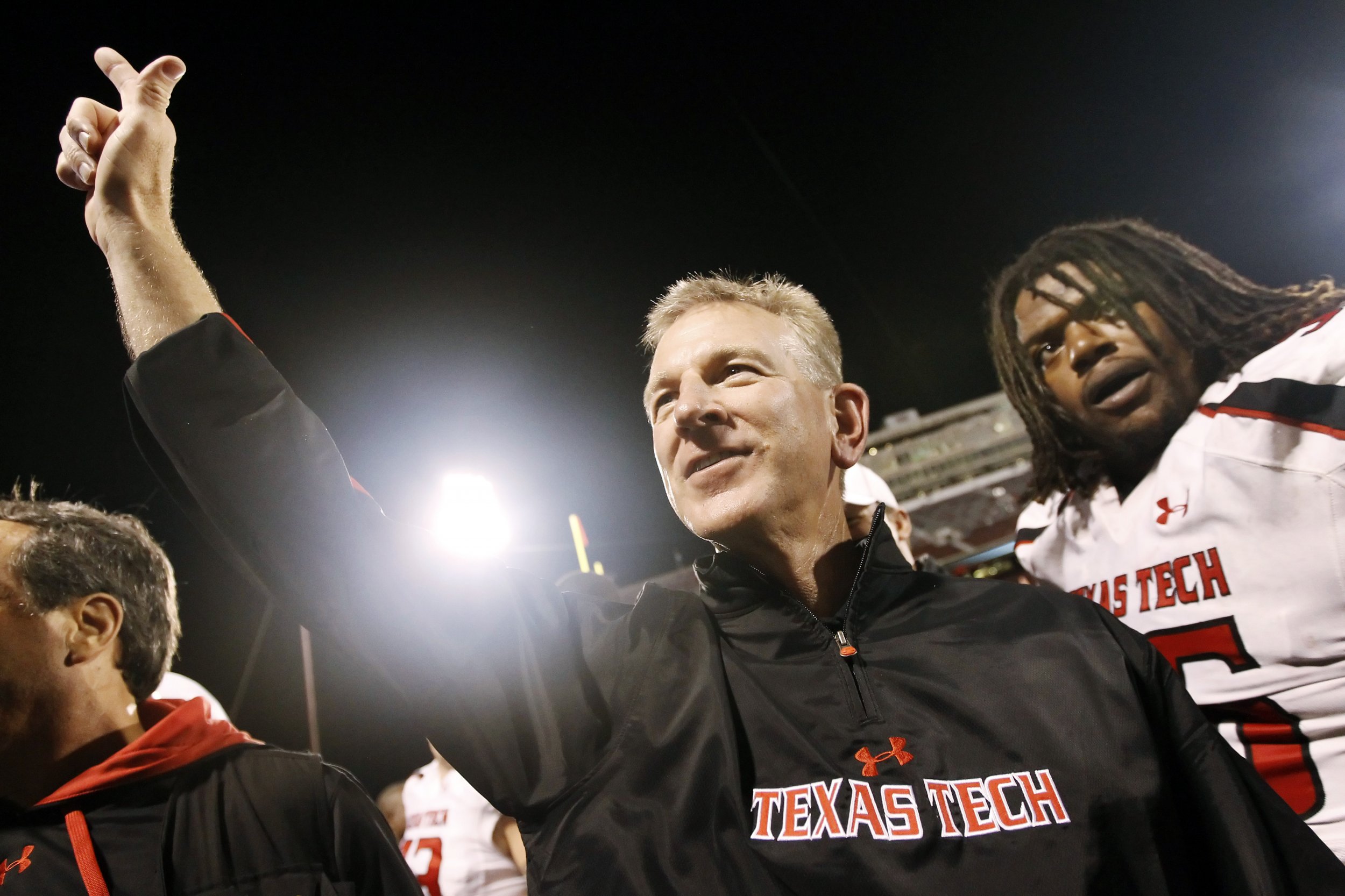 A popular mascot at Texas Tech University sporting events is a gunslinger with a white cowboy hat and red mustache who points fake pistols in the air, embodying the decades-old school motto: "Guns up." People at games and in school hallways often point their fingers in the shape of guns, and the sign has even been made in space: when astronaut Rick Husband, a Tech alumnus, was in the shuttle Atlantis a few years ago. "Keep those guns up," reads an inscription for a photo of Husband with Earth in the background.
Beginning in August, Raider Red, as the mascot is known, could be joined on campus by people carrying actual guns. That's when a law commonly known as campus carry will go into effect, enabling people with concealed-handgun licenses to bring them on campus and into buildings. Such laws already exist in seven states, but the implementation has proved especially tricky in Texas because the legislature gave public university presidents the power to designate gun-free zones, leading to policy debates about those zones at each of the state's 45 public colleges and universities. (Private schools can opt out of campus carry entirely. Twenty have done so, according to The Texas Tribune, and none so far have said they would implement the bill. )
The Texas debate also comes in the wake of mass shootings at Umpqua Community College in Oregon and in San Bernardino, California; President Obama's just-announced plan to ramp up gun control; and the implementation of another new Texas gun law, open carry, which went into effect this month.
Currently, licensees in Texas can carry concealed weapons in most places, but not inside buildings on college campuses. "Why be able to have that right on Saturday going to the mall and Sunday going to church, but on Monday going to school there's this line that says you can't protect yourself?" says Antonia Okafor, southwest regional director for Students for Concealed Carry (SCC), a national organization that claims to have 43,000 members.
SCC formed in 2007, shortly after the massacre at Virginia Tech University. One of Okafor's SCC colleagues, Michael Newbern, likes to use a hypothetical for why people should have guns in classrooms: If students at Virginia Tech had been armed, he says, fewer people might have died in the shooting. In particular, Newbern calls out Colin Goddard, a Virginia Tech survivor-turned-gun-control advocate who has spoken about dialing 911 that day and how a classmate hid his phone, still connected to 911, in her hair after he was shot and dropped it.
"In that same timeframe that [it] took to do all those things—dial 911 on the phone, hide it underneath a girl's hair, everybody gets underneath their chairs, barricade the door—could at least one person who was licensed to carry a concealed handgun in that classroom [have] stood up, framed their firearm on the door and shot the door when he busted the door down?" Newbern says. "Would that have changed the outcome of the event? I can tell you one thing: It would have given them a fighting chance."
In the years since, as school shootings have become increasingly common, the movement to permit people to carry concealed firearms on college campuses has spread across the country. Campus carry is now the law in Colorado, Idaho, Kansas, Mississippi, Oregon, Utah and Wisconsin, and Texas Governor Greg Abbott in June signed Senate Bill 11, or campus carry, into law, along with open carry, which allows licensees to openly carry around their guns, though not on college campuses.
Newbern largely credits a recent Texas A&M University graduate, Madison Welch, whom Okafor succeeded at SCC, with the movement's success in Texas. "It was a time marked by sweat and tears," Welch says by email, one that was led by "students who saw that winning this fight was going to require us to avoid the typical pro-gun rhetoric about 'God-given rights' and 'cold, dead hands' and adopt a more intellectual, factual, logic-based approach to gun rights."
With the authority to designate gun-free zones, college presidents are turning to working groups and task forces to issue such policy recommendations. That process now has anti-campus-carry activists fighting for as many of those zones as they can get.
"The idea that blood's going to flow in the streets and that college students are going to shoot each other up...and students are going to take guns into instructor classrooms and threaten them over grades, that's just not happening," Newbern says. Indeed, data provided by both gun advocates and opponents show that incidents and accidents directly related to campus carry policies are rare, though some thefts and accidental discharges have occurred.
Opponents of the law are not reassured by Newbern's claims. Goddard, the Virginia Tech survivor, says via email that Newbern's hypothetical about him is a "twisted attempt to blame me for the bullets inside my body and for the deaths of 32 of my classmates and teachers." Goddard is now a senior policy advocate at Everytown for Gun Safety, one of many groups that has spoken out against campus carry, along with the American Association of University Professors and the American Association of State Colleges and Universities. Even more locally, in a state with a (perhaps false) reputation for being gun friendly, people and campus groups in Texas are showing resistance.
"This isn't about safety, this isn't about stopping crime. It's just about the CHL [concealed handgun license] holders not breaking the law because they're already carrying on campus as it is," says Julie Gavran, the southwest coordinator for the Campaign to Keep Guns off Campus, a national movement that, as SCC did, formed in the wake of Virginia Tech.
Gavran has been involved with the campaign for the three legislative sessions that it took Texas to pass the campus carry bill. "That first session, in 2011, it was [about] preventing a Virginia Tech, being able to stop a mass shooting," she says. More recently, she adds, the pro-gun argument became about self-protection and "being able to stop sexual assaults or armed robberies on campus."
The Campaign to Keep Guns Off Campus argues that allowing weapons on campuses increases costs for the university, such as for campus security training; could increase the risk of suicide and workplace safety hazards; and wouldn't necessarily prevent sexual assault, as research shows that in most college sexual assaults, the victims know the perpetrators.
Gavran has first-hand experience with college gun violence. She was a senior at Ohio Dominican University when a freshman who lived in her dorm pulled a gun on her as she went to throw out trash in the hallway, she says. "It was totally random, I wasn't targeted and he held me at gunpoint. He went to fire the gun, and I don't know if it wasn't loaded or if it just jammed, but thankfully I wasn't shot and I was able to get away."
The encounter happened in January 1999, Gavran says, a few months before the Columbine massacre would thrust school shootings into the national consciousness. She says she didn't tell anyone what had happened until the next day, when she informed a professor. "Then security got involved and they found multiple weapons in his room, guns and knives," she says. She left the dorm, but she says neither she nor the university pursued action against the freshman. (A university spokesman could not confirm details of the incident, "given the significant passage of time and changes in personnel," but said by email the school had worked with Gavran in recent years on anti-gun violence projects and supports her efforts.)
Gavran grew up around guns in rural Ohio, she says, but she doesn't believe that she would have been better off that day had she been armed. "The kid was 250 pounds and I'm 125, so he could have tackled me, wrestled it from me, shot me with my gun instead of his gun."
At the University of Texas at Austin, faculty members worry that guns in classrooms could curb free speech. One professor emeritus there reportedly said he would resign rather than teach with guns in his classroom.
"This is an invasion of higher education and we don't like it," says Max Snodderly, a neuroscience professor at UT-Austin and a member of the group Gun Free UT, which faculty members founded in August. "I don't want guns in my classroom, I don't want guns in my office, I don't want guns in the student residences."
Snodderly adds, "People who teach in controversial subjects are very worried about this, that somebody could get angry and then we've got a real problem…. If people know guns are around, it's going to chill free speech. It's going to infringe on academic freedom."
Okafor, of SCC, says "the mood is generally favorable" on Texas campuses when it comes to campus carry, including at UT-Austin.
Snodderly disagrees: "The overwhelming majority of the academic community is against campus carry," he says. Responding to Okafor's claim, he adds, "She has no respect for the facts." Indeed, a recent report by a group appointed to make policy recommendations at UT-Austin says, "A very substantial majority of the comments we received from the University community expressed opposition to or serious misgivings" about campus carry.
Opponents also say the campus carry movement, and SCC in particular, aren't the grassroots efforts that the gun advocates make them out to be. While Newbern, of SCC, says the National Rifle Association has never contributed money to the organization, an investigation by The Trace claims that the lobbyist Gun Owners of America has been an influential supporter. ("No outside group influences Students for Concealed Carry," Newbern said in a follow-up email to Newsweek.)
The policy recommendations for UT-Austin came out in December. Now the president there must finalize a policy and seek approval from the Board of Regents.
A spokesman for Texas Tech says by email that the school expects the group there to issue its recommendations this month.