Can China Stop a Revolution in Cuba? | Opinion
"Down with the dictatorship," exclaimed Pedro Del Cueto to a PBS NewsHour reporter. "Down with the Castros. Down with the communist dogs."
What started as a protest on Sunday against, among other things, a lack of COVID vaccines and rising prices, has become far more dangerous to the ruling Communist Party of Cuba. Protestors have marched to its headquarters and are flying the American flag, signs that the demonstrations in more than 40 cities and towns could lead to fundamental political change on the island.
Could Cuba's worst economic crisis in 30 years become its first revolution in 62?
It's not only the Cuban regime that is nervous. The rulers in Beijing also appear anxious, as they have everything at stake in what happens half a world away.
Why? As an initial matter, the Chinese state is heavily invested in Cuba. "China uses Cuba as a platform for many of its regional intelligence and security operations," Joseph Humire, executive director of the Center for a Secure Free Society, told Newsweek. "This includes a signals intelligence station used to intercept communications in the United States," he added, referring to the Lourdes facility just west of Havana that was once operated by the Soviets.
"China's relationship with Cuba was truncated following the Sino-Soviet split, in which Cuba allied with the Soviet Union," Evan Ellis of the U.S. Army War College said to this publication. "Following the fall of the Soviet Union and the dramatic withdrawal of Soviet subsidies for Cuba, China strengthened its relationship somewhat by stepping into the breach."
Beijing at first was "cautious" in its overt support for Havana, Ellis said, because it was worried about Washington's reaction. Now, the Chinese are far bolder. "Along with Venezuela, China is the largest benefactor to the Cuban regime," Humire points out.
China has helped build out Cuba's internet and communications backbone with, for instance, equipment and software from Huawei Technologies, China's "national champion" telecom-equipment supplier, as well as sister company ZTE. Beijing's expertise has given President Miguel Díaz-Canel the ability to shut down internet traffic on a whim. There have, in recent days, been outages apparently designed to prevent news of the fast-spreading demonstrations from spreading even faster.
"Chinese companies today are providing prototype Chinese 'social credit' architectures to help implement in Cuba the 'controlled' access to modern communications and information technologies seen in China," Ellis told Newsweek.
China's leaders back Havana because they know they have more than a listening post and developmental projects at risk. The very existence of the Chinese regime, they believe, is also on the line. After every previous wave of protests elsewhere—the momentous demonstrations of 1989, the Arab Spring and all the "color revolutions"—the Communist Party of China has worked overtime to prevent foreign freedom movements from inspiring the Chinese people to topple their rulers.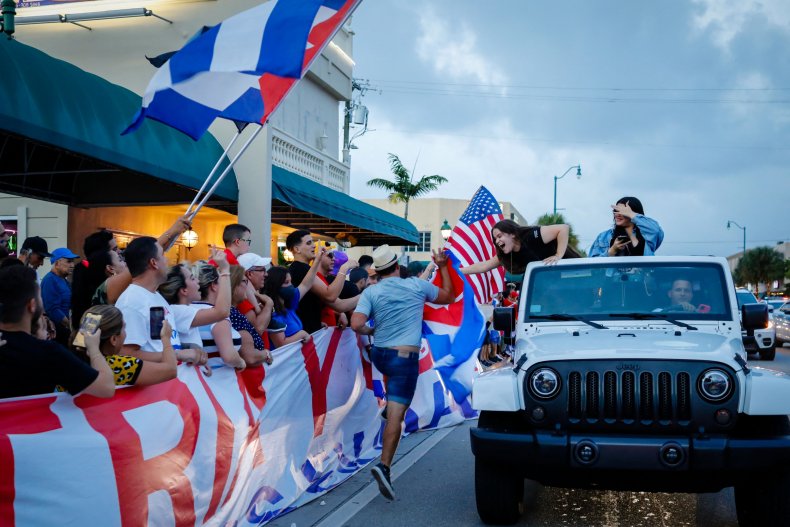 At first glance, Beijing, having helped create wealth for many Chinese people, does not have to worry about unrest caused by impoverished Cubans. The problem for China's leaders, however, is that protests are about more than just destitution. Wealthy residents in Hong Kong—which has a per capita gross domestic product 5.3 times that of Cuba—took to the streets in 2019 in massive numbers, and they are continuing to show resistance in other ways. Freedom, communist parties know, is highly contagious.
So far, Beijing has been extraordinarily successful in not only keeping power at home, but also in helping roll back democracy around the world. "Certainly, authoritarian regimes appear to be having a good run right now," writes Gerald Seib from his perch at The Wall Street Journal.
"The long democratic recession is deepening," Freedom House observed in its most recent worldwide survey. The organization reports that global freedom has been in decline for 15 consecutive years.
Seib's headline says it all: "Cuba's Unrest Frames World's Big Struggle: Dictators vs. Democracies."
China's rulers understand the gravity of the situation and are working overtime to spread Havana-friendly narratives. "As the Cuban side pointed out, the U.S. embargo is the root cause of Cuba's shortages of medicines and energy," said Chinese Foreign Ministry spokesman Zhao Lijian on Tuesday at his regular press briefing. "The U.S. should fully lift its embargo on Cuba and play a positive role in helping the Cuban people overcome the effects of the epidemic."
Last month, the UN General Assembly, for the 29th straight year, called on Washington to end its embargo of Cuba. Zhao said the UN resolution "shows the widespread call from the international community."
And it is also the will of President Joe Biden, who campaigned on ending the embargo. During the Obama-Biden administration, the U.S. recognized the Castro regime and moved to reestablish economic relations. Trump tightened the embargo and added the island republic to the State Department's list of state sponsors of terror.
It is not clear what Biden will now do. On Monday, the president issued a statement calling on the Cuban regime "to hear their people and serve their needs at this vital moment, rather than enriching themselves." The White House, however, has remained quiet, continuing to duck the issue as it has most of this year. "Where is Biden?" protestors chanted in Tampa on Tuesday.
Biden, if he were as active in defeating the Cuban regime as China is in supporting it, could tip the balance. History, in any event, will be written at this moment. "It's hard to say whether Cubans on the streets, like citizens of Hong Kong pushing back against Chinese central government repression there, represent the beginnings of a new anti-authoritarian tide or mere footnotes in a generally bad time for those who cheer for democracy," Seib wrote.
Whether Díaz-Canel can quell the protests depends, in part, on whether Biden imposes costs on Havana's use of force. Will the American president use his power to stop the Cuban leader from stopping the nationwide protests?
Biden should take his cue from China and realize America, whether he likes it or not, is involved in a ferocious struggle everywhere. After all, the battle between dictatorship and democracy, which is not going well at the moment, is global.
Gordon G. Chang is the author of The Coming Collapse of China. Follow him on Twitter: @GordonGChang.
The views expressed in this article are the writer's own.