Can the Government Force You to Get COVID-19 Vaccine? Questions Surround Vaccine Passports
The government can't force a person to be vaccinated, but it's likely within its power to require proof of a COVID-19 vaccine to engage in certain activities, including attending events.
"Vaccine passports," a means of proving a person's vaccination status, have been floated as a way of increasing capacity at certain events as America crawls toward normalcy. President Joe Biden's administration doesn't have any current plans to implement them at a nationwide level, but even the prospect of the measure prompted criticism for it being an invasion of people's privacy and an infringement on a person's ability to choose whether to get vaccinated.
Congress could potentially have the power to mandate vaccines under the commerce clause, experts told Newsweek and states could institute mandates under the 10th Amendment. However, a mandate can't force someone to be vaccinated against their will, it can only impose restrictions on a non-vaccinated person.
Those who aren't vaccinated could be prevented from engaging in interstate travel, Laurence Tribe, a Carl M. Loeb University professor at Harvard Law School, told Newsweek, and entering places where social distancing and mask-wearing wouldn't be sufficient in preventing virus transmission.
"Private businesses could require proof of vaccination by those seeking entry unless prohibited from doing so by state or local law," Tribe said.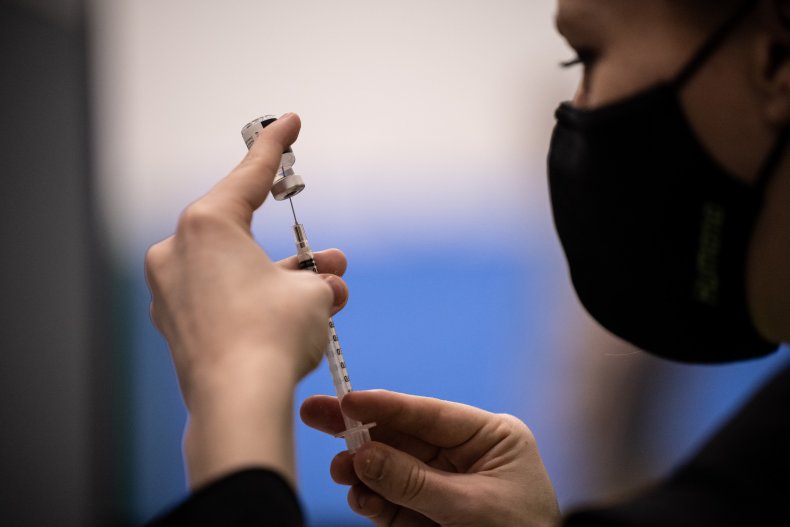 Two states—Florida and Texas—have prohibited vaccine passports. However, only Florida Governor Ron DeSantis expanded the ban to include a prohibition on private businesses and in Texas, the ban is only with regards to government-mandated vaccine passports.
More than 167 million doses of the COVID-19 vaccine have been administered and the vast majority of states are opening up inoculations to all U.S. adults regardless of their comorbidities or occupation.
Vaccinations have been done on a voluntary basis and there's no national vaccine health passport. But, digital passes have been rolled out in Las Vegas and New York.
Vaccine passports often have the ability to store both vaccination and testing data. Julia Miles, Reviv's commercial operations director, told the Las Vegas-Review Journal much of the focus has been on test results because vaccines still aren't widespread. Miles added that the company hasn't heard venues looking to only serve people who are vaccinated, but health passports could be used as a way to reopen conventions and market a resort as being safer than others.
In New York, the Excelsior Pass, a digital health passport, was launched to the public after it was used for a Brooklyn Nets Game and a New York Rangers game. Governor Andrew Cuomo championed the voluntary measure as being a way of increasing capacity beyond current public health restrictions and encouraged businesses to implement it.
"The Excelsior Pass will play a critical role in getting information to venues and sites in a secure and streamlined way, allowing us to fast-track the reopening of these businesses and getting us one step closer to reaching a new normal," Cuomo said on March 2.
The power for states to mandate vaccines lies in the Constitution and a 1905 Supreme Court Case. In Jacobson v. Massachusetts, the Supreme Court upheld the Cambridge Board of Health's authority to require a smallpox inoculation under the 10th Amendment that grants state police powers.
Still considered a "perfectly good law," according to Tribe, Representative Marjorie Taylor Greene is looking to increase support for rejecting the ruling. In the We Will Not Comply Act, which Greene introduced last week, would express to the Senate that Jacobson should be overturned.
"This case set a terrible precedent that endorses mandatory state vaccination laws under the 'police power,'" Greene said in a statement.
White House press secretary Jen Psaki said the administration was looking to the private sector for vaccine passports and Dr. Anthony Fauci, director of the National Institute of Allergy and Infectious Diseases told Politico he doubted if the federal government would be a "leading element" on the measure.
Instead, Fauci said it's more likely that businesses and educational institutions would create policies about vaccinations.
"I'm not saying that they should or that they would, but I'm saying you could foresee how an independent entity might say, 'Well, we can't be dealing with you unless we know you're vaccinated.' But it's not going to be mandated from the federal government," he said.
Newsweek, in partnership with NewsGuard, is dedicated to providing accurate and verifiable vaccine and health information. With NewsGuard's HealthGuard browser extension, users can verify if a website is a trustworthy source of health information. Visit the Newsweek VaxFacts website to learn more and to download the HealthGuard browser extension.