Is Boracay Closed? Tourist Paradise Reopens With Strict New Rules to Prevent Another 'Cesspool'
The Philippines's famous Boracay Island, long a paradise destination for tourists, has reopened after months of cleanup work with strict new rules to limit the number of tourists and better protect the local ecosystem.
The island, known for its luxury resorts and pristine beaches, hosted about 2 million tourists each year, bringing $1.3 billion in revenue, before it was temporarily closed in February.
The decision was made after a video spread online showing black sewage floating in the blue waters near one of the island's resorts. Announcing the closure, Philippine President Rodrigo Duterte said the island had been turned into a "cesspool."
Officials will now impose new rules on visitors to the island, which is in the country's central Aklan province. The number of visitors will be capped at 6,000 per day, and all arrivals will be asked to sign an oath promising to follow the new rules, the Associated Press reported. Only 19,200 tourists will be allowed on the island at any one time, The Guardian said.
The new rules include responsible disposal of litter and a ban on liquor, smoking, bonfires and beach parties. Water sports have been banned while authorities conduct an assessment of the island's marine life, according to The Guardian. The island's three casinos have been closed on the orders of the president, whose opposition to the gambling industry is well known.
New water treatment facilities have been built and almost 1,000 illegal structures demolished. Only 159 of the island's hotels, inns, restaurants and shops—of which there were hundreds before the closure—have been allowed to reopen in accordance with the new regulations. All are now connected to authorized sewer pipes and are at least 98 feet from the ocean.
However, with less business to support them, only a tiny portion of the 20,000 workers who lost their jobs in February have been rehired, the AP said.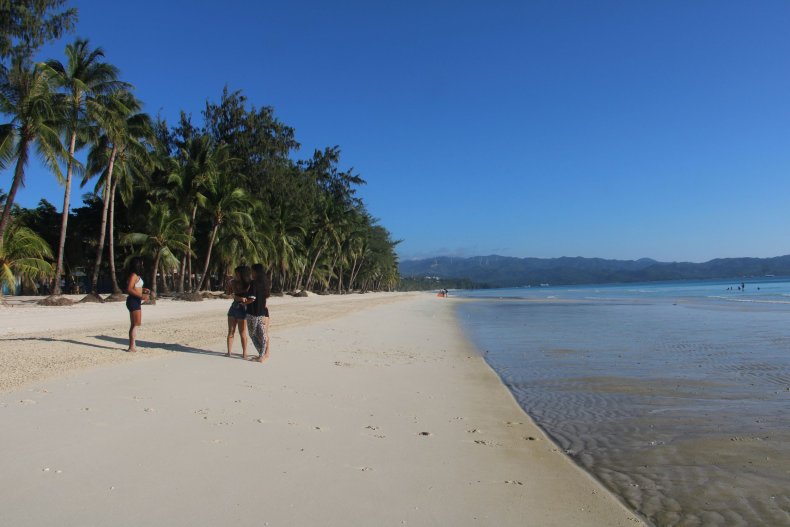 An inspection of the island uncovered hidden sewer pipes sending waste directly into the waters off the coast, as well as two hotels built on restricted wetlands.
Seventeen people faced action over the negligence that allowed the island to become a disaster zone. A mayor was suspended, and 16 other officials faced neglect of duty complaints.
Government officials and celebrities were present at a ceremony to mark the island's reopening, which was held on a beach close to the port where tourist ferries drop holiday-makers.
In a message to tourists arriving at the refreshed island, Tourism Secretary Berna Romulo-Puyat urged, "Let us treat the island as our home. Keep it clean and pristine. Don't drink alcohol or smoke in the beach. Don't litter."