Can I Spread Coronavirus to Grandparents and Other Vulnerable People When I'm Not Showing Symptoms?
As the disease COVID-19 has spread around the world, so too has anxiety about the new coronavirus which causes it. Some are worried they may unknowingly be infected and able to pass the virus on to those most vulnerable to suffering serious complications—like their grandparents or those with chronic health problems.
As the virus first came to the attention of experts late last year, much is still unknown about its characteristics. But the data on cases we have so far shows that while most people who catch the new coronavirus will develop mild symptoms, "older people, and those with pre-existing medical conditions (such as cardiovascular disease, chronic respiratory disease or diabetes) are at risk for severe disease," the World Health Organization warns. This is particularly concerning as there is not treatment or vaccine against the virus which causes COVID-19.
So, should seemingly healthy people avoid visiting those at risk of serious complications and death in case they are able to spread the virus but aren't yet showing symptoms?
Michael Head, senior research fellow at the U.K.'s University of Southampton and an expert in epidemiology and health policy, told Newsweek: "There may be a small risk of transmission despite not yet having symptoms, and so it is a judgement call for people to make when visiting potentially-vulnerable family members.
"If any potential visitor has respiratory symptoms, then it's wise not to go," he said.
Bill Keevil, professor of environmental healthcare at the University of Southampton, U.K., told Newsweek people should avoid seeing vulnerable relatives unless they practice "extremely good" personal hygiene. The World Health Organization has stressed one of the most important ways to protect ourselves, and in turn others, from COVID-19 is to often wash our hands thoroughly to deactivate the bug. The CDC states handwashing should last at least 20 seconds in order to beat germs, which amounts to two verses of the Happy Birthday song. Scroll down to the bottom of this article to see more advice from the WHO.
Keevil said there is evidence to suggest that people can pass on the virus without showing symptoms. "Otherwise how come there is so much untraceable community spread?" he asked.
However, Head said that while there have been some isolated reporting of people passing on the virus before showing symptoms, or what is called being asymptomatic, "these are likely to be very few in number and not responsible for significant amounts of transmission."
"There is likely to be a short period of time (perhaps one to two days) before symptoms develop when cases are infectious i.e. able to transmit the virus. This is common in respiratory infections, including influenza and measles," he said.
Since the outbreak started in the city of Wuhan, the capital of China's central province of Hubei, the situation appears to be coming under control in that country while hotspots have emerged in other countries, including Italy, Iran and South Korea. Of a total 127,749 confirmed cases worldwide, 4,717 people have died and 63,305 have recovered, according to a tracker by Johns Hopkins University. The virus has spread to every continent in the world except Antarctica, as shown in the map by Statista below.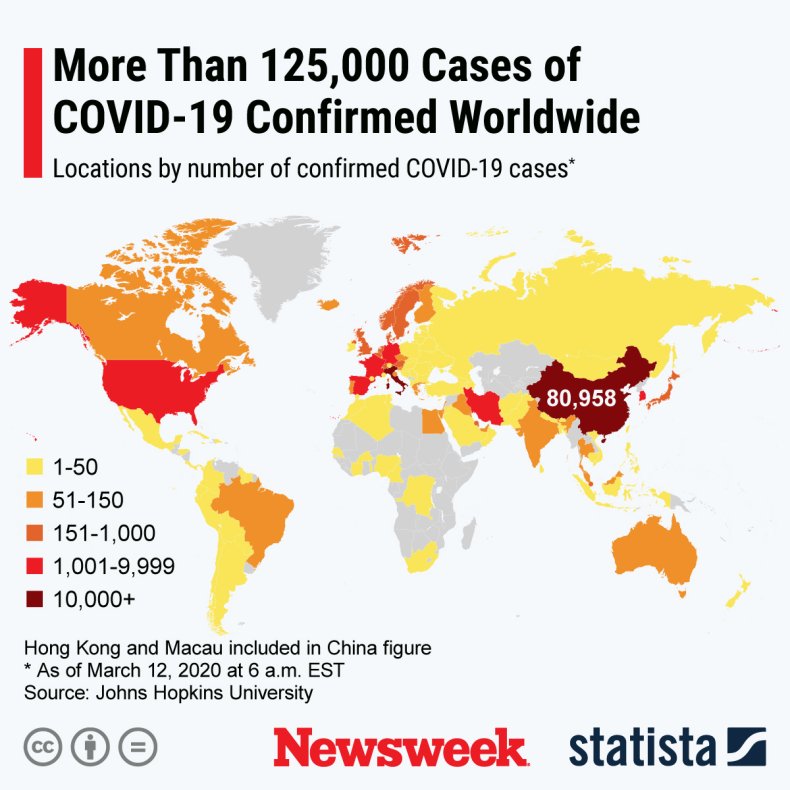 World Health Organization advice for avoiding spread of coronavirus disease (COVID-19)
Hygiene advice
Clean hands frequently with soap and water, or alcohol-based hand rub.
Wash hands after coughing or sneezing; when caring for the sick; before; during and after food preparation; before eating; after using the toilet; when hands are visibly dirty; and after handling animals or waste.
Maintain at least 1 meter (3 feet) distance from anyone who is coughing or sneezing.
Avoid touching your hands, nose and mouth. Do not spit in public.
Cover your mouth and nose with a tissue or bent elbow when coughing or sneezing. Discard the tissue immediately and clean your hands.
Medical advice
If you feel unwell (fever, cough, difficulty breathing) seek medical care early and call local health authorities in advance.
Stay up to date on COVID-19 developments issued by health authorities and follow their guidance.
Mask usage
Healthy individuals only need to wear a mask if taking care of a sick person.
Wear a mask if you are coughing or sneezing.
Masks are effective when used in combination with frequent hand cleaning.
Do not touch the mask while wearing it. Clean hands if you touch the mask.
Learn how to properly put on, remove and dispose of masks. Clean hands after disposing of mask.
Do not reuse single-use masks.