New Coronavirus Will Only Cause 'Mild Illness' in 'Vast Majority of People,' Says Top Adviser to U.K. Government
Most people who catch the new coronavirus will only develop a mild illness, a top adviser to the U.K. government has stressed.
Sir Patrick Vallance, chief scientific adviser to the U.K. government, told Sky News that while COVID-19 has a higher death rate than the flu "for most people⁠—the vast majority of people⁠—this will be a mild illness."
The mortality rate is 1 percent or likely lower, he said, appearing to refer to the U.K. Asked to provide context for the outbreak, Sir Patrick said the virus is "very infectious" with similar infectivity to the flu.
The disease has killed over 3,000 people in 100,000 confirmed cases since last December, as shown in the map by Statista below.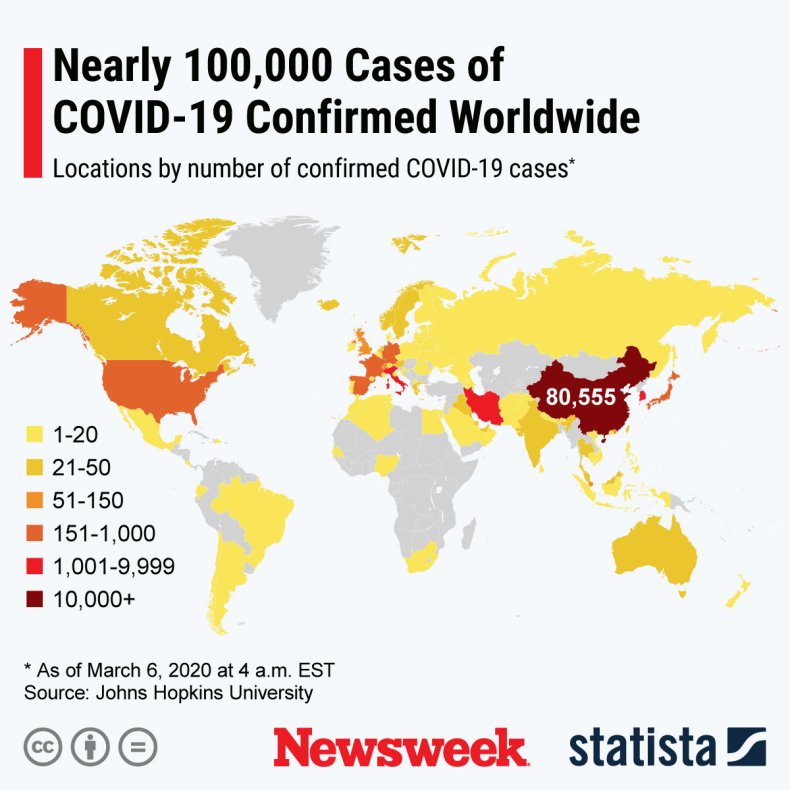 However, he emphasized that while the new coronavirus has a higher death rate and burden of illness than the flu it is "a million miles away" from a condition like Ebola, which is "absolutely lethal at a very high level."
In 2014, Ebola killed more than 11,000 people in West Africa, according to figures cited by the Centers for Disease Control and Prevention. Ebola has had a fatality rate of between 25 percent to 90 percent depending on the outbreak, the World Health Organization says.
"For 98, 99 percent of people, this is going to be a mild illness," Sir Patrick said.
"For a small number this can turn into a serious pneumonia, and for a smaller number again this can lead to death, particularly in the elderly and those who have got other coexisting medical problems."
Sir Patrick told broadcaster ITV News: "As you go above the age of 60 and particularly 70 and 80 you start to see the death rate of the disease increase; above the age of 80 it might be as high as 8 percent."
As of 9 a.m. GMT on March 6, one person had died of COVID-19 in the U.K. out of 163 confirmed cases, according to the government. A total of 20,338 people had been tested for the virus.
The case fatality rate, more commonly known as the death rate, of a disease depends on a range of factors including the location, how healthy the individual is, and how much data has been accurately collected on existing cases and deaths.
Earlier this week, the World Health Organization's director general told a media briefing on COVID-19 that globally "about 3.4 percent of reported COVID-19 cases have died. By comparison, seasonal flu generally kills far fewer than 1 percent of those infected."
A summary of a report on more than 72,000 COVID-19 cases by the Chinese Center for Disease Control and Prevention published in the journal JAMA last week put the case fatality rate at 2.3 percent on average, spiking to 14.8 percent in those aged 80 and above.
It's unclear how many people have been infected but haven't shown symptoms and are therefore missing from the available data on cases.
Dr. Mike Tildesley, associate professor in the Department of Life Sciences at the University of Warwick, told Newsweek last week: "The true mortality rate will be significantly lower than the current estimates."
Biological anthropologist Dr. Jennifer Cole at Royal Holloway, University of London, U.K., said in a statement: "Early estimates of fatality rates tend to be higher and then drop as the outbreak progresses. This is mainly because early figures are based on the more severe cases only—those that seek hospital treatment—and so don't capture mild cases.
"It's not until later in the outbreak, when large numbers of people who wouldn't normally have sought healthcare, such as all the passengers on the quarantined ships, everyone an infected person has been in contact with, or the entire population of a town is tested that more accurate numbers start to emerge and the figures settle down."
Asked whether the general public should be concerned with details such as mortality rates, Tildesley said: "It is completely understandable to be worried about mortality rates and evidence suggests that those most at risk are the elderly and those with underlying health conditions."
He added: "The best course of action is for us to try to minimize further spread of disease. It is important for us to follow good hygiene practices such as regular handwashing, covering coughs and sneezes with tissues, avoiding contact with people who are sick and in those cases, avoiding contact with the eyes, nose and mouth."
World Health Organization advice for avoiding spread of coronavirus disease (COVID-19)
Hygiene advice
Wash hands frequently with soap and water, or alcohol-based hand rub.
Wash hands: after coughing or sneezing; when caring for the sick; before; during and after food preparation; before eating; after using the toilet; when hands are visibly dirty; and after handling animals or waste.
Maintain at least 1 meter (3 feet) distance from anyone who is coughing or sneezing.
Avoid touching your hands, nose and mouth. Do not spit in public.
Cover your mouth and nose with a tissue or bent elbow when coughing or sneezing. Discard the tissue immediately and clean your hands.
Medical advice
If you feel unwell (fever, cough, difficulty breathing) seek medical care early and call local health authorities in advance.
Stay up to date on COVID-19 developments issued by health authorities and follow their guidance.
Mask usage
Healthy individuals only need to wear a mask if taking care of a sick person.
Wear a mask if you are coughing or sneezing.
Masks are effective when used in combination with frequent hand cleaning.
Do not touch the mask while wearing it. Clean hands if you touch the mask.
Learn how to properly put on, remove and dispose of masks. Clean hands after disposing of mask.
Do not re-use single-use masks.