Can Jean-Claude Juncker End Trump's Trade War With Europe?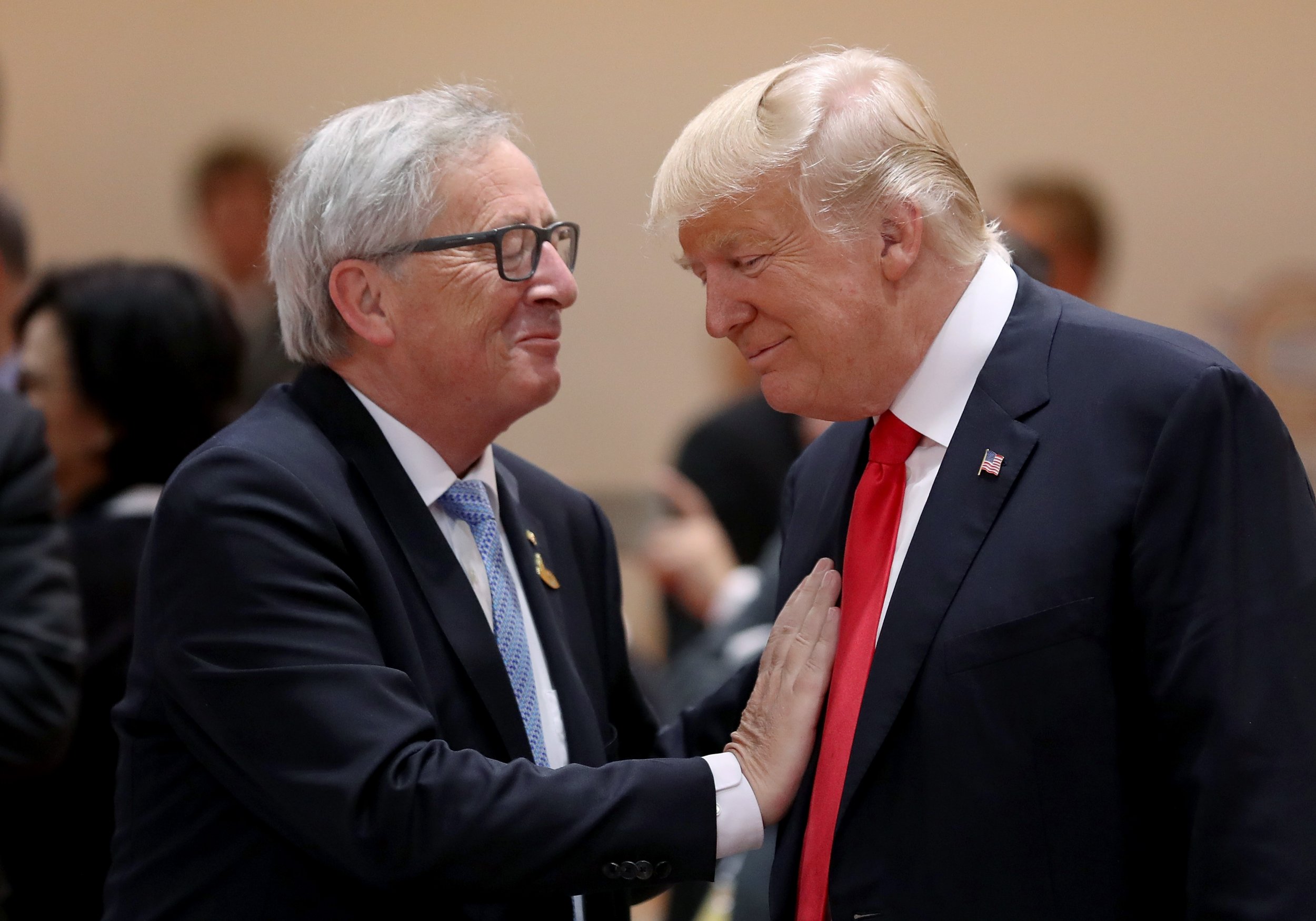 The Trump administration seems to think Jean-Claude Juncker will turn up for talks in Washington on Wednesday waving a white flag, handing an early victory to America in the trade war it launched against the European Union (E.U.).
If so, officials are in for disappointment.
President Trump wants the E.U. to fully open its market to American firms, removing all tariffs, barriers, and subsidies in a reciprocal deal. He believes the E.U. is "ripping off" America and cites the large goods trade deficit as evidence.
Larry Kudlow, director of the National Economic Council and one of Trump's most senior advisers, said he understood the European Commission president will be "bringing a very important free trade offer," CNBC reported.
But European officials are angry. They accuse Trump of using tariffs that are illegal under World Trade Organization rules to bully it on trade and cannot understand why he would harm relations with such an important ally like this.
The E.U., which tried to open up trade with America through the Transatlantic Trade and Investment Partnership (TTIP), a tricky deal scrapped by Trump, faces numerous political obstacles to doing what the president wants. Many interest groups and industries inside the E.U. fight opening its market to greater competition, demanding protectionist measures.
"Few people expect major breakthroughs, myself included," Barbara C. Matthews, nonresident senior fellow on the Atlantic Council's global business and economics program, told Newsweek. "We are very far away from the days when increased trade liberalization was on the table."
And, according to the European Commission, the E.U.'s bureaucratic arm, there's nothing on the table at all. Margaritis Schinas, a Commission spokeswoman, told a news conference Monday that "there are no offers" and that the Trump-Juncker meeting "is a discussion, it is a dialogue," Reuters reported. Kudlow apparently had bad information.
Signs are that discussions will be fractious at best. In a speech to veterans in Kansas, Missouri, just a day before his meeting with Juncker, Trump mockingly suggested his threat of automobile tariffs had the E.U. eager for a meeting.
"They sound nice, but they're rough," he said, calling the E.U. a "big abuser" on trade. "They're all coming in to see me tomorrow. They're all coming to the White House. I said you have to change. They said they didn't want to change. I said OK, good, we're going to tariff your cars. They send millions of cars. Mercedes, all of them. BMW. So many cars.
"I said we're going to have to tariff your cars. They said, 'When can we show up? When can we be there? Would tomorrow be OK?'. Oh folks. Stick with us, stick with us."
Matthews said the most possible material outcome of the Juncker-Trump meeting is a concession by the E.U. on its own automobile import tariffs. For example, the U.S. only imposes a 2.5 percent tariff on passenger cars from the E.U. Yet the E.U. charges a 10 percent tariff in the other direction. Trump's plan is to address that imbalance.
"Since so many European car vehicles are already manufactured inside the United States, and since the White House has already received so much heat for its recent treatment of European allies, the best that can be hoped for at this stage is that the two leaders agree on a much narrower application of the proposed tariffs," Matthews said.
"I would look for how the administration chooses to treat European Foreign Direct Investment and vehicles made by European companies inside the U.S. such as the BMW plant in South Carolina or the Mercedes plant in Alabama.
"But let's not confuse any such an outcome as a material expansion in free trade or trade liberalization."
The immediate deadlock is the issue on automobile tariffs. But Matthews said "the more important strategic deadlock" is on the services sector "where the U.S. and the E.U. have more shared interests."
According to the Office of the U.S. Trade Representative, the U.S. had a $147 billion deficit in goods trade with the E.U. during 2016. But in services, the U.S. had a $55 billion surplus.
Services account for the bulk of both America's and the E.U.'s economies. Greater access to the European market for American service firms would boost the trade surplus that already exists.
"There is no indication from public statements that policymakers on either side currently seek to address services trade at this week's meetings," Matthews said, a missed opportunity to unlock potential economic growth.
The context in which this trade war is being fought is America's domestic politics.
Trump came to power on a campaign promising to put "America first" and fight these battles on global trade, replacing the manufacturing jobs that disappeared in recent years and reviving the working class communities that died when the work went away.
But Trump's presidency is unpopular and weak. He has a tough battle to keep Republican control of Congress in the November midterms and could even face impeachment if he were to lose.
His trade wars are most painful for his own voters, as retaliatory tariffs are targeted at products manufactured in states where support for him is strongest, such as whiskey, peanut butter, and motorcycles.
In his Kansas speech, Trump urged supporters to be "patient" with his aggressive trade policy, aware that they are feeling its pinch. "We're opening up markets, you watch what's going on. Just be a little patient," Trump said.
"They're all aiming at anybody that likes me. And they have lobbyists like nobody has ever seen. They have the best lobbyists ever put together...These countries have been ripping us off for decades. It doesn't take a week. It takes a little longer. But we're going to get it done."
Trump is all-in with his trade policy and he is playing it up to his base. Anything less than total victory against the E.U. is not an option for him. And in any case, he faces little domestic pushback on his trade policy.
"Juncker faces a very considerable uphill battle," Dr. Leslie Vinjamuri, head of the U.S. and the Americas programme at Chatham House, a foreign affairs think-tank in London, told Newsweek.
"Trump is very narrowly focused on the midterm elections and unwilling to invest much in a trade deal. He faces little effective domestic constraint or opposition—instead, Trump has support for his tariffs among Republican voters.
"Even on Capitol Hill, few Republican senators have been willing to push back. The Republican Party is ceding the ground, creating a vacuum for those who support free trade to emerge and fill. But nobody is.
"Democrats are not the party of free trade. Businesses have been focused on tax cuts and regulatory issues, not trade. There is no natural constituency for free trade in U.S. politics."
What's more, targeting Trump's base with tariffs may actually backfire on the E.U.
"Trump's base of supporters will likely read this as evidence that Trump's core message is correct: Europe is not treating Americans fairly, that Europe is taking advantage of America," Vinjamuri said. "Of course, if you see Trump as America's bully, then not standing up to tariffs is equally problematic."
If things go badly when Juncker meets Trump, and the trade war is set to intensify, how can we tell? Aside from a characteristic Twitter outburst by Trump, Matthews said a sign of escalation would be Europeans talking publicly after the meeting about America's 25 percent tariff on light trucks.
"Few of these are produced in Europe for export to the U.S. market compared to cars," she said. "But increased public rhetoric on the protectionist treatment of light trucks is a sure indication that the trade talks are heading towards increased conflict."
Vinjamuri described Juncker's trip as "an exercise in diplomacy," but the prospects aren't looking good for a resolution. "It is important to keep talking, but the tariff wars seem likely to continue for now," she said.