Can Mazda Cater to Enthusiasts and Make Its Way Into the Future?
Mazda is a brand between two worlds. As it pushes forward with SUVs and an electrification strategy, brand enthusiasts still want to hang on the dynamic nature of Mazda's past.
While it has excelled at the analog driving experience (its tagline was "Zoom-Zoom" for two decades), the company is quietly pushing forward toward a new electrical horizon, trying not to forget what brought it here in the first place.
The brand's position has been reoriented with Mazda now selling numerous sport utility vehicles (SUVs) but only two cars in the U.S. Over the last decade, Mazda's push toward premium while still carrying its sporting intentions has delighted customers, resulting in near record sales.
However, these days there's a perception that Mazda is falling behind in the U.S. market, especially in regards to electrification. The company thinks there is still more to do with the internal combustion engine.
"Every nation wants to reduce carbon emissions, but each is at a different place on the electrification journey. So being a good partner in reducing emissions means that we have to advance multiple technologies to meet the needs of customers and regulations around the world," Jeff Guyton, Mazda president and CEO told Newsweek.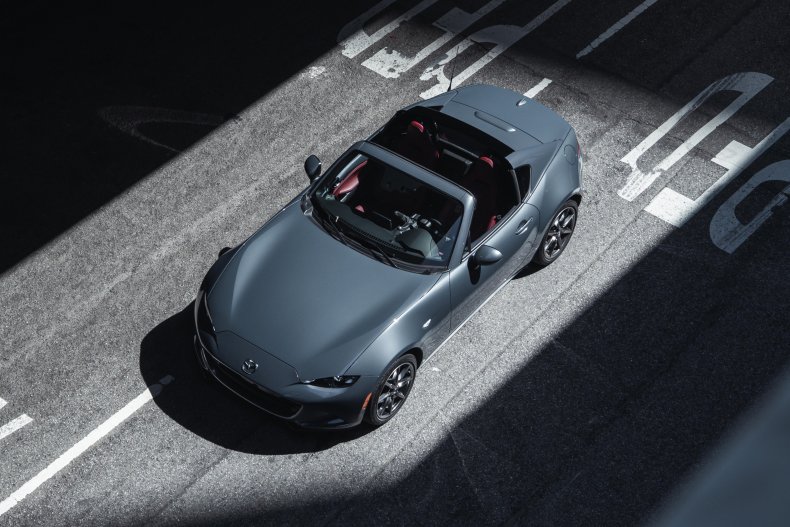 "We are in a strong position to grow. Mazda Toyota Manufacturing can produce up to 150,000 CX-50s at full capacity. Additionally, we are excited for the global reveal of the new CX-90 in a couple of weeks. And on top of product, we've dramatically improved customer experiences for shopping, financing and servicing," he said.
Mazda is one of the smaller automakers, 23rd in earnings worldwide, but Guyton sees that smallness as an advantage as it can move and scale faster than the behemoths.
"In round figures, we build two percent of the world's vehicles, yet we sell to customers in more than 130 countries and regions. That means we have to create scale economy and diverse product offerings at the same time. You might say that's a disadvantage, but it forces us to be clear about our brand's purpose – enriching lives of those we serve by providing human-centered technology, beautiful design, great driving dynamics and outstanding safety," he said.
The Mazda Motor Corporation, continuously headquartered in Hiroshima, Japan since its inception in 1931, has never followed the lead of what the rest of the automakers were doing. Its first vehicle was a rickshaw, a three-wheel taxi used in emerging markets.
It then sold microcars in Japan before creating a rotary engine using what it learned from German automaker NSU. That sporty powertrain lasted 50 years. A new rotary engine recently debuted as a helper to an electric motor in the Mazda MX-30 R-EV.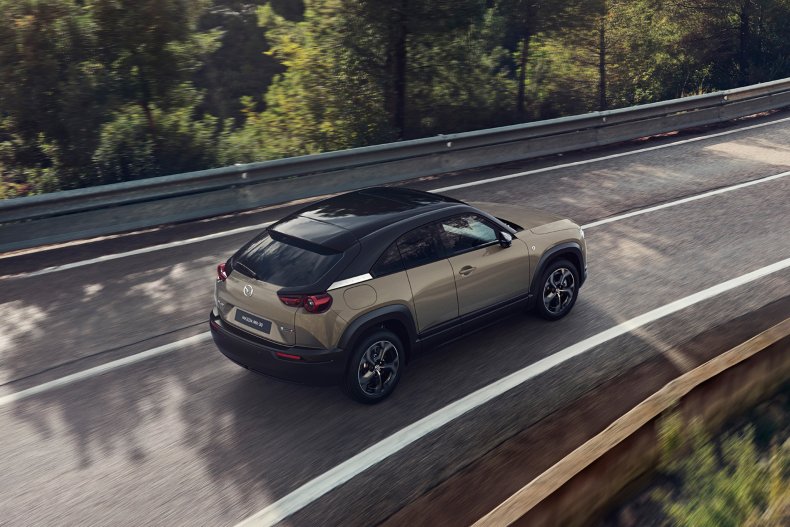 As oil prices rose the rotary proved less efficient than traditional engines for daily usage. Mazda entered into a successful partnership with Ford Motor Company from 1974 to 2015, which brought most of the company's modern and familiar lineup to the market including the MX-5 convertible and CX crossovers. Its yearly sales peaked with more than 380,000 vehicles sold in 1986.
Lately, Mazda has been moving further upmarket with better interior materials, quieter cabins, more advanced technology, and a smart selection of powertrains for its lineup of SUVs. That move started more than 20 years ago with the Mazda6 sedan.
Besides the Miata roadster, the company's sedans and SUVs have a decidedly sporty character.
"What Mazda continues to do so well is offer truly premium vehicles at price points within reach of the everyday consumer. Bold and emotional styling, interiors that are upscale and rich in fine materials, and perhaps most importantly, an excellent and engaging experience behind the wheel," Robby DeGraff, industry analyst told Newsweek.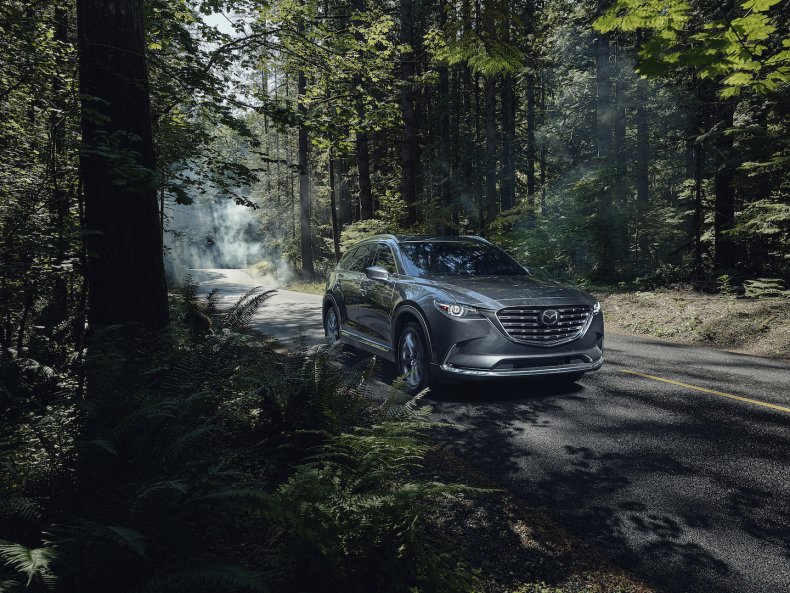 "This stands true for every model in the current lineup, from the compact CX-30 and 3 sedan, north to the MX-5 Miata and three-row CX-9. On-road dynamics is a strong suit for Mazda, especially when it comes to its range of crossovers," he said.
Mazda's price points in the U.S. have risen to premium levels in recent years, but so has the average transaction price overall, which stood at a record high in December at $49,507. That's an increase of 1.9 percent from November and up 4.9 percent from a year ago.
Mazda tells Newsweek that its transaction prices are up 8.3 percent year-over-year, which is slightly more than the industry in the segments it competes in, but the company's average of $33,500 is still less than the average in its class, which includes brands like Volkswagen, Buick and Acura.
The company captured a lot of magic in the past banking on the fact that "driving matters," but its real test still lies ahead.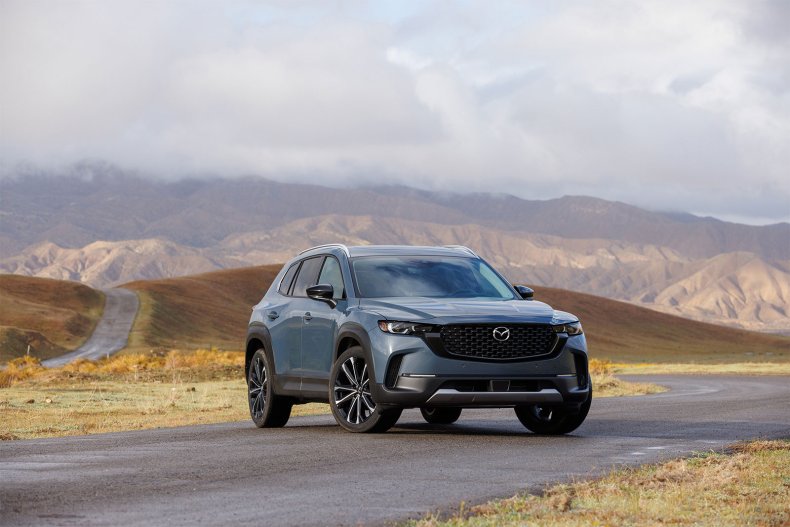 "We often say that Mazdas are engineered to a feeling, not just a set of technical specifications. We believe this enriches both the driving and ownership experience, and as a result, our vehicles are known for superior driving dynamics, elegant design and top safety features. 'Zoom-Zoom' was shorthand for this, but maybe too short," Guyton said.
"Over the last few years, as we introduced our latest generation of products, our marketing has evolved in order to engage consumers who share the range of values we build into every Mazda. As a result of that and other efforts, we've realized increased sales and market share among the competitive set, consistent accolades from leading consumer ratings publications, and continued high marks in safety."
But, Mazda has faced criticism that it's not moving fast enough on the new product and electrification front. The brand only offers one electric vehicle for sale in the U.S.
"Looking at the playing field, Mazda is behind in the game of electrification compared to other automakers with only one EV sold in limited areas and with limited range. That's soon to change as we await the plug-in hybrid versions of the new CX-90 and MX-30 to enter the market," said DeGraff.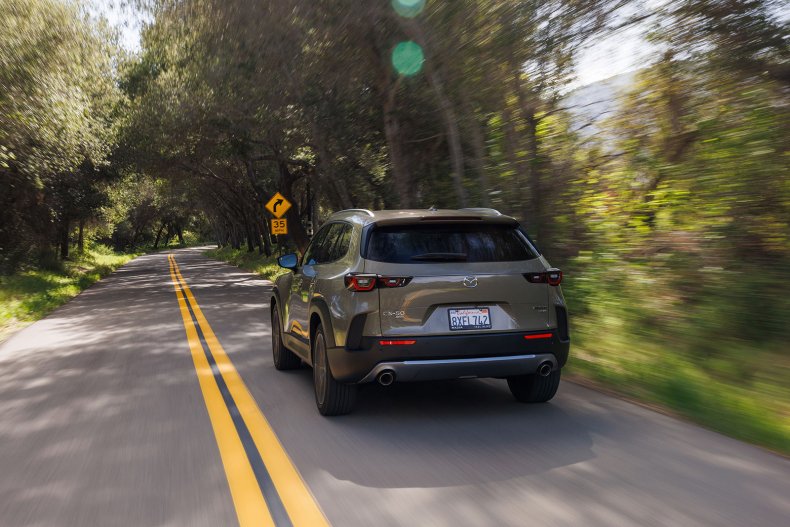 "Mazda is, however, closely paying attention to the market and consumer demands for these various alternative powertrains and sees there is more than just an EV-only approach for lowering our collective carbon emissions. I myself am excited to see how Mazda plans to further tweak its healthy, peppy four-cylinders in order to squeeze out more miles per gallon in the coming years."
Logistically, it's not very far behind Toyota in electric vehicles on the market (with one a piece. However Toyota has a market cap of $193 billion; Mazda's cap is about $5 billion.
"With crossover segments dominating the industry, we need to tailor our product offerings to meet customers where they are. The three-row CX-90 is larger and more powerful than the CX-9 it replaces. Similar story with CX-30 when it replaced CX-3 in the US," Guyton said.
"Both of these new products perfectly meet customer needs. In the compact SUV segment, one of the industry's largest, customer preferences vary widely, and CX-5 and CX-50 are well positioned to appeal to diverse customer requirements."
In Europe Mazda is appealing to that more diverse base with six vehicles with some level of electrification, representing 62 percent of its sales on the continent. The Mazda MX-30 and CX-60 represented 4.2 percent and 8.8 percent of its total sales there.
Europeans are traditionally more receptive to electric vehicles and hybrids than Americans due to several factors. Gasoline is more expensive there than in the U.S, regulations are EV-friendly, and 'green zones' set up inside major cities are commonplace.