Can McGrath Get Her Mojo Back and Give Mitch a Run for His Money?
Kentucky Democrat Amy McGrath is taking her campaign to the skies—literally.
The former fighter pilot, who is running for Senate against Majority Leader Mitch McConnell, has taken to flying herself around the state to meet with leaders and potential voters. On Thursday alone she'll visit three different counties, one by car and two by plane.
It's part of her campaign's plan to "compete everywhere and take no votes for granted," a strategy that has become their bible following a closer-than-anticipated Democratic primary in late June. McGrath just barely staved off a last-minute surge from Charles Booker, a progressive Black state lawmaker, to capture the nomination by less than 17,000 votes.
McGrath praised the primary for its high voter turnout, saying it's a good sign for her campaign that people are excited for new leadership.
"My message to anyone who voted in the primary, whether they voted for me or for someone else, is I hear you. I want change too," she told Newsweek. "We can all agree that Mitch McConnell has got to go."
But some experts are skeptical about whether that momentum, much of which was generated by the charismatic Booker, will carry over to the general election. It's a trap Democrats have fallen into before, given that McConnell hasn't lost a race since he was first elected to the Senate in 1984.
"For too long, Democrats who have taken on McConnell have tried to run as McConnell-light," said Dewey Clayton, a University of Louisville political science professor. "I get that, it's a conservative state. But that is not a winning ticket. It hasn't won in the past and it will not win in the future."
The McGrath campaign pushed back against that sentiment, arguing that it's not the same this time around. They said what makes it different is their candidate.
The 45-year-old mother of three spent 20 years in the U.S. Marines, where she was the first female pilot to fly an F-18 in a combat mission. Since women weren't allowed to serve in combat roles when she was a teenager, she worked to change the law—a fact that was highlighted in a biographical ad that went viral during her first congressional run in 2017.
"In no way, shape or form is that a light version of Mitch McConnell," said Dan Kanninen, McGrath's newly-appointed campaign manager. "It is a rejection across the board of what he stands for."
Kanninen said the enthusiasm for her run is evident in the massive $46 million she's raised since entering the race. That's $10 million more than McConnell's brought in. Both have roughly $16 million in cash to use heading into the final 60 days of the race.
McGrath, who has challenged McConnell to three debates, agreed that she's most looking forward to "showing people the absolute, total contrast between myself and Mitch."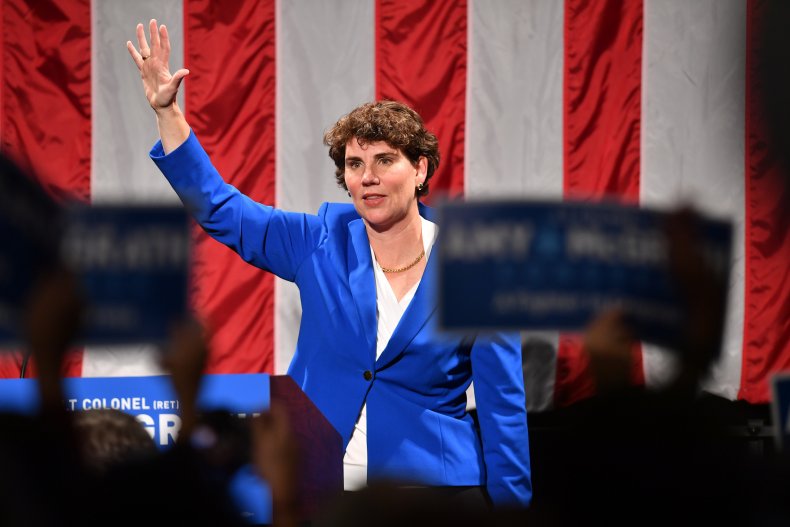 Still, the Democrat faces an uphill battle. While McConnell has been ranked one of the least-popular senators in the nation, strategists say it's his race to lose. Polling information on the race is surprisingly limited, considering it involves the Senate majority leader.
A Quinnipiac University poll released August 3 reported by the poll analysis site realclearpolitics.com had McConnell ahead by 5 percent, with a margin of error of 3.3 percent. Nonpartisan election forecasters such as The Cook Political Report still rate the race as "safe Republican."
"I realize it's a red state, we're not naive to that," McGrath's campaign manager said. "We know that Trump carried the state significantly in 2016. But McConnell has high negatives. He's deeply unliked."
Scott Jennings, a Kentucky-based Republican consultant who has advised some of McConnell's past campaigns, said he considers the senator in a solid position to be elected to a seventh term.
"McConnell is a tough target because his conservative views match those of most Kentuckians," Jennings said, "and he pulls no punches in contrasting them with those of his liberal opponents."
McConnell has positioned himself as a leader for middle America, and criticizes McGrath as too liberal for the state. At a Kentucky Farm Bureau forum earlier this week, which McGrath declined to attend, he said her absence was another example of "the utter contempt Democrats have for rural America these days."
If McGrath were elected, McConnell's campaign said she would increase taxes, fund Planned Parenthood, open borders, take away Second Amendment rights and establish a single-payer health care system.
"Senator McConnell stands in the way of the Democrats' radical, anti-Kentucky agenda while McGrath embraces it with open arms," Katharine Cooksey, McConnell's press secretary, told Newsweek.
McGrath laughed at the fact that she's being criticized by McConnell as being too progressive, when just a few months ago she was being attacked by her Democratic primary opponents for being too conservative.
"It's ridiculous. The labels are such B.S.," McGrath said. "I'm an American. I'm somebody that wants to serve the country and solve problems through common-sense solutions."