Can Republicans Block Biden's Pick for SCOTUS?
The confirmation process for Ketanji Brown Jackson will get underway Monday as senators consider President Joe Biden's historic nominee for the Supreme Court.
Jackson is the first Black woman to be nominated to serve on the Court after being tapped by Biden last month to fill the seat that is being vacated by retiring Justice Stephen Breyer. Because Republicans changed the filibuster rules on Supreme Court nominees in 2017, a simple majority is all that's needed for her confirmation.
But can Republicans still block her ascension to the Court?
"Republican senators can try to delay the process of confirming Judge Jackson through procedural maneuvers, but ultimately they cannot block Judge Jackson's confirmation as long as Senate Democrats stay united," Paul Collins, a professor of legal studies and political science at the University of Massachusetts–Amherst, told Newsweek.
Unlike when Senate Republicans refused to vote on Merrick Garland's nomination in 2016, Democrats now have majority control by the slimmest of margins in the 50-50 split Senate, thanks to Vice President Kamala Harris' tie-breaking vote. So even if all Republicans were to oppose Jackson's nomination, she can still be confirmed—as long as every member of the Democratic caucus votes in her favor.
All eyes will likely be on Senators Joe Manchin and Kyrsten Sinema, two moderate Democrats who have opposed some of Biden's key priorities. The good news for Democrats is that both Manchin and Sinema have been reliable "yes" votes on Biden's judicial nominees so far.
Manchin said last month that he had a "positive and productive meeting" with Jackson but will follow her nomination hearings before making a final decision on how to vote. Sinema also described their meeting as "productive" and, like Manchin, didn't indicate how she would vote.
According to Democrat Doug Jones, a former senator serving as the "Sherpa" guiding Jackson through the confirmation process, the judge has met with more than 40 lawmakers from both sides of the aisle.
"These have been engaging and respectful discussions that showcase her extraordinary qualifications, experience, intellect and character," Jones said.
Jackson, 51, once worked as Breyer's clerk after attending Harvard. Earlier in her career, she worked as a public defender and was vice chair of the U.S. Sentencing Commission. She became a federal judge in 2013, working at the District Court in Washington, D.C., before being nominated by Biden to the U.S. Court of Appeals for the D.C. Circuit last year.
When she was confirmed to the appeals court last year, three Republican senators supported her: Susan Collins, Lisa Murkowski and Lindsey Graham.
But after Jackson was announced as Biden's Supreme Court pick, Graham said the nomination meant "the radical Left has won." The South Carolina senator had lobbied for U.S. District Judge Michelle Childs to be the next justice.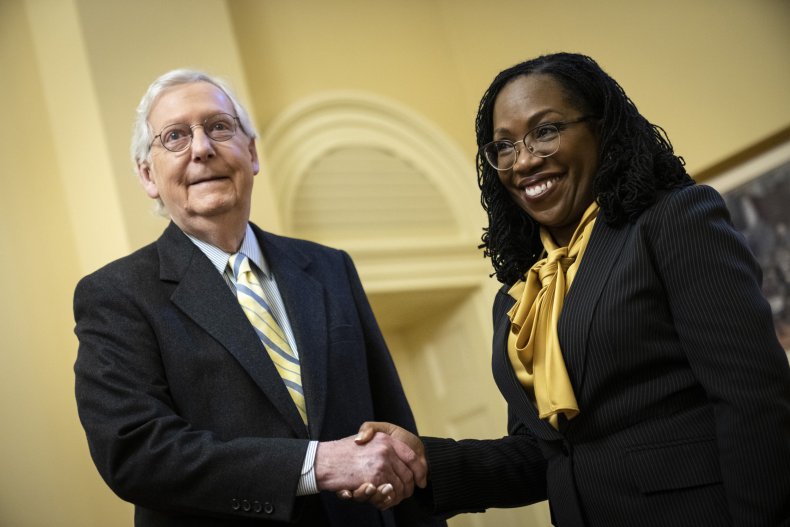 Some Republican senators have said they're going to be "respectful" during the hearings.
"The best message I can give you at this point, but I think you've heard me say it before: It's going to be a fair, thorough hearing, and we're not going to get in the gutter like the Democrats did," Senator Chuck Grassley told Politico.
Other members of the GOP, including Senators John Cornyn and Josh Hawley, have taken aim at Jackson's record as a public defender and her work in private practice. The Republican National Committee has called Jackson's work representing detainees at the U.S. military prison at Guantánamo Bay "advocacy for these terrorists."
"In terms of Judge Jackson's past, look for Republican senators to question her aggressively on her record on crime, including when she represented Guantanamo Bay detainees as a federal public defender," professor Collins said.
Democrats, Collins said, will "paint Judge Jackson as an eminently qualified nominee and celebrate her historic appointment to the Court."
The hearings in the Senate Judiciary Committee are expected to last two days. After the hearings, there will be a debate in the Senate followed by a full-floor vote.