Can Sarkozy's G20 Presidency Boost Him in France?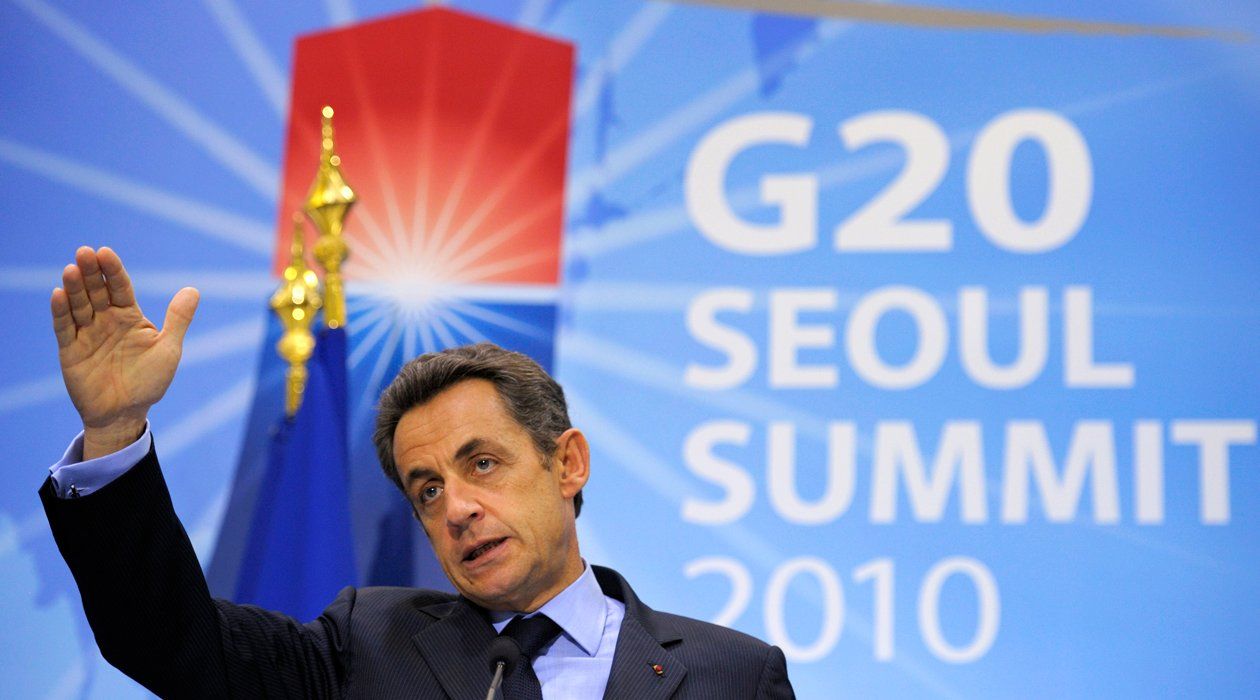 French President Nicolas Sarkozy began his yearlong term as president of the Group of 20 top economic powers Friday, after foreign leaders wrapped up a lackluster G20 summit in Seoul. The sense in France is that Sarkozy is counting on his star turn on the international stage to give him the domestic boost he desperately needs as he aims for reelection in 2012.
Sarkozy finally signed the reform of France's overdrawn pension system into law on Tuesday, after weeks of protests that sent millions of protesters into the streets and left the country running on fumes, as refinery workers wreaked havoc with the gas taps. But that victory is arguably Pyrrhic: Sarkozy's approval ratings have dipped to all-time lows, under 30 percent, and a deep public anger lingers. The wily French president has a history of parlaying foreign triumph into a numbers bounce at home. But that will be tough this time. Here's why.
It is no coincidence that Sarkozy is taking over the G20 now. Unlike the G8 presidency, which rotates in an assigned order, the G20 leadership is open to negotiation on timing. And Sarkozy is said to have wanted his country's turn at precisely this time—his term is scheduled to conclude in late 2011, just as France's next presidential campaign kicks into high gear. Badly enough to lobby for it. Fellow leaders such as former British prime minister Gordon Brown and China's Hu Jintao are credited with helping Sarkozy, in 2009, secure this G20 presidency, which will coincide with France's turn as G8 host next year.
Ever since Sarkozy's accomplished run as rotating president of the European Union in 2008, the conventional wisdom has been that a flashy foreign junket is the best medicine for what ails him at home. In August of that year, he turned his trademark impulsive energy into an asset for peacemaking. Ignoring the European Union tradition of consensus action, Sarkozy shuttled between Moscow and Tbilisi to negotiate a quick ceasefire after Russian tanks rolled into Georgia. That gave him the international stature he had been lacking, and he carried a measure of statesmanlike gravitas (and a double-digit approval boost at home) into the autumn. When the global financial crisis arose in earnest with the collapse of Lehman Brothers in September 2008, Sarkozy was on hand to help administer first aid. Indeed, he is credited with initiating the G20 as we know it today for that purpose. And so his reputation was made. He might have staked a claim for man of the year had America not made history in November by electing its first black president.
And there's the rub. Sarkozy's impressive spell at the top of the world in 2008 coincided with a lame duck being in the White House and a nasty U.S. presidential race. That left a rare power vacuum at a critical moment in time. Sarkozy filled the vacancy, while Americans were left to wonder whether Republican vice presidential hopeful Sarah Palin really could see Russia from her house. Two years on, brutal midterm elections have hobbled Barack Obama, but there's no lame-duck parallel to 2008. The challenges Sarkozy wants to address as G20 president, including reform of the international monetary system, implicate the U.S. much more directly than strife in the Caucasus, making an ambivalent, inward-looking America a potential obstacle to Sarkozy's get-up-and-go style this time around.
And while Sarkozy's EU presidency remains a highlight of his term so far, he also has had more recent foreign forays that were ineffectual—even embarrassing. Sarkozy had great expectations for France's influence going into the climate conference in Copenhagen last December, before a U.S. and China face-off stole the show. Two months ago, following a controversial summer spent courting far-right-wing voters by showily deporting ethnic Roma, he demonstrated just how badly an EU summit could go. After a heated clash behind closed doors with European Commission President José Manuel Barroso, and public diplomatic missteps with allies like Luxembourg Prime Minister Jean-Claude Juncker and German Chancellor Angela Merkel, he seemed not so much Sarkozy the statesman as Sarkozy the hothead of state. In a poll taken during that summit, 71 percent of his compatriots felt France's image abroad had suffered during the previous weeks—and that wasn't all because of its sulky soccer players.
In Seoul on Friday, Sarkozy conceded that, while corraling European powers to work together certainly is tough, the G20 is another animal. "If you want me to say that, on a scale of difficulty, the G20 is more difficult [than the rotating presidency of the EU], yes. That's indisputable," he told reporters. "The differences in culture, in ties, in history, of interests, are exponentially different, compared to what there is in Europe." And he acknowledged that he won't be able to dictate behavior to China or the U.S.
Beyond those formidable challenges, if Sarkozy is looking to redeem himself with the French masses, a technocratic turn atop the G20 is a curious way to do it.
His oft-stated goal of working toward a "new world monetary order" through "a new Bretton Woods"—his dream of building an international monetary policy framework for the 21st century just as discussions in New Hampshire during World War II would go on to shape currency dynamics for decades—may be audacious and laudable, but it won't set public hearts aflutter—even if he does succeed. The Caucasus war sent France's iconic open-shirted philosopher, Bernard-Henri Lévy, to the front lines to try his hand at reporting; "BHL" is unlikely to swashbuckle to the sidewalk in front of the Federal Reserve with the same alacrity. And when Sarkozy rolls out the red carpet for Chinese President Hu, as he did during a three-day pre-G20 visit the Chinese made to Paris and Nice last week, many at home tend to note Sarkozy's timidity on human rights rather than applaud his diplomatic tact.
In all fairness, Sarkozy's most impressive performances on the world stage in 2008—the reaction to sudden warfare in Georgia and to the collapse of financial institutions supposedly too big to fail—were pure improv. He thrived on being in the right place at the right time when everything went wrong. (Fellow Frenchman Dominique Strauss-Kahn, whom Sarkozy backed to head the International Monetary Fund, has rejuvenated his career following suit and may well give Sarkozy a run for his job as a result.)
If the pattern holds, Sarkozy is more likely to win renewed support at home for managing some global cataclysm we have yet to imagine than for completing the checklist of G20 policy goals he will detail in January. Holding the G20 and G8 presidencies puts Sarkozy on call in the event of emergency for a full year, bully pulpit ready, just before he stands for reelection. That's a gutsy gamble. Let's hope the version we get is Sarkozy the statesman.