Operation Escargot: The Quirky Language of French Protests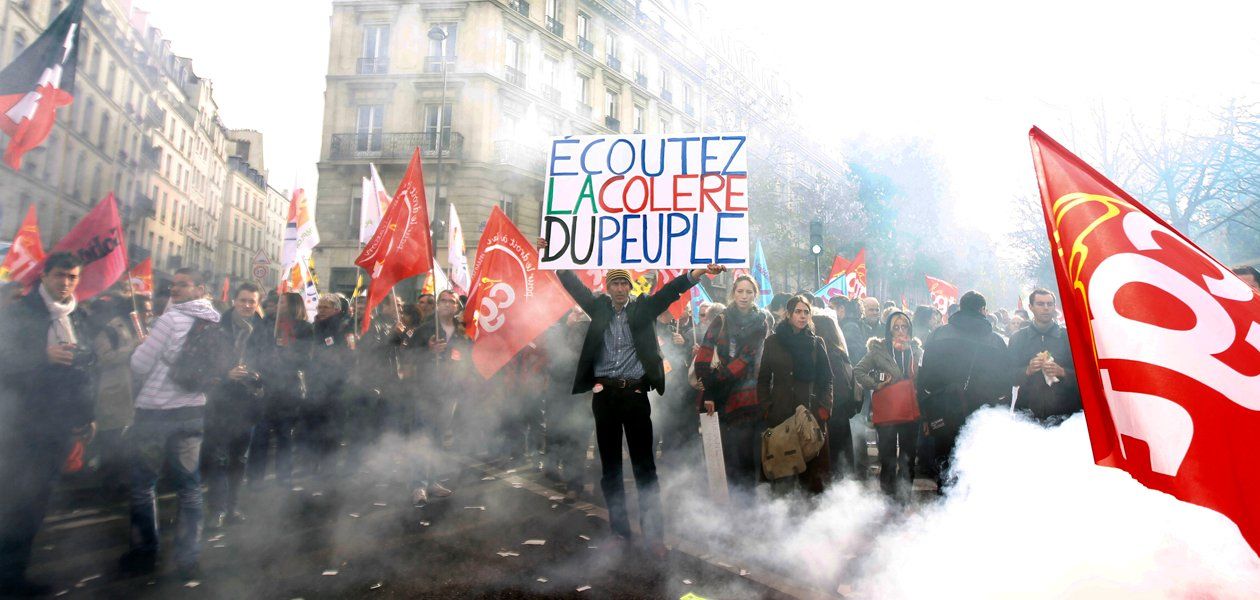 The strikes, demonstrations, slowdowns, and minor riots that have rocked France continue, as the French government moved early Wednesday morning to break through blockades of oil refineries and help get fuel to thousands of service stations that had run out of gas. Although buses and subways are operating almost normally, long-distance trains and air traffic have been badly disrupted. In a few highly publicized incidents, small groups of young men looking for trouble on the edges of the protests have clashed with police. The demonstrations have sent millions of citoyens to the streets over the last six weeks and have gained momentum as widespread discontent with the administration of President Nicolas Sarkozy has coalesced around specific opposition to his efforts at pension reform. But as a matter of fact, whenever the French are fed up with a government or its policies, they fall back on their deep—and sometime revolutionary—impulse to "go to the streets." What follows is a glossary of words and phrases that you'll hear on those streets today, including the deeply Gallic Opération Escargot.
Bavure:Literally, a stain. Figuratively, an error. Generally, used in the context of a bavure policière, a police error. It is a government's greatest fear when demonstrations degenerate into violence, since police errors and overreaction can quickly turn public opinion even more hostile.
Bettencourt: As in Liliane Bettencourt, the heiress to the L'Oréal cosmetics fortune, who is a now a stock figure in the ironic humor of protest posters and placards. Bettencourt and Employment Minister Eric Woerth, who is leading Sarkozy's pension reform, figure in money-for-influence scandal allegations that assailed the minister through the summer. The Woerth-Bettencourt affair contributed to the sense of injustice that fueled anger against the pension reform, since it gives the strong impression that Sarkozy favors the rich.
Carla: As in Carla Bruni-Sarkozy. The French president's wife, an Italian aristocrat, pop singer, and former supermodel, is another staple in pension-reform-protest slogan humor. References to Madame Sarkozy tend to refer to her money, or more pointedly, they liken her intimate relations with the French president to what the latter is allegedly doing to the country with his reform.
Casseurs: Literally, people who break things, but in fact the hooligans on the fringe of demonstrations, especially those with large contingents of students where they can easily blend into the crowd. The casseurs use protests as an excuse to skirmish with police. Interior Minister Brice Hortefeux announced this morning that nationwide 1,423 casseurs have been arrested over the past week, but they draw attention disproportionate to their numbers in part because they provide exciting images for television cameras. Ironically, the presence of casseurs can work to the government's benefit by scaring off moderate protesters. The smash-and-burn crowd tend to wear hooded sweatshirts and scarves they can quickly use to cover their faces against tear gas or to make identification difficult. Sarkozy's government passed a law prohibiting "illicit facial dissimulation" in demonstrations in 2009. (It took effect just days before Sarkozy also announced plans to ban the ultraconservative Islamic dress for women known as the burqa or the niqab.)
Flashball: A French brand name for a sublethal weapon (rubber bullets) used by police. Interior Minister Hortefeux asked police to restrain their use of the Flashball after a 16-year-old was allegedly shot in the face with one outside a Paris-area high school last week.
Gaz lacrymogène: Tear gas.
Lycéens: High-school students. Absent from early demonstrations against Nicolas Sarkozy's pension-reform bill, they gave the movement its second wind last week. Students are known for their enthusiasm and their staying power. One union leader likens them to toothpaste because "once they're out, you don't know how to get them back in." They have blockaded schools and added thousands to the ranks of protesters since they joined the fight Oct. 12. Sarkozy will be hoping that the 12-day Toussaint (All Saints) holiday, which begins Friday night, will dampen the ardor of the high-school element and thereby weaken the protest movement. But after a university-student contingent joined the marches Tuesday, shutting down a handful of universities, some analysts suggest that college kids (who aren't on holiday next week) could take up the slack.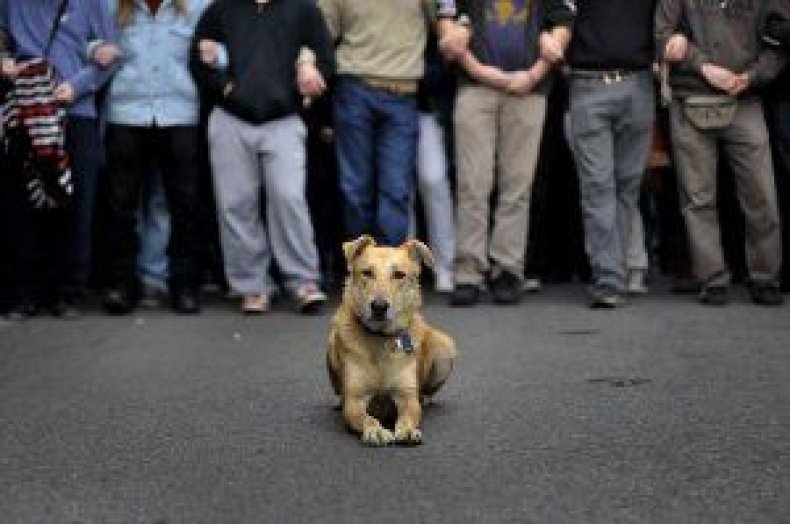 Manif:Short for manifestation, which means demonstration. If you ask a bus driver or cabdriver why you are stuck in a gridlock, he's likely to reply with that one word, manif.
Marseille:The French port city that has come to symbolize the numbers game played by the French unions and the French police. Nationally, on average, the unions tend to count three times as many protesters as the police will concede. But in Marseille, the difference is often more like 10 to one. On Tuesday, for instance, police counted 23,000 protesters in Marseille; unions counted 240,000. Wide gaps in government and union math have also affected counts of the number of high schools blockaded by students and the number of gas stations suffering from fuel shortages due to workers' blockades of French refineries.
1995: Shorthand for the massive, prolonged shutdown of France that saw an attempt to reform special pension privileges for some public-sector employees, notably rail workers, overturned in the streets. Over three weeks in November and December 1995, massive strike action—the largest since the May 1968 uprising—paralyzed the country, yet still benefited from public support. Newly elected President Jacques Chirac and his prime minister, Alain Juppé, were seriously weakened by the reform's defeat. In a poll last week, 54 percent said they were in favor of "the unions organizing a general strike like they did in 1995" should the government refuse to review the current reform.
Opération Escargot: Literally, snail operation. A protest tactic, when trucks (or taxis, or farm machinery, depending on the grievance at issue) slow to a crawl to bottleneck traffic in different parts of the country. Participants honk and fly the flags of their unions from vehicle windows. It looks like a parade, but most drivers would rather not be in it.
Oussekine: As in Malik Oussekine, a 22-year-old student protester who died in 1986 after being beaten by police in Paris's Latin Quarter. Within days of Oussekine's death, French Education Minister Alain Devaquet resigned and his reforms—the focus of the student protests at the time—were abandoned. Oussekine still resonates as the watchword for police caution in demonstrations and was widely mentioned by French media last week when a 16-year-old boy allegedly took a rubber bullet to the face.
Parcours:The route a demo takes. Paris routes vary, partly in order to take the strain off local businesses faced with street closings. But one classic gathering spot is the Place de la Bastille, the site of the prison stormed in 1789 to kick off the French Revolution. It is today home to a magnificent monument to another revolution, in July 1830, that features a plaque reading, "To the glory of the French citizens who armed themselves and fought in defense of public liberties on the memorable days of the 27, 28, 29 July, 1830." Protesters tend to climb the statue and hang banners from it during modern-day manifs.
Phrygian bonnet: A soft, hoodlike cap, often red, that's making a comeback in French demonstrations. Originally it was headgear of the ancient people of Phrygia in Anatolia (present-day Turkey). But here the sartorial reference is to the French Revolution.
Retraite:Retirement. Note that retrait, without the e on the end, means withdrawal, which makes for convenient visual symmetry on protest signs demanding Sarkozy withdraw his retirement reform.
62:The legal retirement age proposed by Sarkozy's reform, up from 60. The reform also proposes increasing the age at which French retirees can collect their full pensions without penalty, regardless of the number of years worked, from 65 to 67. One criticism of Sarkozy is that he had previously pledged not to lift the retirement age because that hadn't been part of the campaign platform he was elected on in 2007. But the global economic crisis has since moved the goalposts by radically deepening pension-system deficit forecasts if nothing is done.
Sondages:Polls. Resistance to pension reform has remained high and steady in recent weeks. In a new poll released Wednesday, 79 percent of those surveyed want Sarkozy to negotiate with the unions on this reform. Sixty percent want to see the reform "profoundly modified," but only 34 percent want it withdrawn completely. In the same poll, 67 percent support the strikes and protests. But 54 percent are against refinery blockades. (Sarkozy last night ordered the dismantling of the refinery blockades.) In another poll released today, 59 percent want the protest movement to continue, even after the Senate's expected passage of the bill later this week. Meanwhile, Sarkozy's approval numbers remain abysmal, around 30 percent.
Syndicats: Unions. So far, France's wide assortment of workers' unions has formed a united front in organizing pension-reform protests, each calling its members out to mass rallies together. But as a rule, French unions compete, and some are by nature more reformist than others. Sarkozy will be hoping that the union movement will break apart as the pension bill gets closer to becoming law. With the Senate vote looming, unions plan to meet Thursday to discuss the next step. Four of eight major workers' unions have already said they want to continue the protest action, even after the law passes.
2003:Shorthand for union treachery. That year, Social Affairs Minister François Fillon (who is now prime minister) was able to push through a hotly debated retirement reform when he persuaded François Chérèque, the leader of one of the most reform-minded unions, the CFDT, to break ranks with the other unions and with elements of his own organization. It took years for Chérèque to win back their trust. Fillon last week taunted the same union leader, in an effort to again break the unions' united front. "Monsieur Chérèque knows that our reform is reasonable," Fillon said on television. Whether Chérèque's moderate CFDT decides to pursue resistance beyond this week is key to the future of the protest movement.