Can States Declare Bankruptcy? Mitch McConnell Floated the Option But Experts Say Current Law Doesn't Allow It
Senate Majority Leader Mitch McConnell has floated the idea of letting states go bankrupt amid the coronavirus pandemic but experts say that's just not possible under current law.
"On a basic level, states simply aren't authorized to declare bankruptcy," Juliet Moringiello, an associate dean of research at Pennsylvania's Widener School of Law, told Newsweek. "Cities and counties and towns are authorized but even then there are still complicated constitutional considerations."
David Adkins, the director of the Council for State Governments, also confirmed that federal law doesn't currently allow states to declare bankruptcy. The issue, he said, "goes to the very heart of our structure of federalism."
"It's not just unauthorized or prohibited by statutory law, it may actually be contrary to the constitutional framework of our nation," Adkins said, noting that states have sovereign immunity that protects them from being put into bankruptcy involuntarily.
McConnell made the suggestion during an appearance last week on The Hugh Hewitt Show, a radio show broadcast by the Salem Radio Network, after the Senate passed a $483 billion interim relief package for small business programs, hospitals and coronavirus testing. The top Senate Republican indicated he'd rather let states go broke than pass another half-trillion-dollar coronavirus bill.
"I would certainly be in favor of allowing states to use the bankruptcy route," McConnell told the conservative radio host. "It's saved some cities, and there's no good reason for it not to be available."
But in order for state bankruptcy to become a reality, Congress would need to pass a new law amending federal bankruptcy code. Such a proposal was floated after the 2008 financial crisis and was supported by Republicans like Jeb Bush and Newt Gingrich but never made it to a vote.
"Whether that proposal would be constitutional is a debated question. How it would work is another debated question," said David Schleicher, a professor at Yale Law School.
"There would be a lot of hoops to jump through and constitutional considerations to get out of way to even consider state bankruptcy," Moringiello added.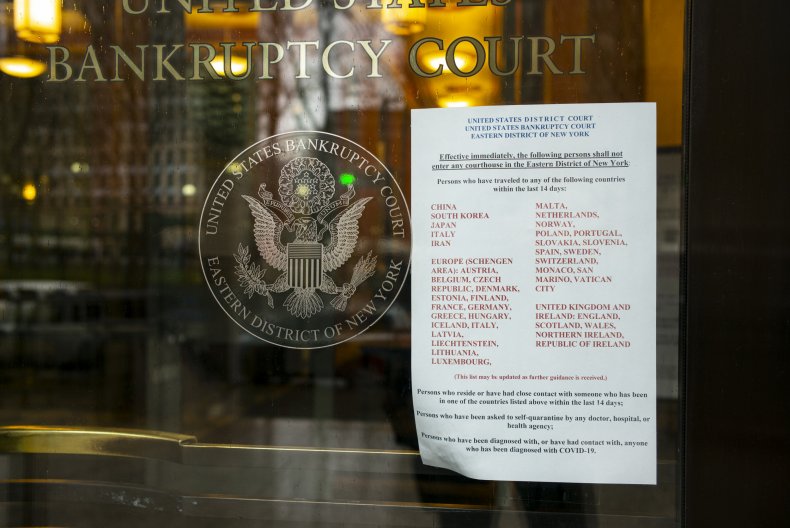 McConnell's comments on state bankruptcy were immediately rebuked by several heads of state. Maryland Governor Larry Hogan, a Republican, said McConnell would regret the statement. New York Governor Andrew Cuomo called McConnell's words "politically repugnant."
Though states are struggling considerably with the financial fallout of the COVID-19 outbreak. Budget shortfalls and revenue losses may force them to reduce their workforce or cut necessary services.
The National Governors Association has asked Congress for $500 billion in direct federal aid. Two senators, Bill Cassidy and Bob Menendez have since introduced bipartisan legislation that would give governors the exact amount of funding they requested.
The Cassidy-Menendez bill would provide $166 billion to all 50 states and the District of Columbia. The rest of the $500 billion fund would be divided according to a state's share of the total U.S. infection rate and the loss of revenue that governments have experienced due to coronavirus-related restrictions.
Adkins said he's hopeful that there is "a lot of room for bipartisan consensus" to help state and local governments. But if governors don't get the $500 billion requested, they do have another option: defaulting on debt.
"You don't need a bankruptcy law in order to not pay your debts and states over the course of American history have defaulted many times," Schleicher said. It happened to eight states in 1841. Puerto Rico, a territory, was the latest to default on some of its debts in 2016.
While defaulting is an option, Adkins argued it would have "catastrophic consequences" for states. Any state that defaults would face significantly higher interest rates on future bond issuances, if they're even allowed to borrow money at all.
"It is so rare that municipality or the state would ever consider default as a viable option if another avenue is available," he said.