As President Donald Trump threatens to declare a national emergency over immigration in the U.S., the country's northern neighbor, Canada, is prepared to welcome more than 1 million newcomers over the next three years.
The Canadian Parliament detailed its plans to add hundreds of thousands of permanent residents each year from 2019 to 2021 in its 2018 Annual Report to Parliament on Immigration.
Read more: Federal union employees protest Trump's arrival in Texas, saying 'We want to work'
The graphic below by Statista illustrates the Canadian government's immigration plans.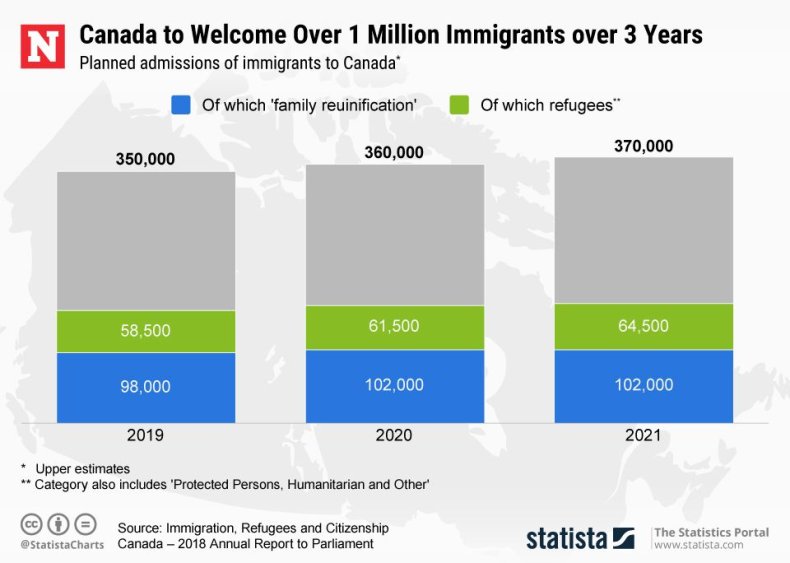 Outlining Canada's immigration goals for 2019-2021, the annual report states that "under this plan, Canada will welcome more talented workers with the skills and expertise our economy needs, reunite more family members and accommodate more refugees looking to start new lives."
In 2017, Canada admitted 286,479 permanent residents, according to the report, and in the years to come, the country expects those numbers to grow.
Under its new "immigration levels plan," Canada projects that it could welcome as many as 350,000 people as permanent residents in 2019 alone, with 176,000 of those being "federal economic and provincial/territorial nominees, 89,000 being admitted under its family reunification program, and 58,500 being welcomed as refugees, protected persons or for other humanitarian reasons.
In 2020, the number of admissions is expected to increase to 360,000 before rising again in 2021 to include 370,000 people.
In a statement, Ahmed Hussen, Canada's minister of immigration, refugees and citizenship, said, "immigrants and their descendants have made immeasurable contributions to Canada and our future success depends on continuing to ensure they are welcomed and well-integrated."
The immigration minister also asserted that welcoming more permanent residents into the country was a way to address the "new challenges" Canada faces, "such as an aging population and declining birth rate."
"Immigrants have helped address these by contributing to Canada's labor force growth," Hussen said, adding: "Growing immigration levels, particularly in the Economic Class, will help sustain our labor force, support economic growth and spur innovation."
As Canada continues to keep its doors open to more permanent residents, the U.S. is currently locked in a battle over its own borders that has seen the government partially shut down for nearly three weeks.
On Saturday, the shutdown will become the longest in U.S. history, having begun on December 22 after President Donald Trump refused to sign a spending bill that did not include the $5.7 billion he demands in funding for the construction of his long-promised border wall.
Trump has argued that the wall, one of his key campaign promises, was necessary to tackle what he has called an illegal immigration "crisis," despite illegal border crossings having declined significantly in recent years.
On Thursday, the U.S. leader renewed his threat to declare a national emergency over the situation at the border in order to circumvent Congress and obtain the funding he needs to build his border wall.
"If we don't make a deal with Congress, most likely I will do that," Trump told Fox News host Sean Hannity. "I would actually say I would. I can't imagine any reason why not, because I'm allowed to do it."
As the government shutdown enters its 21st day, hundreds of thousands of federal employees continue to work without pay.
While Trump has claimed that furloughed employees support his bid to get the border wall built, government workers have turned up outside the White House to protest the shutdown, demanding to return to paid work.