Canadian and Saudi Officials to Meet Over Political Dispute
Canada's foreign minister said on Tuesday that she may meet with Saudi Arabia's foreign minister this week during the U.N. General Assembly in New York to discuss the ongoing political dispute between the two governments.
"I have been in close touch with Adel [bin Ahmed al-Jubeir] all summer. We call each other on our cellphones. We are going to meet in New York…. We are hoping to meet in New York this week, and I think that's a good thing," Chrystia Freeland said while speaking at the New York-based Council on Foreign Relations, according to the CBC.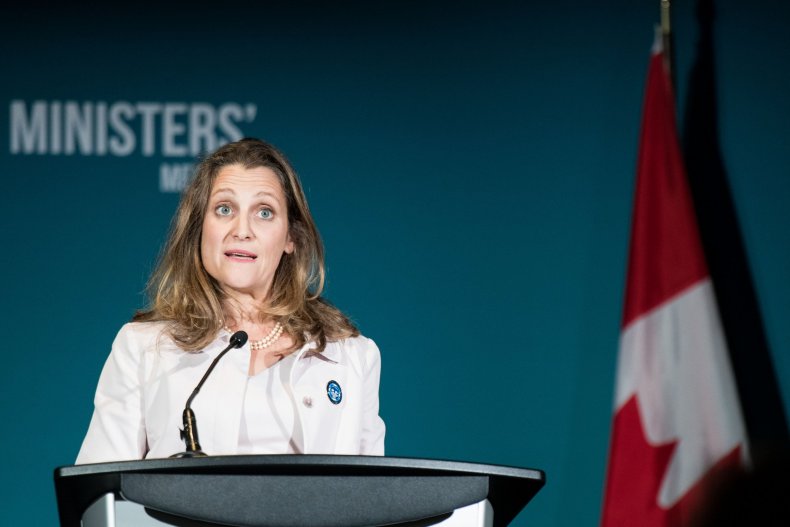 While open to meeting with her counterpart, Freeland made it clear that Canada would be firm in its stance regarding human rights.
"Canada will always stand up for human rights.... We feel a particular obligation to women who are fighting for their rights around the world. And we feel a particular obligation to people who have a personal connection to Canada," the foreign minister said, Reuters reported.
The political dispute began when Freeland called for the release of women's rights activist Samar Badawi and her brother Raif, whose wife and children are Canadian. Saudi Arabia sentenced Raif, a women's rights blogger, to 1,000 lashes and 10 years in prison for insulting Islam in 2012.
"Very alarmed to learn that Samar Badawi, Raif Badawi's sister, has been imprisoned in Saudi Arabia," Freeland tweeted in early August. "Canada stands together with the Badawi family in this difficult time, and we continue to strongly call for the release of both Raif and Samar Badawi."
The Saudi government reacted with a series of retaliatory actions such as a ban on new trade, the removal of its ambassador from Ottawa and the expelling of Canada's ambassador.
As a result of the feud, Saudi Arabia told more than 8,000 students they had to return by August 31, though they allowed 1,000 medical students to remain in Canada until they could "find an an alternative assignment." At least 20 students have applied for asylum in hopes of being able to continue their studies.
"They want to keep studying here in Canada. They don't want to lose all their credits and the time that they've been here studying and working, so they're at least looking for a solution," said Omar Abdulaziz, a Canada-based Saudi activist who works with students.