Canadian Diplomats Detained in China Since 2018 Finally Returning Home, Trudeau Says
Canadian Prime Minister Justin Trudeau announced Friday that two of the country's diplomats who had been held in China for nearly three years had boarded a flight home.
Michael Kovrig and Michael Spavor, who the Canadian press has referred to as "The Two Michaels," were detained in Beijing in December 2018 on charges of spying. The arrests were seen by many as political retaliation for the Vancouver arrest of Huawei Chief Financial Officer Meng Wanzhou—who was arrested one week earlier based on an extradition request from the U.S., where she was wanted on fraud charges.
"About 12 minutes ago the aircraft carrying Michael Kovrig and Michael Spavor left Chinese airspace and they're on their way home," Trudeau said during a press conference on Friday night. "These two men have gone through an unbelievably difficult ordeal. For the past thousand days they have shown strength, perseverance, resilience and grace. And we are all inspired by that."
"I know that there is going to be time for reflections and analysis in the coming days and weeks," he added. "But the fact of the matter is, I know Canadians will be incredibly happy to know: Right now, this Friday night, Michael Kovrig and Michael Spavor are on a plane and they're coming home."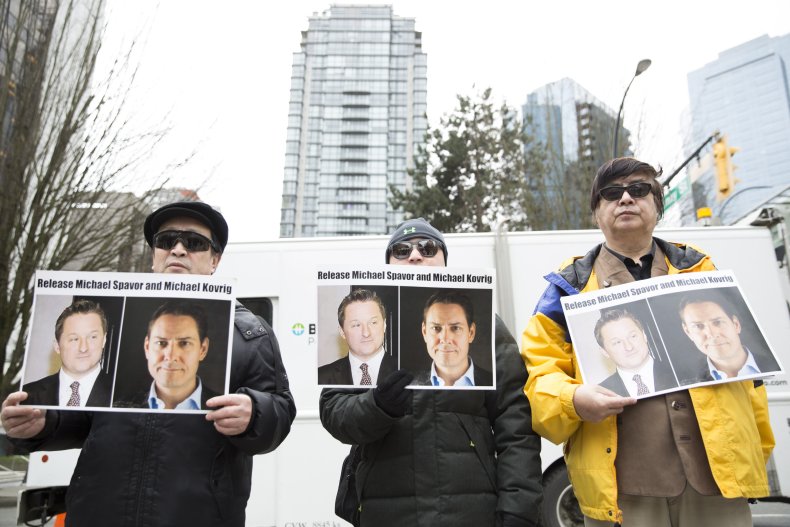 The release of the two men came hours after the U.S. Department of Justice (DOJ) announced that it was dropping all charges against Meng, who is also the daughter of Huawei's owner. Canada's Justice Department said that Meng was free to leave the country a short time later. According to The New York Times, protesters gathered outside a Vancouver courthouse shouted, "What about the two Michaels?" as Meng departed.
Meng was released after entering into a Deferred Prosecution Agreement with the DOJ, which required her to admit that she had mislead a bank about her company's business dealings in Iran. After being released in Canada, she told reporters that her "life has been turned upside down," while highlighting the "silver lining" of "all the good wishes I received from people around the world."
Meng could be prosecuted again if she breaks the terms of the agreement. Acting U.S. Attorney Nicole Boeckmann said in a statement that Meng's admission confirmed that she "and her fellow Huawei employees engaged in a concerted effort to deceive global financial institutions, the U.S. government, and the public about Huawei's activities in Iran."
Although the timing of Kovrig and Spavor being released just after Meng suggests a connection, the Chinese government has insisted that there the two cases are not related. The airplane carrying Meng back to China reportedly left Canadian airspace at approximately the same time that the plane carrying the Canadian men left Chinese airspace, according to the New York Times.
Newsweek reached out to the Embassy of China in Washington, D.C. for comment.