The U.S. Department of Justice (DOJ) has agreed to drop its case against Meng Wanzhou, the daughter of Huawei's owner, in what is effectively a three-way deal that secured the release of two Canadians held in China.
Under the so-called "deferred prosecution agreement" announced Friday, the DOJ will dismiss charges of fraud against Meng by December 2022 if she complies with certain conditions including accepting responsibility for her crimes. Meng must also not commit other federal, state or local crimes.
If she breaks the agreement, she'll be subject to prosecution of all the charges against her.
"In entering into the deferred prosecution agreement, Meng has taken responsibility for her principal role in perpetrating a scheme to defraud a global financial institution," Acting U.S. Attorney Nicole Boeckmann for the Eastern District of New York said in a DOJ statement.
Shortly after the DOJ announcement, Canadian Prime Minister Justin Trudeau announced that two of the country's diplomats, who had been held in China for nearly three years, had boarded a flight home.
Michael Kovrig and Michael Spavor, who the Canadian press has referred to as "The Two Michaels," were detained in Beijing in December 2018 on charges of spying. Their arrests were seen as political retaliation for Meng's arrest in Vancouver, Canada.
The release of the two men came hours after the U.S. DOJ announced that it was dropping all charges against Meng.
"These two men have gone through an unbelievably difficult ordeal," Canadian Prime Minister Justin Trudeau said upon their release. "For the past thousand days they have shown strength, perseverance, resilience and grace. And we are all inspired by that."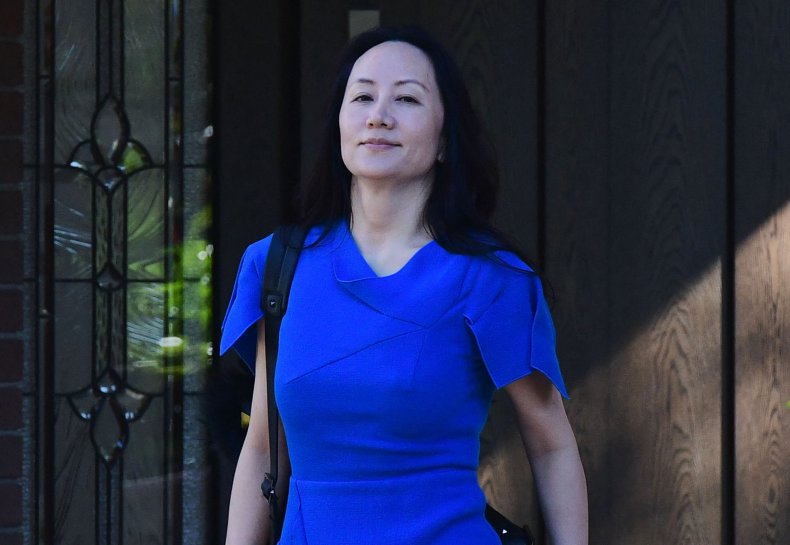 Meng—who was also Huawei's Chief Financial Officer—was arrested one week before "the two Michaels" were arrested. Her arrest by Canadian authorities was based on an extradition request from the United States. Meng had been arraigned on charges of conspiracy to commit bank fraud as well as conspiracy to commit wire fraud, all relating to Huawei's misrepresented business dealings in Iran.
Specifically, she made false statements about Huawei's relationship with Skycom Tech. Co. Ltd., an Iran-based subsidiary of Huawei. Meng told the U.S. financial institution that Skycom was a business partner rather than a subsidiary, the DOJ said.
Meng lied so that the bank would keep doing business with the Chinese telecommunications company. The U.S. says Huawei has ties to the Chinese military.
"The truth about Huawei's business in Iran, which Meng concealed, would have been important to the financial institution's decision to continue its banking relationship with Huawei." the DOJ said. "Meng's admissions confirm the crux of the government's allegations in the prosecution of this financial fraud — that Meng and her fellow Huawei employees engaged in a concerted effort to deceive global financial institutions, the U.S. government and the public about Huawei's activities in Iran."
Huawei has been banned from doing business in the United States as a security risk. Washington has also been pressing its allies to follow suit and deny the Chinese company contracts to build telecommunications infrastructure.
Various commenters on Twitter reacted to the news.
Commentator Brahma Chellaney wrote, "Biden is going to extraordinary lengths to ease tensions with China: After not uttering the word 'China' in his UN speech, Biden removes an irritant in ties with Beijing through a deal that allowed Huawei founder's daughter to leave for China on the day he hosted the Quad summit."
Olivia Siong, Beijing Correspondent for Channel News Asia (CNA), wrote, "State media emphasises the Chinese government's role in its report on Huawei's #MengWanzhou's return to China. Stresses the "unremitting efforts" of the Chinese government and how Meng is travelling in a chartered plane organised by them".
NBC News correspondent Janis Mackey Frayer wrote, "#China long rejected accusations of 'hostage diplomacy' and just last month denied the detentions of Michael Kovrig & Michael Spavor were at all linked to #Huawei's Meng Wanzhou. Within hours of Meng's deal, the Canadians were freed after 1000+ days & on a flight home."
Newsweek contacted the DOJ for comment.