A towing company CEO plans to ignore Canadian Prime Minister Justin Trudeau's order for towing companies to disrupt truckers protesting vaccine mandates.
Trudeau, who invoked emergency powers for the first time in 50 years, has faced a fierce backlash over his directives, which include towing companies forcing their employees to remove trucker's rigs or face loss of federal contracts and other penalties.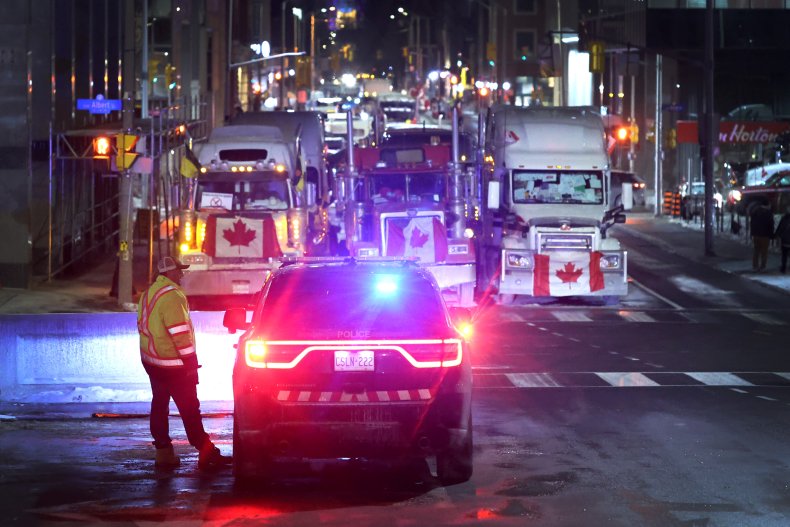 So far, there is little evidence that towing companies are complying with Trudeau's orders.
in an interview with Newsweek, Ibrahim Masir, CEO of Alliance Towing in Ottawa, Canada, said the government has put small businesses in a terrible position. He described it as a "damned if you do, damned if you don't" spot.
"It's a position that no small business wants to be in and we're here because of the government measures."
Masir went on to mention that the present situation with the trucker protest is a government-created problem, and it's an issue that Canada and the military should be tasked with fixing. However, he did mention that his stance was not to be interpreted as being for or against the trucker's protest.
A first-generation immigrant, Masir said he is just looking to run his small business to make a living for himself and his employees.
"I started this business from the ground up. I am just looking for the opportunity to create jobs. No one is talking about, any longer, the unnecessary stress the lockdown restrictions have placed on businesses. Sixty-six percent of Canadians support removing all of the mandates."
Additionally, Masir said the safety issues involved with removing the trucks are too much, and as such, he would just prefer not to get involved.
"My employees are not trained to work in that kind of an environment. The liability issues associated with that situation are just too great."
Masir also cited the stress the restrictions have placed upon the mental health of individuals and relationships.
On Wednesday, police in Ottawa provided the truckers with leaflets warning them to leave the area immediately or face the possibility of arrest. Thirty-three people, at this time, have been arrested in connection to the protest.
The CEO of Alliance Towing's refusal to adhere to Trudeau's order is similar to the stance of other companies before the order was put in place.
Earlier this month, Ottawa city manager Steve Kanaellakos said he was having trouble getting companies to remove the trucks participating in the protest, according to Business Insider.
"I've contacted them all and they're all refusing, as of today, to provide heavy tow truck work."
On February 5, Jim Watson, the mayor of Ottawa, declared a state of emergency, saying the situation had gotten out of control. At that point, the truckers' protest had reached 10 days. Police in the Canadian city also said that anyone who was found to be assisting the truckers with their protest was subject to arrest.
Newsweek also reached out to several other towing businesses in Ottawa. Ottawa Metro Towing and Recovery, Gervais Towing & Recovery, and Abrams Towing all responded with "no comment." One other business could not be reached for a response.