Trucker Protest Crackdown Begins With Ottawa Police Warning of Arrests
Police in Ottawa have begun cracking down on the truck drivers who have been blockading Canada's capital city as part of the Freedom Convoy that has been protesting COVID-19 restrictions for weeks.
On Wednesday, police handed out leaflets to truckers that warned them to leave the area or potentially face arrest, Reuters reported. They were also told to "immediately cease further unlawful activity." Police began issuing tickets to some of the many vehicles blocking the downtown area.
The city's heightened effort to disband the trucker protests comes two days after Prime Minister Justin Trudeau activated emergency powers in an effort to end the demonstrations. His use of the 1988 Emergencies Act includes measures aimed at cutting off funding for the protesters and bolstering local and provincial law enforcement teams with federal police, Reuters reported.
While some blockades have already ended or disbanded, such as those at the Coutts border crossing in Alberta and Windsor's Ambassador Bridge near Detroit, truckers have not yet abandoned their efforts in Ottawa.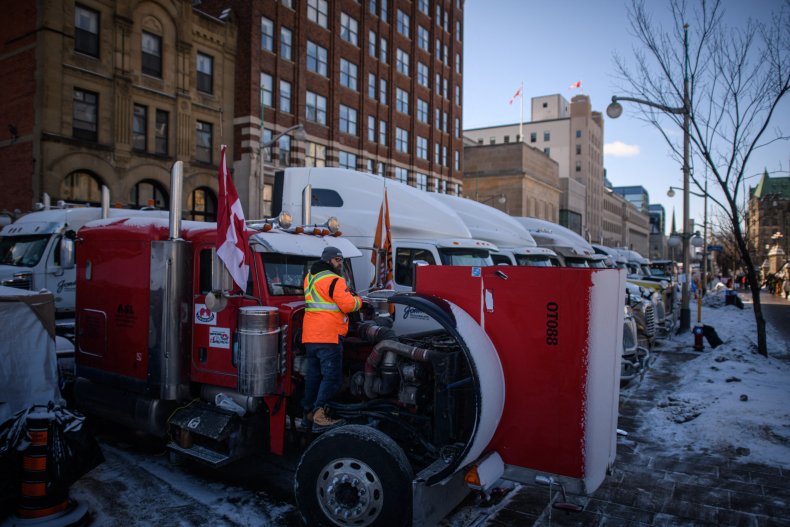 A notice to demonstrators issued Wednesday by Ottawa police said the city's residents "are being denied the lawful use, enjoyment and operation of their property and you are causing businesses to close." The notice added that this qualifies as "mischief under the Criminal Code."
"Charges and/or convictions related to unlawful activity associated with the demonstration may lead to denial in crossing the USA border," the notice said.
The blockades have angered and frustrated residents who have watched or been affected by the protests for weeks. Although hundreds of trucks have parked in the city, a spokesman for the Ottawa police said that 33 people in total have been arrested so far, according to Reuters.
The notice to protesters said that Ontario law does not permit interference with "critical infrastructure" like 400-series highways, railways, airports and international border crossings. The law also bars people from preventing others from traveling to or using walkways, bridges and highways, the notice said.
"Anyone who commits these illegal actions could face fines or be required to appear in court. Commercial vehicle drivers' licenses and private drivers' licenses can be suspended or revoked," the notice said.
Because of Trudeau's emergency powers, officers from the Royal Canadian Mounted Police (RCMP), Canada's federal police force, can now help local officers in their efforts to end the protests.
After a Tuesday meeting with the acting Ottawa police chief and the head of Ontario's police, RCMP Commissioner Brenda Lucki tweeted that their teams "are committed and look forward to working together."
Newsweek has reached out to the Ottawa Police Service for comment but did not hear back by publication time.
Update 02/16/22, 12:55 p.m. ET: This story has been updated with additional information and background.