Chris Barber and Tamara Lich, key organizers of the Canadian trucker "freedom convoy," have been arrested. They are both in custody and expected to face charges as the convoy protest continues its third week.
Video of Barber's arrest, posted on Facebook, showed officers checking his pockets and placing him in the back of a patrol vehicle. Keith Wilson, Lich's lawyer, said that Barber was arrested for alleged counseling to commit mischief, obstruction and counseling to commit obstruction, The Globe and Mail reported.
Lich's arrest was reported by the CBC. She said she was present during Barber's arrest, and added that her bank account had been frozen by the government.
Lich's and Barber's arrest occurred in the same week that Canadian Prime Minister Justin Trudeau invoked Canada's Emergencies Act to break the trucker blockade of major trade routes between the U.S. and Canada.
Trudeau said the blockades had destabilized and hindered his country's economic recovery. The act allowed local law enforcement and the federal government to target protesters legally and financially.
Chris Barber is a truck driver from Saskatchewan, according to CTV News. He is active on the video-sharing app TikTok, where he has posted protest video updates under his handle @bigred19755.
"We'll follow any direction of law enforcement," Barber said on Tuesday, according to CKOM. "We've said it right from day one: If you're confronted by a police officer and the handcuffs come out, put your hands behind your back. Take it like a man. I've never been arrested by police. I've never had handcuffs on.…If that comes, I'll be the first guy to get arrested."
In his past statements, Barber has called his government's COVID-19 vaccine mandates "tyranny at its finest" and compared them to policies of North Korea's totalitarian government.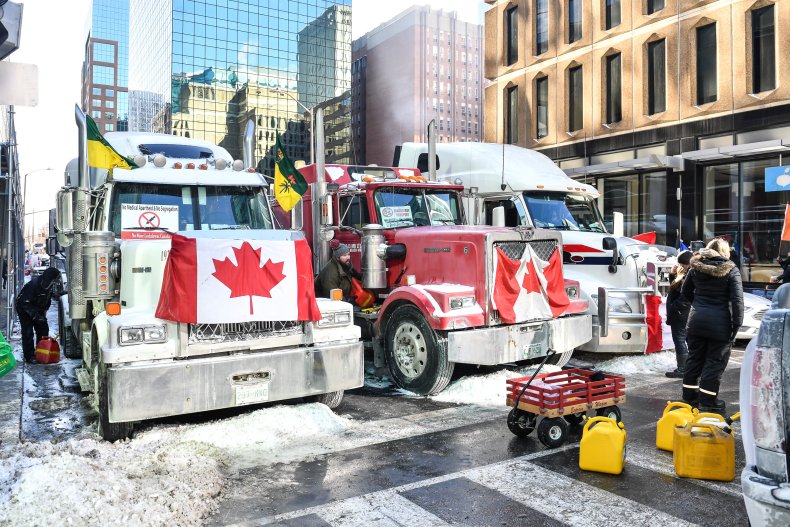 Lich began the GoFundMe campaign that raised over $10 million for the convoy before crowdfunding website shut it down. She moved the effort to the platform GiveSendGo. There, it has raised nearly $9.6 million. However, hackers also infiltrated the site and released the identities of the campaign's donors. GiveSendGo has pledged to find those responsible.
In a tearful video posted on February 16, Lich said called her eventual arrest "inevitable."
"I'm okay with that," she said in the video. "And I want you to know that I am not afraid."
Barber was recently named along with Lich and co-organizer Benjamin Dichter in a class-action lawsuit seeking to prevent the protesting truckers from blasting their horns. The lawsuit claimed the loud horns could cause permanent hearing damage to residents of Ottawa, Canada's capital city.
The freedom convoy originally began as a protest against a vaccine mandate, instated in January, requiring all Canadian truckers who cross the U.S.-Canadian border to be fully vaccinated. Those who aren't vaccinated face a two-week quarantine when they return home.
An estimated 90 percent of Canada's truckers are fully vaccinated, and Trudeau called the protesters a "small, fringe minority." However, over time, the convoy grew to include Canadians interested in ending all COVID-19-related government mandates, including re-opening all venues and ending school mask mandates.
The protest eventually grew to block three major U.S.-Canada border crossings and congested downtown Ottawa, threatening to clog supply chains for local homes and businesses. Similar rallies have risen in the Canadian cities of Toronto, Quebec City, Vancouver and Winnipeg.
On Thursday, Ottawa's Interim Police Chief Steve Bell told reporters that police had established nearly 100 checkpoints to prevent more protesters from joining the convoy. Police informed the remaining protesters that they may face legal consequences if they remain in the downtown area.
"It will be a very different picture of the downtown core this weekend than it has been from the previous three weekends," Bell said. "We want people to peacefully leave. But I can tell you that if they do not peacefully leave, we have plans, strategies and tactics to be able to get them to leave."
Newsweek has contacted the Ottawa police for comment.
Update (2/17/2022, 10:30 p.m.): This article has been updated to include information about Lich's arrest and the Ottawa police force's weekend plans.