Conservative author and influencer Candace Owens has gotten into an online sparring match with British broadcaster Piers Morgan after a 30-second trailer for Morgan's new show Uncensored apparently showed Donald Trump storming out of an interview.
Owens shared footage of the end of an interview she did with Trump, showing she and Trump briefly chatting on screen before the former president asks for the camera to be turned off.
"If my team were as unethical and dishonest as the snake @piersmorgan, we would have sensationally edited this clip of Trump to make it look like he threw a tantrum and asked the cameras to be shut off when in reality—the interview was over and we simply wanted to chat off-camera," Owens wrote on Twitter.
In an earlier tweet, the conservative writer had described the British presenter as "deceptive, disgusting and appalling."
"For the record, when I interviewed Trump he also said 'turn the cameras off' once the interview concluded. Only an absolute desperate hack would misrepresent that statement for ratings," she wrote.
Morgan did not hold back in his response to the accusations.
"I bow to your superior knowledge of being a snake, Candace," he wrote on Twitter. "Tune in on Monday and you may learn something about how to do real interviews..."
On Wednesday, Morgan released a 30-second trailer for his new show Uncensored, to be aired on Rupert Murdoch's TalkTV on April 25, where Trump can be seen asking to "turn the camera off" before storming out of an interview with the British presenter when asked about Trump's stolen election claims.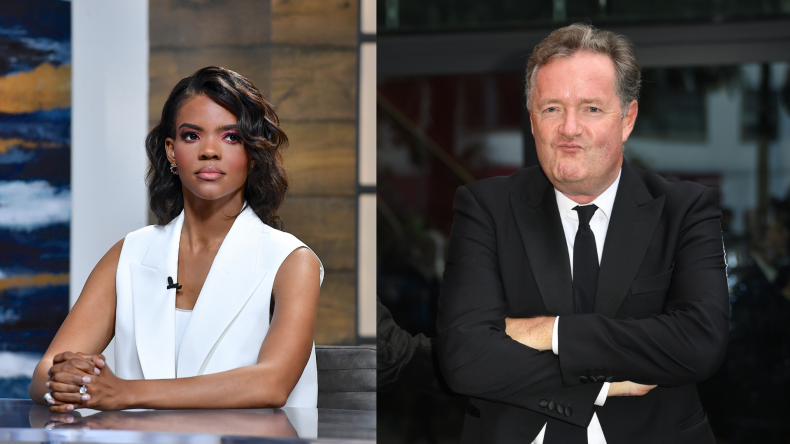 The ad presents Trump as "a former president in denial," and shows Morgan confronting Trump about a "free and fair election" that Trump lost, while Trump talks about being a "more honest" man than Morgan.
The 30-second trailer, which shows a lot of tension between the two—who used to call each other "friend" before 2020—promises "the most explosive interview of the year."
Morgan also published an opinion piece on the New York Post titled "How all hell broke loose after my fiery showdown with Trump over his stolen election claims."
Both the newspaper and TalkTv are owned by Murdoch's News Corp.
But the Trump communications' team is fighting back, with his director of communications Taylor Budowich saying that the clip had been edited to make the former president look bad, while the 75-minute long interview had gone successfully and with no hiccups. An audio shared with NBC allegedly proves that the interview ended with a handshake and thank yous between Trump and Morgan.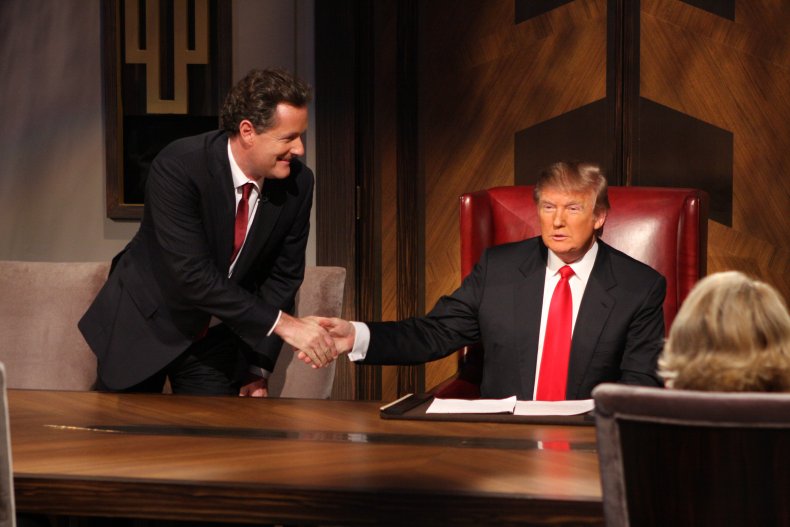 "This is a pathetic attempt to use President Trump as a way to revive the career of a failed television host," Budowich told NBC. "It is also another example of President Trump being right, as he told Piers Morgan that the host was dishonest to his face and Piers, for the first time in his life, didn't disappoint," he added.
Morgan is returning to TV work after a year off camera following his sensational walkout from ITV's Good Morning Britain last year. After six year of hosting the popular show, the presenter left ITV in March 2021 after saying he did not believe claims the Duchess of Sussex Meghan Markle had made in a now-famous interview with Oprah Winfrey.
The episode where Morgan cast doubts on whether the Duchess had been refused mental health support by the royal family, as Markle told Winfrey, led to tens of thousands of complaints to the British broadcasting regulator Ofcom.
His comments were also flagged by co-workers at ITV and Markle herself as problematic for discrediting someone talking about mental health issues.
But Morgan never apologized, nor did he step back from his original stance.
"I wouldn't believe Meghan Markle if she gave me a weather report," Morgan tweeted at the time, in one of a series of critical comments the presenter had made about the Duchess of Sussex.
Now venturing back onto the TV stage with his own show on TalkTV, Morgan compared his battle for free speech to the struggle of Nelson Mandela fighting apartheid.
"I feel like Nelson Mandela when he came out of prison. It's like the long walk to free speech freedom," Morgan said, speaking before the launch of his new show, as reported by The Guardian.