Candace Owens Says Hitler's Problem Was 'He Had Dreams Outside of Germany'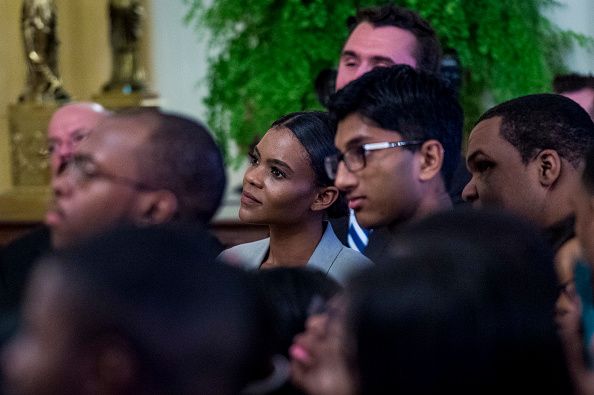 Right-wing political commentator Candace Owens said she was "fine" if "Hitler just wanted to make Germany great and have things run well."
Owens, who is the communications director for Turning Points USA, a conservative youth organization, made the comments during a Q&A in London in December, Buzzfeed News reported. Owens was asked by an audience member about nationalism in Western politics, where she brought up Hitler.
"I actually don't have any problems at all with the word 'nationalism'," Owens said during the Q&A. "I think that the definition gets poisoned by elitists that actually want globalism. Globalism is what I don't want… Whenever we say nationalism, the first thing people think about, at least in America, is Hitler."
Owens then goes onto say that it's okay if Hitler "just wanted to make Germany great and have things run well," adding that it would be problematic if he "had dreams outside of Germany." The political commentator said that Hitler wanted to globalize and said she doesn't "really have an issue with nationalism."
"He was a national socialist. But if Hitler just wanted to make Germany great and have things run well, OK, fine. The problem is that he wanted, he had dreams outside of Germany. He wanted to globalize," she continued. "He wanted everybody to be German, everybody to be speaking German. Everybody to look a different way. To me, that's not nationalism. In thinking about how we could go bad down the line, I don't really have an issue with nationalism. I really don't."
Owens went on to Periscope on Friday to talk about her statements that she made during the Q&A, slamming Buzzfeed News. Owens said she thought the person who asked the question implied that nationalism "is a dirty word," and said she didn't believe that was true.
"When the sovereignty of your nation is being threatened by outside forces, it is very important that we stand on our own two feet and we are going to put our own nation first," said Owens.
She went on to say that she didn't believe that Hitler was nationalist and called him a "homicidal, psychotic, maniac who was bent on world domination outside the confines of Germany," and said he was a "mass murderer." She ended the periscope by saying that she stood by her statements.
This is not the first time Owens has made comments that were deemed as controversial. During a Fox News segment in January, Owens accused actress Alyssa Milano of cultural appropriation for comparing President Trump's "Make America Great Again" campaign hats to KKK hoods.
During a discussion with Fox News host Jesse Watters, she said Milano's comments were insensitive. She claimed she tried to call out Milano for her remarks on Twitter, but was immediately blocked.
"You want to talk about cultural appropriation," she said during an episode of Watters World. "Imagine being a white woman who has had no experience in the KKK and no history of it in their family. When somebody wants to talk about the KKK, those stories growing up in my household are very real.
"I am a Black American. For her it's nothing. It's just a mean for her to shout into the Twitter echo chamber to get feedback," she continued.