Candace Owens, Kimberly Klacik Accuse Each Other of 'Lying' Over Lawsuit
Candace Owens and Kimberly Klacik have accused each other of lying about the status of a defamation lawsuit filed against the conservative commentator.
Former GOP congressional candidate Klacik, 40, filed a $20 million lawsuit against Owens in July 2021, after the 32-year-old Candace host accused her of fraud, drug use and working as a "madame" at a strip club.
On Monday, Klacik took to her Twitter account to share a video on the status of the case, writing: "Some have been asking what happened with trying to clear my name based on the false accusations/claims Candace Owens made about me... as the case moves forward I look forward to clearing my name."
She further said in the accompanying clip: "Basically, the judge has decided he's not going to dismiss the case as Candace Owens wanted to. And so he has has granted us discovery to figure out exactly if there was actual malice in this case.
"Basically, the bottom line is, everything that was said about me in that video was not true. Nobody presented any evidence of it being true and my name has been dragged through the mud for months for no reason. And so when you decide to post hearsay off of one source, this is the kind of stuff that you get."
Hours later, Owens responded with a flurry of Instagram Story posts, writing that she "just found out that Kim Klacik posted videos claiming that the judge presiding over our case refused my request to dismiss the case. Keep in mind she still has me blocked so I found out about this from journalists asking me to comment on something she made up out of thin air."
Owens went on to share that she learned of Klacik's video from a reporter at The Daily Beast, before quoting her statement that "everything" she had said about her was "not true."
"You guys. This level of lying is actually incomprehensible to me," Owens went on. "You realize that Kim Klacik is lying now on a judge that is currently presiding over a case. How does that person possess the audacity to disrespect a judge and to do so in public?
"To be clear.. Kim and I did not even have a hearing on a motion to dismiss. This simply never took place. I did not even know how to respond to the journalist other than to say exactly that. My lawyer (and then Kim's lawyer) then provided the reporter with the truth.
"Respectfully, The Daily Beast reporter then wrote me back and admitted that everything he was initially told was untrue and that now that he had looked further into the matter—he was declining to write the article."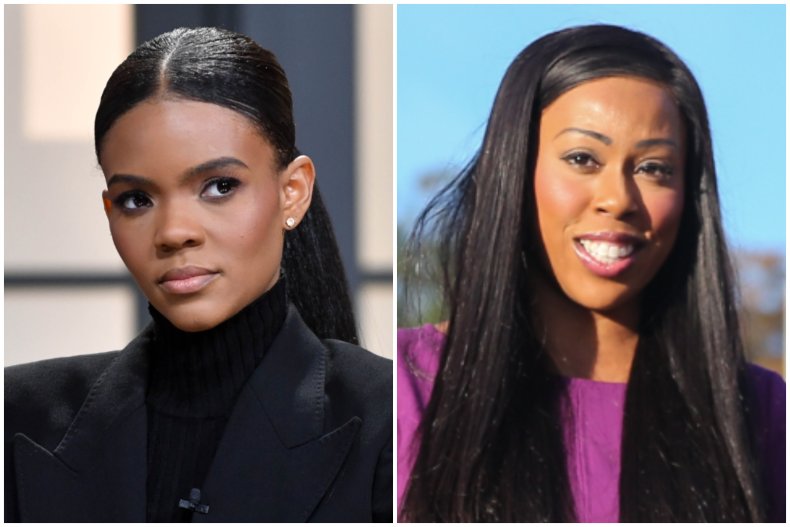 Owens also shared an email from the journalist in question, who appeared to tell her rep that he had "corresponded with both Ms. Owens' attorneys and the attorney for Ms. Klacik and was given a lot more clarity on the matter regarding the motion to dismiss, which as you pointed out, I was informed hadn't been adjudicated at all by the judge."
"I have no words," Owens said. "This is legitimately beyond my comprehension of the human capacity to lie to others. The Daily Beast—which is no friend to Candace Owens—actually (and respectfully) dropped the article because of how badly they were [misled]."
Continuing her thoughts on the matter in a video post, Owens said: "I'm actually mind-blown by this person. I just could never disrespect a court so much that I would mischaracterize the words of a judge. You just have to have no respect at all, like in your life, for any people. You just do not publicly disrespect a judge like that.
"We were shocked and confused because we just were like, 'Honestly, we don't know what you're talking about,'" Owens went on. "Obviously, there has been no decision in this case at all.
"We filed an anti-SLAPP [Strategic Lawsuit Against Public Participation] petition and we had one hearing.. The judge requested more information and, granted, we made discovery to both sides, basically saying like I need more information before I can decide on this anti-SLAPP petition. And that's where it got moved to.
"So there's been no developments, we're still in the middle of this case. And that is the truth. You can read that because that stuff is public.
"Beyond that, I have a lot of respect for the court process and I thought the judge in the matter was very fair and it's very good for him to have as much information as he needs in order to properly adjudicate my anti-SLAPP petition.
"So that's it, that's all I'm going to say on the matter. I just want to again stress how absolutely shocked I am that any person would be willing to lie on a judge that is presiding over their current case."
However, Klacik hit back with an Instagram post shared on Tuesday morning, sharing a copy of what appeared to be Owens' motion to dismiss the case.
"More lies, you can read my IG story," Klacik wrote. "There is no anti slapp here, she filed a motion to dismiss. Yes, everything is public. Perhaps she has so many court cases going on she forgot what she filed. We are moving to discovery, it was not thrown out like she hoped."
Referencing a message that she said she had received from a journalist at The Daily Beast, she said: "And yes, it is complicated mostly because no one can understand why anyone would do that 44 minute video of me in the first place. I mean, I am flattered, but it's creepy.
"I appreciate the judge moving forward. It is a win for the truth. Candace continues to talk about me on other people's pages every week... She is literally obsessed with me. I wish you all knew how obsessed, it's scary. The transcript is public so you can read it yourself."
In another follow-up post on Tuesday, Klacik said that she was the victim of a "hit job" after having raised millions during her bid for office.
She wrote: "Can we be real here? There are a lot of people that hate that I raised millions for my race. This is about money & power. I appreciate going into discovery, because like the judge, I agree, there is more to this story & it needs to be brought to light. This was a deliberate hit job on my career. Anyone that read the FEC report knows I never had access to the campaign money. This is a DC swamp issue."
Captioning the post, she said: "The swamp is very real folks. Some that claim to not be a part of the swamp are actually right in the thick of it."
In a 45-minute video posted back in June 2021, Owens alleged that Klacik, who failed in her 2020 congressional bid, once worked as a stripper in Baltimore.
Owens had said that she spoke with a stripper who used to work with Klacik at the club, saying the woman alleged that the aspiring politician took cocaine that she paid for by using campaign funds.
"If [Owens] was the detective that she pretends to be, she would know that all of the clubs in Baltimore City were shut down due to the pandemic in Baltimore," Klacik said about the allegations on The Armstrong Williams Show in June.
"So there was no possible way anybody was partying in a club or able to launder money into a club that was completely closed."
Klacik's attorney told Law & Crime that Owens' claims were a "baseless character assassination has no place in political dialogue."
A spokesperson for Owens said that a video shared on her Instagram Story over the summer contained "full proof" of the allegations, per The Independent.