Candace Owens Says 'Sick' People Bullied Mario Lopez Into Apologizing For Anti-Trans Comments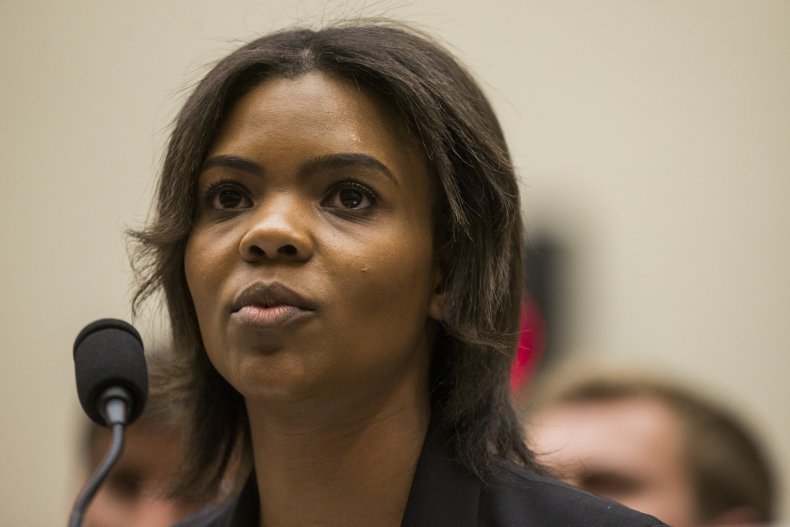 Conservative commentator Candace Owens said on Wednesday that Mario Lopez was bullied into apologizing for comments he made about transgender children by "sick" "leftists."
Lopez issued an apology after he received immense criticism for an interview he did with Owens, in which he said it's "dangerous as a parent to make [a] determination" about young transgender children, among other comments.
"PSA: Bullying people into issuing public statements of apology so that they can keep their careers— because they state a FACT—that 3 year olds are not equipped to make life-altering decisions— is why @realDonaldTrump is your President," Owens wrote in a tweet on Wednesday. "Leftists are SICK."
Lopez, the actor and TV host who starred in the 1990s sitcom Saved by the Bell, did the interview with Owens in June, though it just recently made the rounds on social media.
"I'm never one to tell anyone how to parent their kids, obviously, and I think if you come from a place of love, you really can't go wrong," the actor told Owens on her self-titled conservative YouTube show. "But at the same time, my god, if you're three-years-old and you're saying you're feeling a certain way or you think you're a boy or a girl or whatever the case may be, I just think it's dangerous as a parent to make that determination."
Lopez received an enormous amount of pushback for his comments and apologized on Wednesday for what he described as an "ignorant and insensitive" interview, saying he has since developed a better understanding of why his observations were so hurtful.
"I have been and always will be an ardent supporter of the LGBTQ community, and I am going to use this opportunity to better educate myself," a statement from Lopez reads. "Moving forward I will be more informed and thoughtful."
During the interview with Owens, Lopez also made the mistake of confusing gender identity, which he disparaged in his initial comments, with sexual orientation, saying that as a child "you don't know anything about sexuality yet."
In the interview, Owens herself cast the issue as a "scary trend coming out of Hollywood right now," a framing that Lopez acceded to in his comments.
The actor did acknowledge that, as a parent, "if you come from a place of love, you really can't go wrong."
In the past, Owens has been criticized for outlandish comments about race and racism in American society. She once appeared to diminish black oppression by claiming she has never personally been anyone's slave.
"Stop selling us our own oppression," she said in a speech at the Conservative Political Action Conference earlier this year. "Stop taking away our self-confidence by telling us that we can't because of racism, because of slavery. I've never been a slave in this country."
The conservative commentator told a London audience in February that it would have been "fine" if Adolf Hitler "just wanted to make Germany great," explaining that the problem arose when he developed more imperialist ambitions. She has since attempted to downplay her comments.