Republicans Call for Rep. Candice Keller to Resign for Saying 'Homosexual Marriage' Was to Blame for Dayton Shooting: 'A Ridiculous Statement to Make'
Calls are growing for the resignation of an Ohio lawmaker who posted on social media that "homosexual marriage" and "recreational marijuana" were among the factors that led to the mass shooting in Dayton last Sunday.
Representative Candice Keller made the remarks in a private Facebook post that is no longer available, in which she said that "liberals start the blame game" after every mass shooting.
The Republican representative for Butler County, around 30 miles southwest of Dayton where nine people were shot dead by Connor Betts, appeared to blame the carnage on numerous factors, including "snowflakes who can't accept a duly-elected president" and a culture which "totally ignores the importance of God."
She confirmed to the Cincinatti Enquirer that she wrote the post, in which she linked the shootings to "the breakdown of the traditional American family (thank you, transgender, homosexual marriage, and drag queen advocates)."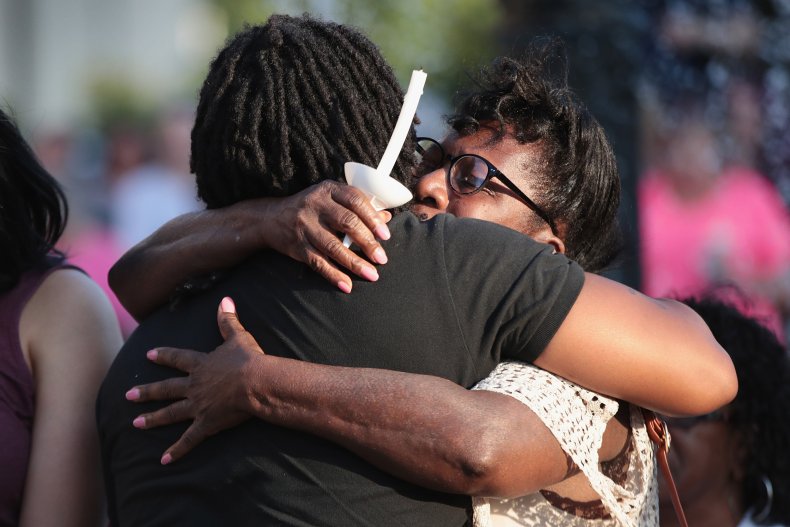 At the end of the message, she wrote, "Did I forget anybody? The list is long. And the fury will continue."
The Dayton shooting came only a day after at least 22 people were killed at a Walmart in El Paso, Texas.
Keller's post has sparked fury, with even politicians from within her party condemning the remarks, including Michael Ryan, the Republican vice-mayor of the city of Hamilton, who tweeted that her post was "a ridiculous statement to make."
"The amount of time writing her fb post, could've been spent better drafting legislation to help prevent such situations," he wrote, adding that, "pointing fingers and blaming others isn't doing either of us any favors. It's not solving the problem and it's creating another divide among us."
Butler County Sheriff Richard Jones called for her to quit, as did the chairwoman of the Ohio Republican Party, Jane Timken, who described the post as "shocking and utterly unjustifiable.
"Our nation is reeling from these senseless acts of violence and public servants should be working to bring our communities together, not promoting divisiveness. I am calling on Candice Keller to resign," she told The New York Times.
Mayor of Dayton, Nan Whaley, tweeted that she did not often agree with Timken, but did think that Keller "needs to resign."
"No matter where you're from, who you love, or what you look like, you're welcome in Dayton," she added.
The singer Ricky Davila tweeted to his 299,000 followers: "This is the exact type of hate speech that emboldens White Supremacists to kill people like myself. She should be fired immediately."
Keller, a second-term representative, has made controversial statements before, once comparing Planned Parenthood to Nazis, and is a candidate for State Senate in 2020, the Cincinnati Enquirer reported.
Amanda Clarke tweeted: "Candice Keller will be up for re-election next year. Anyone in Ohio want to @runforsomething to make sure hateful rhetoric like this has no place in government? Let's talk."
Keller has not responded to media requests for comment.
Police have not yet revealed a motive for why 24-year-old Betts shot nine people dead, including his sister, in the Oregon District of Dayton.
However friends of the shooter said that they had become so concerned about his recent behavior that they reported him to local police.
Betts had spoken of wanting to shoot up a local bar, called Timothy's, which was popular among university students, and had once brandished weapons, the Dayton Daily News reported.
Friend Will El-Fakir told the paper that about five months ago, Betts pulled out a gun and held it near his head.
"He was getting a little violent with friends. He started bringing guns around us for no particular reason," he said.