A Republican politician from Ohio has sparked fury after she linked the weekend's shooting in Dayton in which nine people died with a list of what she deems to be society's ills, including gay marriage, marijuana and violent video games.
In a post on Facebook, Representative Candice Keller, who lives in Middletown, around 30 miles south of Dayton, said that after every mass shooting "the liberals start the blame game," and asked "why not place the blame where it belongs?"
Keller attributed the killings to various problems that she said stemmed from the "breakdown of the traditional American family (thank you, transgender, homosexual marriage, and drag queen advocates)."

She also listed video games, "fatherlessness" and "the acceptance of recreational marijuana" as other ills that contributed to the shootings.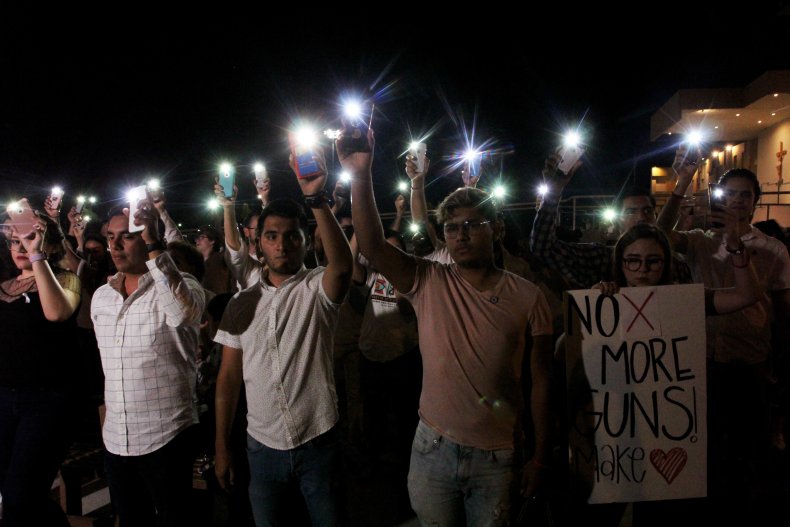 She said that former President Barack Obama was to blame for a "disrespect to law enforcement," expressed anger at "snowflakes, who can't accept a duly-elected president," and took aim at the "the relaxing of laws against criminals (open borders)."
Keller finished the message by asking: "Did I forget anybody? The list is long. And the fury will continue."
The posting has been removed but screenshots of it have been widely circulated. Keller confirmed to Dayton Daily News that she had posted it on her private Facebook page.
It appears that she pushed all the buttons of those she was railing against, with Cincinnati City Councilman Chris Seelbach, a Democrat, calling on people to call her office to complain about her post.
Butler County Republican Party Chairman Todd Hall told the Cincinnati Enquirer: "Some want to politicize these events, and I cannot condone such comment and behavior."
Meanwhile, Butler County Democratic Party Chairman Brian Hester told the Dayton Daily News: "She loves to fan the flames and play the role of victim here, not the nine people who were killed....She is fundamentally unfit for office. She is an embarrassment to her party, to conservatives, to Butler County and to the state Legislature."
"I think we should focus on the ease this killer had to the tools at his disposal for his murderous rampage more than what video games he played as a kid," Hester added. "It is disgraceful this is what passes for Republican rhetoric now."
Keller is running for the Ohio Senate in Butler County in 2020 against four other Republicans. Democrats have not announced their candidate for the heavily Republican district, the Cincinnati Enquirer reported.
She's the executive director of a Christian pregnancy resource center and in the past compared Planned Parenthood to Nazis. In March 2018, Keller caused controversy with her comments about the teenagers who survived the Parkland shooting and became advocates for gun control.
She said that a 15-year-old survivor who spoke about gun control on national television "would just as soon be eating Doritos and playing video games." In 2017, she also criticized efforts to remove Confederate monuments.
The graphic below, provided by Statista, illustrates the number of people killed and injured by firearms in the U.S. in the last five years.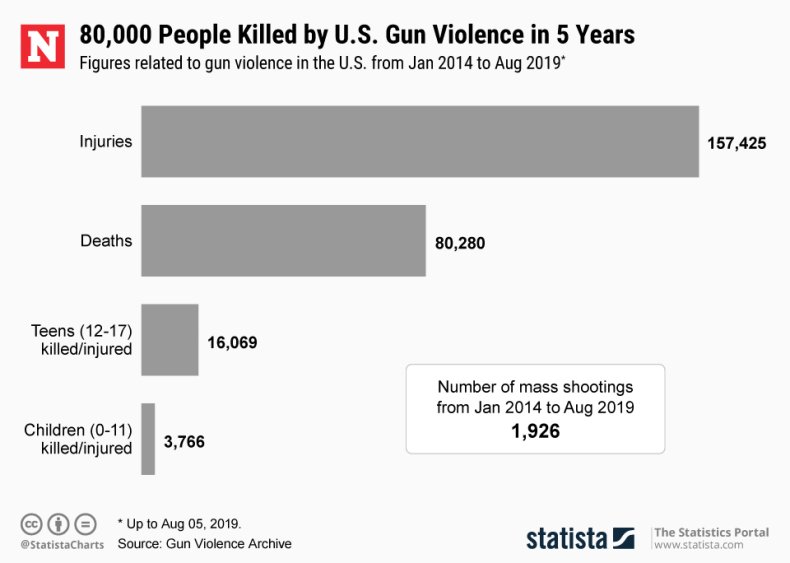 This article was updated to include an infographic.