The Dogs in the Manhunt for New York Escapees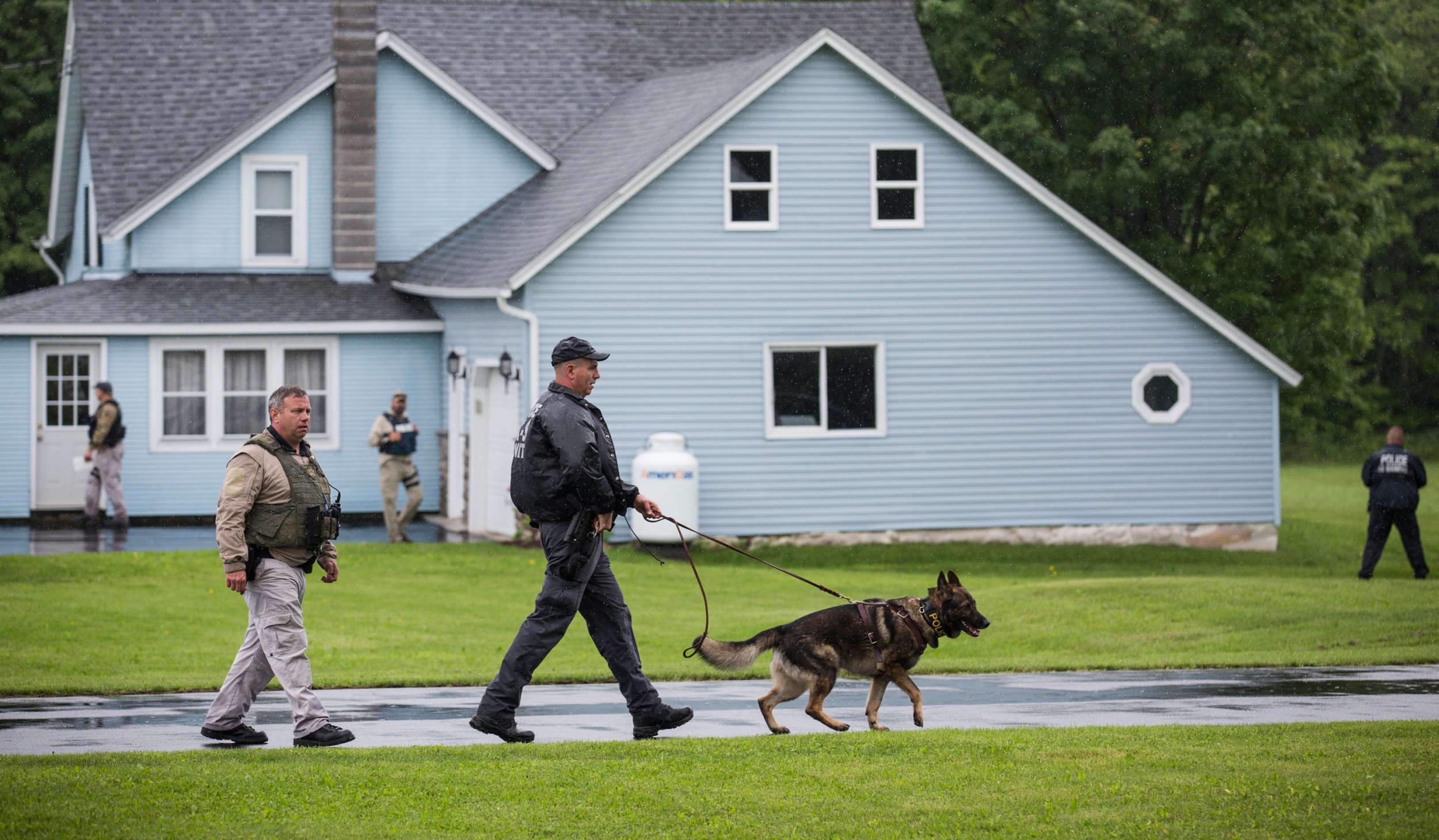 After authorities discovered two prisoners had escaped from the Clinton Correctional Facility in Dannemora, New York on June 6, a manhunt was launched that extended to multiple counties, states and countries. Prison workers have been questioned and more than 1,300 leads followed, but two weeks later the searchers remain empty-handed.
Also called in to try to track the missing murderers—Richard Matt and David Sweat, who on Thursday were placed on the U.S. Marshals Service's 15 Most Wanted fugitives list—were New York State Police canine teams.
Dogs have long been used to track people's scents, be they criminal suspects, missing children or lost individuals, and New York's canine program is strenuous, with the animals being trained in basic obedience, agility, handler protection, tracking, building searches and either narcotics or explosives detection, the New York State Police tells Newsweek.
The dogs undergo a rigorous screening process, including testing in sociability, play drive, aggression, agility abilities and medical screening before they are assigned to officers, referred to as "handlers."
After the canines are selected, the New York State Police has them participate in a 20-week training with their handlers at the facility in Cooperstown. Later, they must attend one-week recertifications twice a year.
The New York State Police currently has 90 canines, and the teams respond when requested by another law enforcement agency.
The police on Friday would not comment on the specific tactics or techniques used in the current search for Matt and Sweat because it's an ongoing investigation.
Prison guards at the Clinton Correctional Facility discovered that Matt and Sweat were missing during a routine early-morning bed check. The two convicted murderers used power tools to cut a hole in the wall of their adjoining cells, and began their Hollywood-style prison break by climbing through pipes and eventually emerging into freedom through a manhole.
On Friday, a New York state corrections officer, whose name was not released, was suspended in connection with the escape, Reuters reported. Authorities did not say whether they believed the corrections officer would face charges or if he was believed to have assisted in the breakout. Separately, investigators have spent "countless hours" interviewing Joyce Mitchell, another prison worker who is accused of assisting in the breakout, Reuters reported.
Authorities consider the escapees to be dangerous, but that won't deter the canines from attempting to sniff them out.