Cannabis Is Here Whether Congress Likes It or Not | Opinion
As much as I loathe playing pundit, I am often asked by journalists, legislators and business leaders: Will cannabis be legalized this year? Until recently, I was telling people the chances were slim to none. But something has changed recently—and the building momentum feels like Colorado in 2014.
At that point, I was the newly minted cannabis czar, appointed by then-Governor John Hickenlooper to oversee the establishment of the nation's first legal cannabis market. Since then, I have advised and consulted with 19 different governments on implementing legal cannabis frameworks—there is something about this moment that feels like legalization is just around the corner. As of 2021, 18 states and Washington, D.C., have legalized adult-use cannabis, and an astounding 36 states and D.C. have legalized cannabis for medical use. In the last 12 months, 10 states have approved cannabis measures—ranging from full legalization in New York to decriminalization in Alabama.
Momentum is building for legalization, both in the raw numbers of states but also in broad, bipartisan public support. Multiple polls released this year show a majority of Americans support adult-use cannabis and an even larger majority support cannabis for medical use. Even in deep-red states like South Dakota, 54 percent of voters approved legalizing cannabis at the ballot box. But like in South Dakota, where resistance from the governor has slowed implementation of a legal cannabis market, support for legalization in the nation's capital has lagged that of the public. The tide is shifting, however, and Democrats and Republicans in Congress are no doubt taking note.
Justice Clearance Thomas, the preeminent voice of conservatism on the Supreme Court, described the nation's current cannabis laws as "contradictory and unstable." Multiple bills have been introduced in the House, including the wordy Common Sense Cannabis Reform for Veterans, Small Businesses and Medical Professionals Act, championed by congressmen Dave Joyce (R-Ohio) and Don Young (R-Alaska). Libertarian stalwart Charles Koch is dedicating $25 million to end federal cannabis prohibition and the high incarceration rates (and restriction of personal liberties) criminalizing the plant has caused.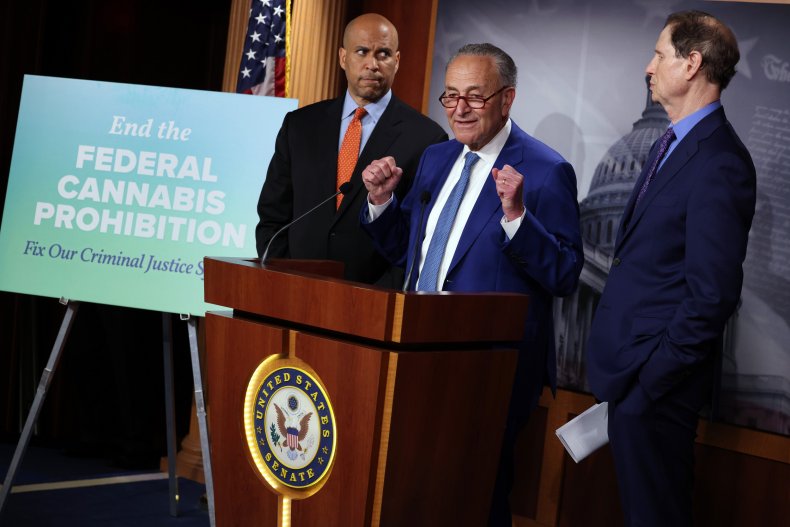 Recently, the greatly anticipated draft "trio bill"—aptly nicknamed for the three-way cannabis reform effort by Senate Majority Leader Chuck Schumer (D-N.Y.), Senate Finance Chairman Ron Wyden (D-Ore,) and Senator Cory Booker (D-N.J.)—was revealed, intended to spur discussion before a formal bill is introduced. With broad public support and both parties introducing bills to establish legal cannabis at the federal level, cannabis legalization is surely on the horizon.
There is a lot of work to be done to translate the public swell in support for legal cannabis into the votes necessary to pass legislation. Both parties have senators who have yet to be convinced on how to regulate cannabis. But the American people have spoken, and everyone from conservative Supreme Court justices to Senate leadership has received the message. The conversation is now about how cannabis should be regulated, not if the plant should remain illegal forever.
Senators who remain committed to prohibition are voluntarily welcoming electoral challenges from both the right and the left, as savvy politicians come to understand cannabis as an opportunity for job creation, economic opportunity and social and criminal justice reform. The rationale for the continued use of federal enforcement mechanisms to disrupt families, communities and businesses involved in the cannabis industry is untenable with an estimated 145 million Americans living in states with legalized cannabis.
Skeptical members of the Senate can either do their homework and help tackle the tough questions of how to protect small businesses, prevent youth use and ensure product safety, or they can be left behind as the American public and American businesses line up behind smart approaches to federal regulation of cannabis that protect public health and safety while promoting economic growth.
Andrew Freedman is the executive director of the Coalition for Cannabis Policy, Education, and Regulation, a 501(c)(4) nonprofit organization working to advance comprehensive federal policy solutions for cannabis legalization and regulation.
The views expressed in this article are the writer's own.