Cannes Film Festival: The 21 Movies Up For the Palme d'Or Prize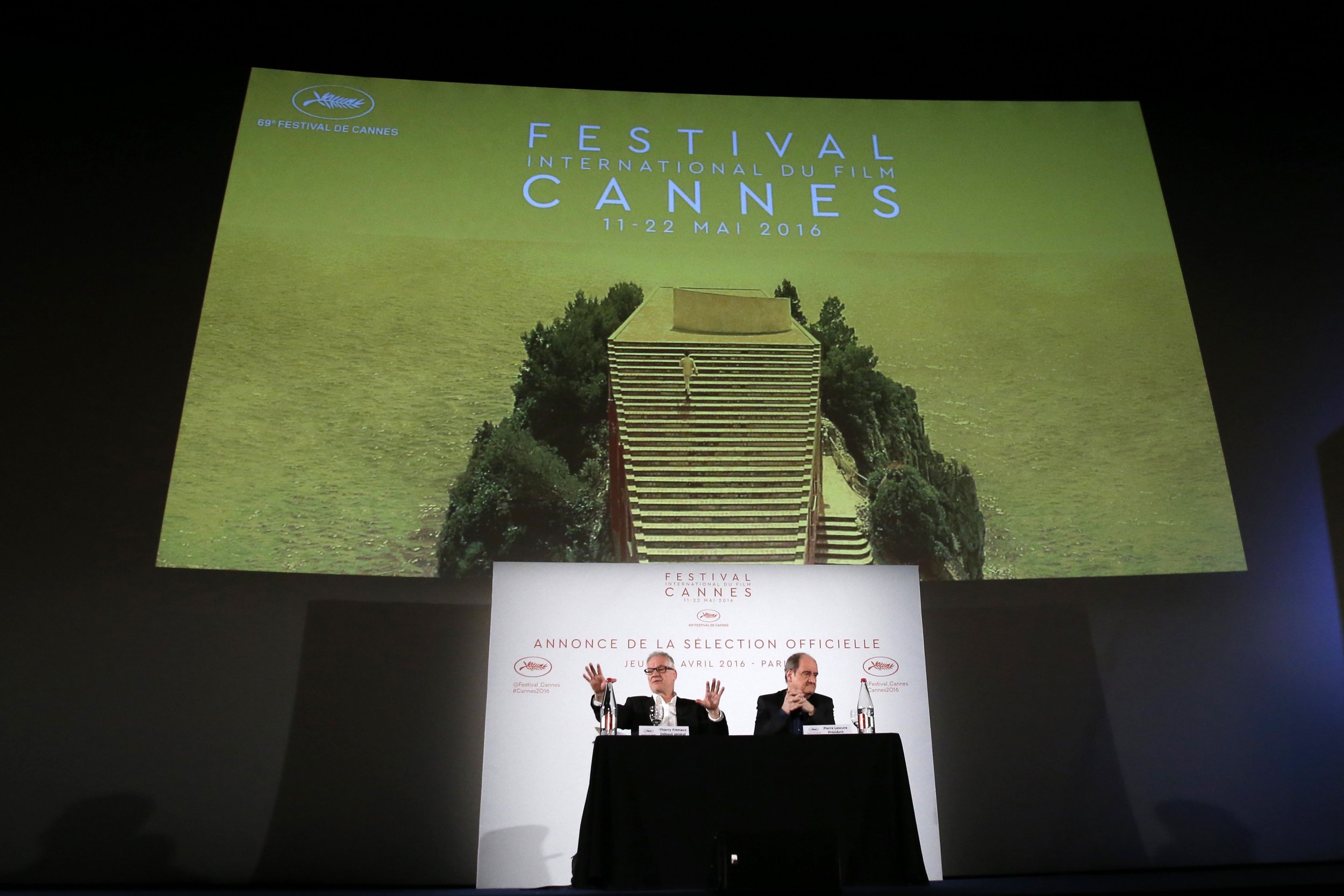 For the 69th time, Cannes Film Festival is underway in the south of France as directors, producers, actors and executives from across the world's film industries congregate to celebrate movie-making in all its forms.
Each year, Cannes brings out some of Hollywood's biggest stars and 2016 is no exception. Opening night on Wednesday saw the premiere of Woody Allen's new film, Café Society, with stars Kristen Stewart and Blake Lively among attendees. And on Thursday, director Jodie Foster premiered her new movie, Money Monster, with actors Julia Roberts and George Clooney walking the red carpet.
But the real star of the festival is the Palme d'Or prize, the prestigious award given to one feature film that screens in-competition. This year, a jury led by Mad Max: Fury Road director George Miller will decide which of the 21 films competing from around the world will win.
The competition films boast a who's who of filmmaking talent including Pedro Almodovar and actor/director Sean Penn. (Although, thankfully not with his awkward interview with El Chapo.)
Let's take a look at this year's Palme d'Or nominees:
Toni Erdmann
Country: Germany
Director: Maren Ade
Cast: Sandra Hüller, Peter Simonischek
A father visits his daughter living abroad and, feeling she has lost her sense of humor, attempts to give her a jolt by playing humorous pranks on her.
Julieta
Country: Spain
Director: Pedro Almodovar
Cast: Emma Suárez
Julieta has just lost her husband and to make matters worse, her daughter, just turned 18, decides to run away from home. In racing around Madrid to find the tearaway teenager, she discovers she doesn't know her daughter as well as she thinks she does.
American Honey
Country: United Kingdom
Director: Andrea Arnold
Cast: Sasha Lane, Shia LaBeouf
A teenage girl joins a traveling magazine sales team and finds herself immersed in a world of hard partying and the odd skirmish with the law.
Personal Shopper
Country: France
Director: Olivier Assayas
Cast: Kristen Stewart
A ghost story set in the Paris fashion industry. (Really.)
La Fille Inconnue (The Unknown Girl)
Country: Belgium
Director: Jean-Pierre Dardenne, Luc Dardenne
Cast: Adèle Haenel, Fabrizio Rongione
A female doctor tries to find out the identity of a girl who died after being denied surgery.
Juste La Fin Du Monde (It's Only the End of the World)
Country: Canada
Director: Xavier Dolan
Cast: Marion Cotillard, Gaspard Ulliel, Léa Seydoux, Vincent Cassel, Nathalie Baye
A terminally ill writer returns home to announce to his family that he is dying, triggering an emotional reunion.
Ma Loute (Slack Bay)
Country: France
Director: Bruno Dumot
Cast: Fabrice Luchini, Juliette Binoche
When several tourists go missing while lounging on the beach, investigators Machin and Malfoy determine the cause of the disappearances is the mysterious Slack Bay.
Forushande (The Salesman)
Country: Iran
Director: Asghar Farhadi
Cast: Shahab Hosseini, Taraneh Alidoosti
A real-life couple's relationship turns sour as they star alongside each other in a production of Arthur Miller's Death of a Salesman .
Mal de Pierres (From the Land of the Moon)
Country: France
Director: Nicole Garcia
Cast: Marion Cotillard, Àlex Brendemühl
A woman enters into a marriage of convenience with a man who looked after her during World War II. When she goes to a spa to help deal with her illness, she falls in love with a war veteran.
Rester Vertical (Staying Vertical)
Country: France
Director: Alaine Guiraudie
Cast: Damien Bonnard, Christian Bouillette, Laure Calamy
A filmmaker raises his child alone while looking for inspiration for his next project.
Paterson
Country: United States
Director: Jim Jarmusch
Cast: Adam Driver, Golshifteh Farahani
Set in Paterson, New Jersey, the story of a bus driver and a poet.
I, Blake Daniel
Country: United Kingdom
Director: Ken Loach
Cast: Natalie Ann Jamieson, Colin Coombs, Dave Johns
A 59-year-old joiner falls ill and requires welfare benefits, but faces multitudes of red tape in order to get government assistance.
Aquarius
Country: Brazil
Director: Kleber Mendonça Filho
Cast: Julia Bernat, Sonia Braga, Humberto Carrão
Widow Clara refuses to leave the Aquarius, a two-storey building in Recife, Brazil, as a company tries to purchase the property. She vows to fight the conglomerate and remains stubborn in staying in her home.
Ma'Rosa
Country: Philippines
Director: Brillante Mendoza
Cast: Jaclyn Jose, Julio Diaz, Felix Roco, Jomari Angeles
A poor mother-of-four and her husband try to make ends meet by selling illegal drugs on the side. When they are arrested, their children try everything in their power to free them from prison.
Bacalaureat (Graduation)
Country: Romania
Director: Cristian Mungiu
Cast: Rares Andrici, Valeriu Andriuta, Eniko Benczo
Set in a small Romanian city, a doctor tries to get his bright daughter into an English university. Just when she's about to take the entrance exam, she is attacked.
Loving
Country: United States
Director: Jeff Nichols
Cast: Joel Edgerton, Ruth Negga, Michael Shannon
An interracial marriage between Maureen and Richard Loving sees them imprisoned in 1958 Virginia.
Agassi (The Handmaiden)
Country: South Korea
Director: Park Chan-Wook
Cast: Kim Min-hee, Ha Jung-woo
A conman hires a pickpocket to serve as the maid of a wealthy, old aristocratic woman so he can take her wealth. The story takes a strange turn when the woman falls in love with her maid.
The Last Face
Country: United States
Director: Sean Penn
Cast: Charlize Theron, Javier Bardem, Adèle Exarchopoulos
An aid agency director in Africa meets a relief aid doctor in the midst of a revolution. Together they must make tough choices while facing civil unrest.
Sieranevada
Country: Romania
Director: Cristi Puiu
Cast: Mimi Branescu, Mirela Apostu, Eugenia Bosânceanu
A family gathers on the anniversary of their father's death.
Elle
Country: Netherlands
Director: Paul Verhoeven
Cast: Isabelle Huppert, Virginie Efira, Christian Berkel
A thriller in which a high-powered businesswoman's life changes when she is raped by an unknown assailant. She endeavors to find out the man's identity and vows revenge.
The Neon Demon
Country: Denmark
Director: Nicolas Winding Refn
Cast: Elle Fanning, Jena Malone
An aspiring model moves to Los Angeles and is taken on by a fashion mogul as his muse. She finds herself targeted by youth-obsessed women who are envious of her beauty.