Capitol Staffer Says Office Panic Buttons Were 'Torn Out' Before Riot
A Capitol staffer found that the office panic buttons had been "torn out" while she hid from pro-Trump insurrectionists swarming the building during last week's siege.
Sarah Groh, the chief of staff of Democratic representative Ayanna Pressley, said she joined other staffers taking refuge in the congresswoman's office as the protesters flooded in.
Groh told The Boston Globe that the group barricaded the door with furniture and water jugs that had piled up during the pandemic before she pulled out a gas mask.
But when she looked for the special panic buttons, she found they had been removed.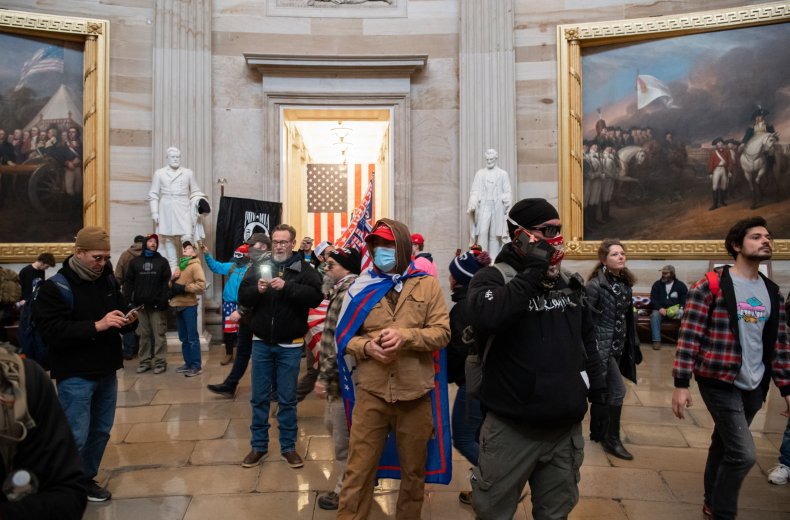 "Every panic button in my office had been torn out—the whole unit," she told the newspaper, adding that the team could come up with no rationale as to why. The staffer said that she had used them before and they had not switched offices since then.
She explained that, because of multiple death threats aimed at Pressley over the past two years, it had become routine for her staffers to run through safety drills. Pressley, as one of four progressive Democratic representatives in "The Squad," has faced racist attacks from Trump supporters.
At the time of the attack, Groh tweeted: "@AyannaPressley and I are currently safe. Thank you for your messages."
The chief of staff later said that she shared this post just as the team had taken refuge in the office. She wrote: "I had gas masks in my hand, barricaded the doors to our office with furniture & tried to throw our panic buttons within a few minutes of sending this. We are ok but this is not ok. White supremacist terrorism. That's what this is."
Five people, including a police officer, died during the violence just hours after President Donald Trump addressed crowds at a Stop the Steal rally.
The Capitol was placed on lockdown as protesters bore down on the building and eventually broke in. While senators debated the merits of overturning Arizona's electoral college vote, protesters in Trump gear pushed past security guards, prompting concerns about legislators' safety.
Pence, who was presiding over the Electoral College certification proceedings, was taken out of the chamber and legislators were asked to shelter in place. Speaker Nancy Pelosi was also rushed from the House floor.
Law enforcement was completely overrun as the pro-Trump mob continued to barge further into the buildings.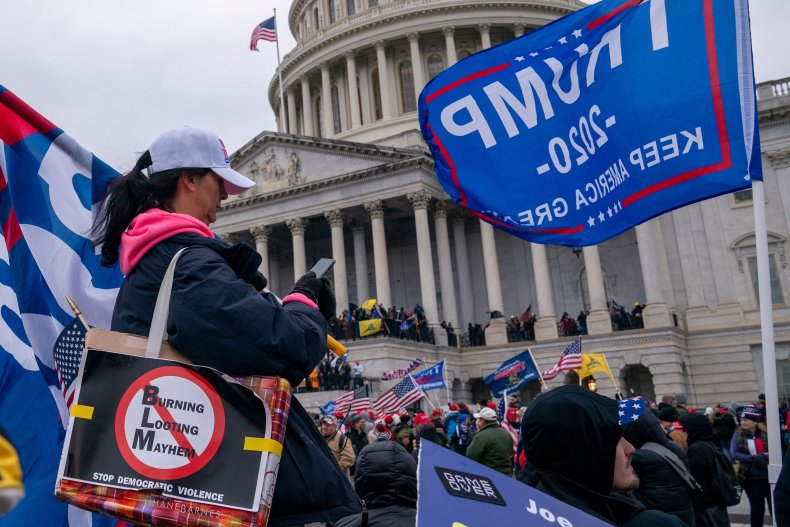 Lawmakers, staff and reporters were forced to hide under desks, chairs and secure themselves in offices. They were also told to stay away from windows and doors.
House Democrats have now introduced articles of impeachment against Trump, saying he "engaged in high Crimes and Misdemeanors by inciting violence against the Government of the United States."
Newsweek has contacted Groh and Pressley for comment.