U.S. Capitol Police Officer Harry Dunn wore a T-shirt emblazoned with definitions of the word "insurrection" when he attended Thursday's first prime-time hearing of the House select committee investigating the January 6, 2021, attack on the U.S. Capitol.
Dunn was among the officers who responded to the violent mob that besieged the Capitol and has been lauded as a hero for his efforts in protecting the members of Congress that day. Last summer, he provided testimony to the House committee investigating the attack. During his emotional comments, Dunn recalled being subjected to racial insults from people participating in the riot.
Dunn did not testify on Thursday, but his attire sent a message. His T-shirt's print was fashioned to resemble a dictionary passage. It included two definitions of the word "insurrection." One of the meanings came from an official dictionary and stated: "A violent uprising against an authority or government."
The other definition on the shirt simply read: "January 6, 2021."
Another message on the T-shirt below the definitions was a quote attributed to Dunn himself. It said, "Instead of accepting the results of the 2020 election, many attempted to change the results through an insurrection on 1/6/21."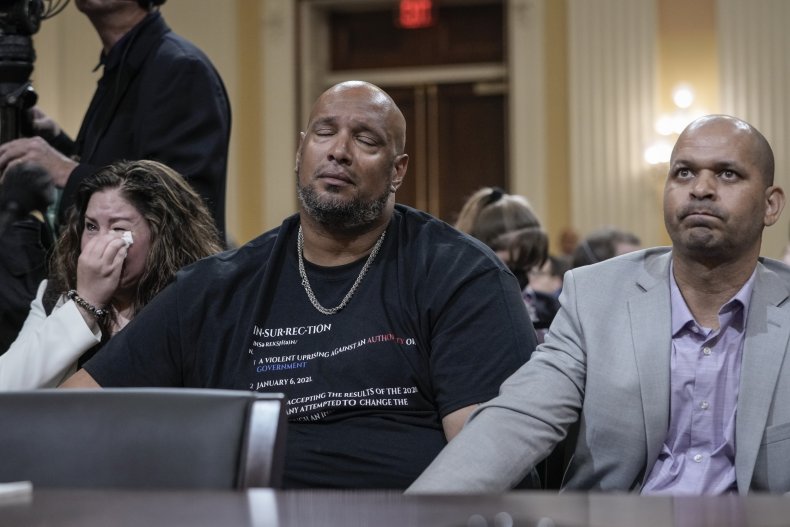 The Washington Post reported that after the hearing, Dunn told reporters why he wore the T-shirt.
"So many people have been saying that it [the Jan. 6 riot] wasn't an insurrection, from trolls on the internet to elected officials," he said, according to the Post.
The official Twitter account for ABC's World News Tonight posted a close-up photo of Dunn's shirt.
In his July 27, 2021, testimony to the committee, Dunn said that "[n]o one had ever, ever called me a n****r while wearing the uniform of a Capitol police officer" until January 6.
He went on to further describe being surrounded by supporters of former President Donald Trump, who shouted epithets at him. Dunn also said other law officers of color present at the riots told him they had suffered similar abuse.
"One officer told me he had never in his entire 40 years of life been called a n****r to his face, and that streak ended on January 6. Yet another Black officer later told me he had been confronted by insurrectionists in the Capitol who told him, 'Put your gun down, and we'll show you what kind of n****r you really are.'"
"I know so many other officers continue to hurt both physically and emotionally," he said in the 2021 testimony. "What we went through that day was traumatic."