Capitol Police Given National Guard Access as SCOTUS Mulls Lifting Gun Carry Rules
President Joe Biden signed a law on Wednesday that will allow the U.S. Capitol Police Chief to bypass the Capitol Police Board when requesting assistance from the National Guard.
The legislation was spearheaded by a bipartisan coalition led by Democratic Senator Amy Klobuchar of Minnesota and Republican Senator Roy Blunt of Missouri.
"January 6th showed us that every minute counts during an emergency," Klobuchar said in a statement. "Now that this bill has become law, we can rest assured that the Capitol Police Chief has the authority needed to call for reinforcements at the Capitol swiftly in a crisis."
According to a bipartisan report on the security, planning and response failures tied to the January 6 Capitol riot, then-Capitol Police Chief Steven Sund was hamstrung in his ability to gain approval for National Guard support under the prior procedure that left the police to defend against a mob of pro-Trump supporters.
The passage of the new law comes as the Supreme Court continues the deliberation of New York State Rifle & Pistol Association v. Bruen. In that case, two individuals, along with the New York State Rifle & Pistol Association, challenged a New York law after their concealed-carry applications were rejected based on a failure to "demonstrate a special need for self-protection distinguishable from that of the general community."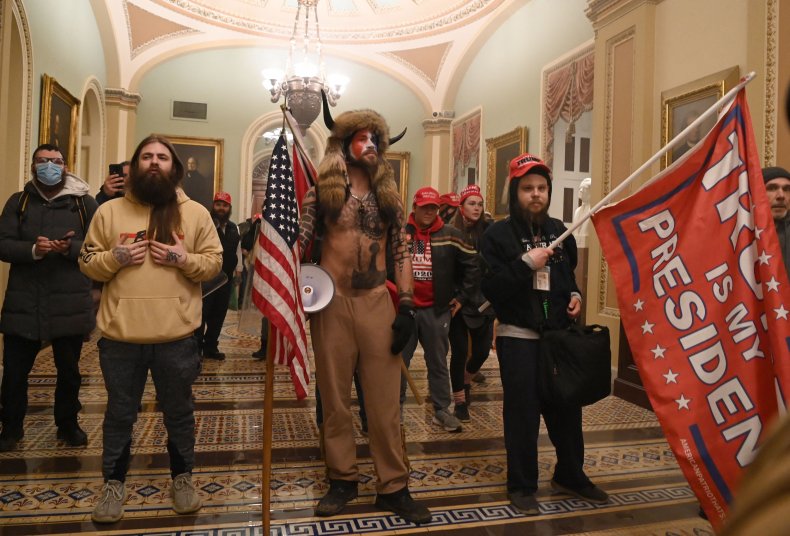 If the petitioners win their case, the ruling could establish an unrestricted right to carry a gun anywhere in the country that would permit individuals to potentially bring firearms into the Capitol building where they are currently banned. That could amplify threats of a future protest turning violent over a contested election.
"The idea that people would take up arms against an American election has gone from completely farfetched to something we have to start planning for and preparing for," Adam Winkler, a UCLA law professor who specializes in gun policy and constitutional law, told Newsweek.
Through the passage of this new law, Blunt said Capitol law enforcement will be able to avoid "unnecessary delays" when immediate support is needed. Should a firearm-related threat occur, the Capitol can expect speedier assistance from the National Guard.
"Our bipartisan investigation made clear that a major security issue on January 6th was the U.S. Capitol Police Chief's inability to unilaterally request support from the National Guard or federal law enforcement," Blunt said in a statement. "I'm glad to see this bill signed into law as we continue moving forward on the recommendations outlined in our bipartisan report."