Celebrities Praise Capitol Police Officer for Steering Mob Away from Senate Chamber
A Black Police Officer is being celebrated for steering the violent mob away from the Senate Chamber during Wednesday's riot in Washington D.C.
Eugene Goodman is being hailed as a hero for his efforts that may have prevented the rioters from gaining access to the chamber which was not yet secured.
A clip of the encounter has gone viral since Wednesday's events but Goodman was since identified by CNN's Kristin Wilson on Sunday.
In the video, which was shot by Igor Bobic, a politics reporter at HuffPost, Goodman is seen singlehandedly staving off the angry mob.
Upon realizing the door to the Chamber was open, the officer shoved a rioter in a QAon t-shirt in an effort to lure the gang away from the open door.
The Washington Post reports that during the encounter between Goodman and the group of rioters who managed to enter the building, other members of the Capitol police were "frantically racing around the chamber trying to lock down more than a dozen doors leading to the chamber floor and the galleries above."
The Post went on to explain why Goodman's intervention was so crucial.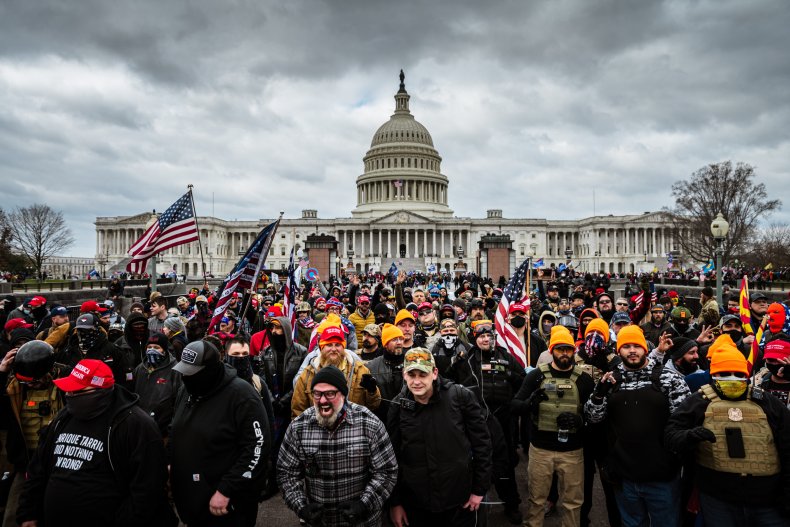 "Had the rioters turned right, they would have been a few feet away from the main entrance into the chamber. On the other side of that door, had they made their way into the Senate, were at least a half-dozen armed officers, including one with a semiautomatic weapon in the middle of the floor scanning each entrance for intruders."
Goodman's courage and quick thinking has seen him hailed a hero on social media.
Bernice King, activist and daughter of civil rights leader, the late Dr. Martin Luther King Jr. tweeted a powerful photo of Goodman and thanked him.
King's tweet was shared by retired professional basketball player Rex Chapman, Charmed star Alyssa Milano and thousands of others.
Associate chairman of the Democratic National Committee, Jamie Harrison also praised Goodman in a viral tweet and said he should be considered for a Congressional Medal of Honor.
"The word hero does not appropriately describe officer Eugene Goodman. His judgment & heroism may have saved our Republic. I hope @SpeakerPelosi @SenSchumer @WhipClyburn consider him for the Congressional Medal of Honor. It is the least we can do."
"Officer Eugene Goodman stopped a mob of white rioters from entering the chambers of the United States Senate," said Christopher J. Hale, former Democratic nominee. "At this perilous moment in our nation's history, he was the one person standing between democracy and the rule of tyrants."
Kirk Acevedo of Band of Brothers fame tweeted: "Hey @JoeBiden This is Eugene Goodman! He risked his own life to protect members of Congress including the Vice President during the storming of the capital building. He deserves the Presidential Medal Of Freedom! Let's make it happen Joe!"
Kasie Hunt of NBC News added: "America salutes you, Officer Goodman. Thank you for everything you saved," while Joy Reid called Goodman a "singular American hero and a "real-life Black Panther."
Author Celeste Ng tweeted: "This is the least important thing about the story, but as a writer and lover of languages I can't help thinking how perfect it is that the heroic officer who distracted the mob in that video is named Eugene Goodman."
The FBI has since released photos of dozens of people they want to speak to in connection with the riots in the U.S. Capitol on Wednesday.
New York Rep. Alexandria Ocasio-Cortez spoke about how close the rioters got to harming lawmakers on January 6.
"We came close to half of the House nearly dying on Wednesday... and if another head of state came in and ordered an attack on the United States Congress, would we say that that should not be prosecuted?" Ocasio-Cortez said on ABC's This Week on Sunday. "It is an act of insurrection, it's an act of hostility, and we must have accountability because without it, it will happen again."