Capitol Police Officer Who Shot Ashli Babbitt During Riot Placed on Administrative Leave
The chief of the United States Capitol Police (USCP), Steven Sund, said that the officer responsible for fatally shooting a woman during Wednesday's riot at the Capitol has been placed on administrative leave.
In a statement Thursday, the police chief noted the officer's policing powers have been suspended.
"The USCP had a robust plan established to address anticipated First Amendment activities. But make no mistake–these mass riots were not First Amendment activities; they were criminal riotous behavior," said Sund.
"The actions of the USCP officers were heroic given the situation they faced, and I continue to have tremendous respect in the professionalism and dedication of the women and men of the United States Capitol Police," he added.
The victim was identified as Ashli Babbitt, one of four people who died in connection with the violent rioting at the Capitol on Wednesday. A 14-year Air Force veteran and resident of Ocean Beach in San Diego, Babbitt, 35, was shot by a Capitol police officer.
Babbitt was reportedly climbing through a broken window near the Speaker's Lobby at the Capitol building when a gunshot was fired and she fell to the ground.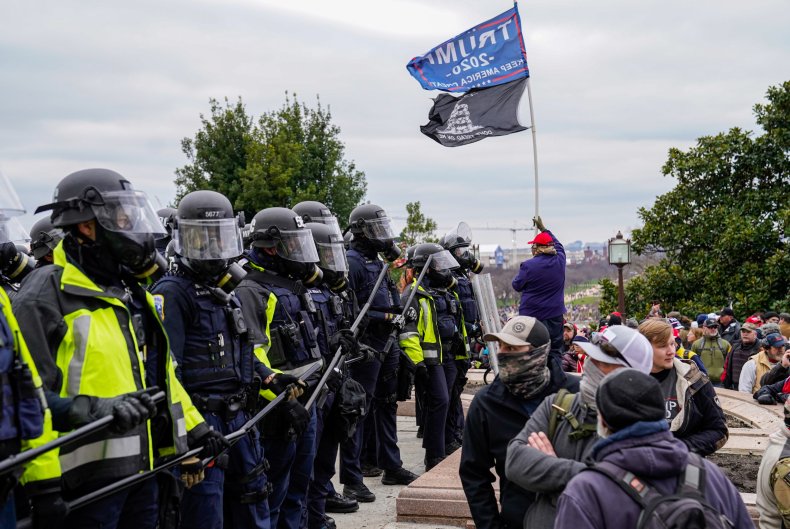 Representative Markwayne Mullin of Oklahoma said he witnessed the USCP officer shoot Babbitt as angry Trump supporters stormed the Capitol building.
"They were trying to come through the front door, which is where I was at in the chamber, and in the back they were trying to come through the speaker's lobby, and that's problematic when you're trying to defend two fronts," Mullin told host George Stephanopoulos in a Thursday interview on ABC News' Good Morning America.
"When they broke the glass in the back, the [police] lieutenant that was there, him and I already had multiple conversations prior to this, and he didn't have a choice at the time," Mullin added. "The mob was going to come through the door, there was a lot of members and staff that were in danger at the time."
Robert Contee, the chief of the Washington D.C. Metropolitan Police Department, said in a statement that Babbitt was pronounced deceased after "all life-saving efforts failed."
Three other people amid the rioting–one woman and two men–had "separate medical emergencies which resulted in their deaths," said Contee.
More than 52 arrests have been made in connection to the Capitol riot. Of those arrests, 47 were violations of the citywide curfew enacted by Washington D.C. Mayor Muriel Bowser.
Newsweek reached out to the Capitol police, but didn't hear back in time for publication.