Accused Capitol Rioter Guy Reffitt's Son to Testify He Knew Violent Plans
As the first Capitol riot trial is underway in Washington D.C., Wednesday, prosecutors plan to bring alleged rioter Guy Reffitt's son to the stand to help build the argument that what happened on January 6, 2021, wasn't spontaneous, but a planned act of violence.
Reffitt is accused of being a leader of the attack on the Capitol and charging at police while carrying a firearm. Prosecutors alleged he specifically drove from Texas to Washington, D.C., instead of flying so he could bring his firearm. The defendant has also been accused of warning his family that they would become "traitors" if they turned him in to authorities, adding that "traitors get shot."
According to prosecutors, Reffitt's teenage son sent a tip to the FBI about his father's alleged involvement in the Capitol riot and will testify during the trial. As a witness for the prosecution, Reffitt's son will describe that his father "angrily talked about how [Senate Minority Leader] Mitch McConnell and [Speaker of the House] Nancy Pelosi had ruined everything," according to CBS News' Scott MacFarlane.
"The defendant told his son about the defendant's plan to commit acts of violence here in D.C.," prosecutors reportedly told jurors on Wednesday, per MacFarlane.
Reffitt is accused of leading a group of rioters up the Capitol steps, confronting law enforcement, and forcing officers to retreat closer to the building before they were overwhelmed. In a covertly-recorded conversation, Reffitt reportedly admitted that he didn't make it inside the building but "started the fire," and said that he had the adrenaline to not "let my country fall."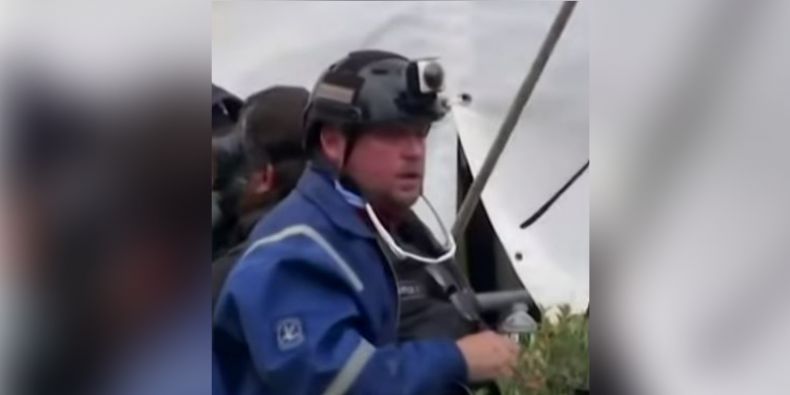 When he returned to Texas, Reffitt predicted more violence was coming, according to court documents obtained by Newsweek, and bragged about his involvement in the riot. He told family members that the Capitol attack was only the "preface of the book" and acknowledged that he could go to jail for his actions.
"That was a historic day. There'll be days your whole life when you'll know that your father was there when an epic historical thing happened in this country. And guess what? I'm not done yet. I got a lot more to do. That's the beginning," Reffitt told his family, according to court records.
Reffitt could face decades in prison based on the charges if found guilty. While the defendant initially acknowledged the possibility of jail time, prosecutors alleged on Wednesday that his mood "abruptly changed" when the consequences became clear. He called for people in his group to "purge" all conversations."
Reffitt's attorney, William Melch, argued on Wednesday that his client uses a "lot of hyperbole," as reported by MacFarlane, and acknowledged that it "upsets a lot of people."
Melch's opening argument lasted just two minutes, significantly less than the prosecutor's 30-minute speech.
Along with Reffitt's son, prosecutors plan to bring a member of the Three Percenters, a militia movement Reffitt is allegedly a part of, to the stand to testify against him.
Reffitt is likely to be the first person sentenced in the Capitol riot case after standing trial. While many defendants who took plea deals have gotten off with only minor punishments, experts believe the situation could be different for others who choose to go to trial.