A Texas man who stormed the U.S. Capitol on January 6 and assaulted police officers with pepper spray and what appeared to be a whip was arrested Friday after he boasted about the day's events to a match on the dating app Bumble.
According to a criminal complaint filed Wednesday, the FBI was first notified that Andrew Taake, of Houston, was present during the Capitol attack after an anonymous Bumble match shared screenshots of their conversation in January.
During the conversation, the unnamed Bumble user asked Taake whether he was "near all the action," on January 6, to which he responded by saying that he had been there "from the very beginning."
Taake also said that he was pepper sprayed by police and claimed to have spent at least 30 minutes inside the Capitol building. He told the Bumble match that he was "peacefully standing there" and "was the very first person to be sprayed that day."
Within days of their exchange, the unnamed Bumble user notified the FBI that Taake had participated in the riot by sending screenshots of their conversation and his location on January 6.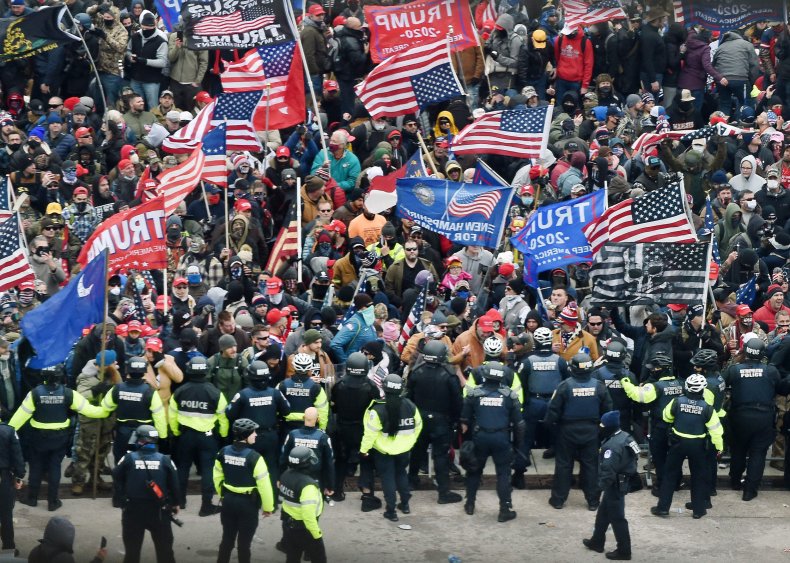 Following that tip, the FBI reviewed Taake's flight records and found that he had traveled from Houston to Washington on January 5. The FBI then located publicly posted videos and images showing Taake using pepper spray against police and later striking officers with what looked like a metal whip, according to court filings.
Taake was arrested in Texas on Friday and has been charged with several federal crimes, including felony assault on a police officer, civil disorder and obstruction of congressional proceedings. He has not yet entered a plea.
Taake is now the second Capitol rioter to be identified by the police via Bumble. In April, a New York man was arrested and charged after he bragged to a match that he "did storm the capitol" and "made it all the way into Statuary Hall."
Taake is the ninth person from Houston to be arrested in connection to the Capitol riot, according to Houston Public Media. Five people were killed in the aftermath of Trump supporters storming the Capitol in an attempt to stop the election certification of President Joe Biden.
The FBI has so far arrested more than 535 people in connection to the riot. However, the agency said it has yet to identify more than 300 individuals who are believed to have committed violent acts on the Capitol grounds, including over 200 who assaulted police officers.