Rioter Robert Chapman Arrested After Bragging to Bumble Match 'I Did Storm the Capitol'
A man was charged over his alleged role in January's deadly U.S. Capitol riots after boasting about participating in the siege on dating app Bumble, according to court documents filed on Thursday.
Robert Chapman from Carmel, New York was arrested on Thursday and charged with knowingly entering or remaining on restricted government property without lawful authority, as well as violent entry and disorderly conduct on Capitol grounds. Court documents stated Chapman was released on bail conditions, with a preliminary hearing scheduled for May 19.
Chapman was discovered after a person he matched with on Bumble flagged him to the FBI around a week after the insurrection. In a screenshot provided by the Bumble match, Chapman said he "did storm the capitol" and "made it all the way into Statuary Hall," before naming reporters and news outlets he had allegedly spoken to.
The person responded "We are not a match," to which Chapman answered: "I suppose not."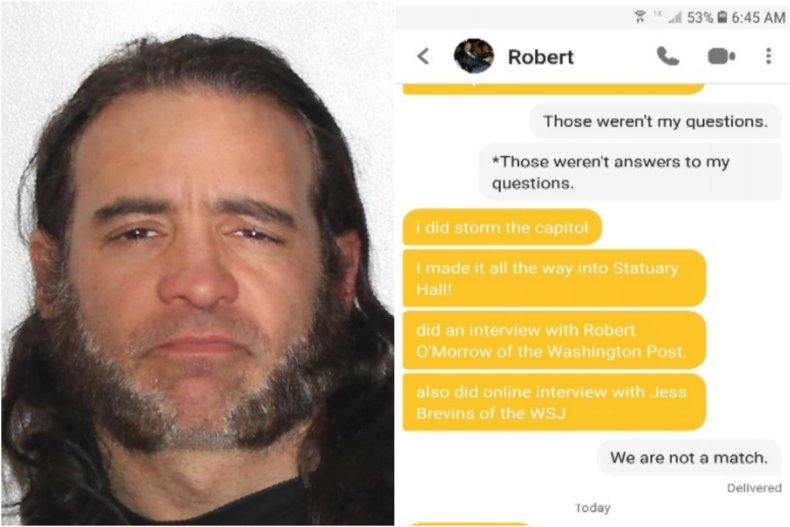 The Bumble match also informed the FBI of a Facebook post published a day after the attack. A user shared an image depicting Chapman inside the Capitol with the caption: "My Dear friend and BroStar Robert made it in the Capitol building at the protest yesterday... Wooo Hooooooooo!!!!"
Seemingly hitting back at critical reactions on the post, a Facebook user named "Robert Erick"—whom authorities believe to be Chapman—left a comment asking the poster: "these are your peers? colleagues? they are a bunch of little b**** trolls. keyboard warriors who don't do a f***in thing."
In a screenshot of the "Robert Erick" profile taken by the FBI, Chapman posted status updates such as "I'M F***IN INSIDE THE CRAPITOL!!!"
Another post read: "Gettin out Of New York S***ty, the rotten apple. Gonna go down to the District of Criminality to Enjoy some much deserved Entertainment!"
The account also displayed photos of Chapman posing inside the Capitol's Statuary Hall and Rotunda.
Law enforcement confirmed Chapman's identity by reviewing materials such as footage from the siege, video surveillance, a mugshot from an arrest in 2017 over undisclosed charges and a DMV photograph.
Newsweek has contacted Chapman's attorney for comment.
Chapman is among the latest in hundreds of people charged after a mob of former President Donald Trump's supporters breached the Capitol as lawmakers debated over certifying President Joe Biden's Electoral College win. The attack, which was waged over Trump's baseless election fraud claims, left five dead.
In the aftermath of the insurrection, many suspected rioters found themselves incriminated by their behavior on social media. Michael Timbrook from Tennessee was arrested by the FBI on Tuesday after posting on Facebook saying he feels "no remorse or guilt" over his participation in the attack.
A man named Paul Russell Johnson faces charges for allegedly causing a police officer to fall, hit their head and subsequently lose consciousness. Johnson had reportedly appeared in a YouTube video in which he spoke about "fighting cops" and "slinging one around."