Christian 'Prophet' Johnny Enlow Claims Trump 'Anointed' by God to Take Down Billionaires Who 'Really Control' World
Christian pastor Johnny Enlow, who has described himself as a "prophet," claimed this week that former President Donald Trump was "anointed" by God and is working with angels to take down several billionaires who he claimed "really control" the world.
The Christian pastor and his wife Elizabeth lead the Restore 7 ministry based in Tennessee. Enlow has repeatedly pushed baseless conspiracy theories that the 2020 election was "stolen" or "rigged" by Democrats and President Joe Biden, as has Trump.
In a Monday interview with The Elijah List program online, Enlow suggested that Trump is now better positioned to take on billionaires Bill Gates, George Soros and the Rothschild family.
"While people are looking at who's in Biden's seat, you know the traditional presidential seat—well how can you say Trump's doing something when he's not there? Believe me, that is not the power position, particularly the way it is right now in the nation," Enlow argued.
The pastor's remarks were first reported by Right Wing Watch on Thursday.
"President Trump is on assignment and he's anointed by God and the archangels are working with him," Enlow claimed.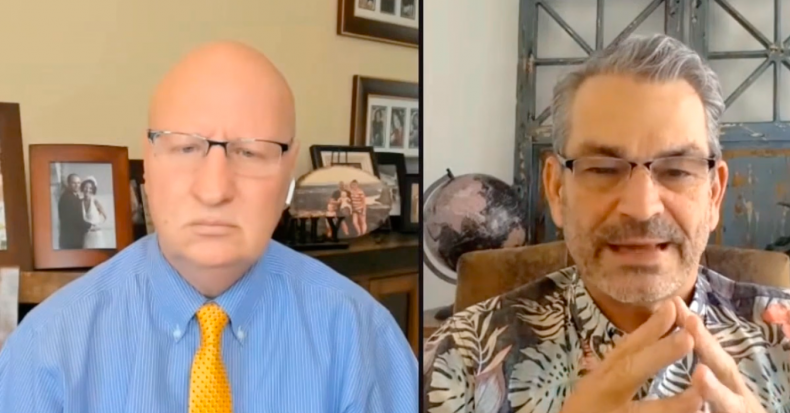 He said that "what they are going after and what is being contended for—and it's just about done—is the seats that we're talking about, like the Soros and the Gates and the Rothschilds, those seats that really control and effect world dynamics. Those things are being taken care of behind the scenes, and it would have been harder for President Trump to do so staying seated in the other seat."
Earlier this month, Enlow told The Elijah List's viewers that "we are going to respect and honor President Trump a whole lot more in Heaven once we understood the courage and bravery of what he's had to do and put up with." He said that the former president was "put there by God."
Conspiracy theories about the Rothschild family and Soros controlling the world have long been condemned as anti-Semitic. The Rothschilds are a wealthy Jewish family who operated banking and financial services throughout Europe from the 18th to 20th century. Many of their operations were shut down in Europe during World War II as the deeply anti-Semitic Nazis of Germany conquered much of Europe. Soros, who is Jewish as well, continues to face significant opposition from far-right politicians in Europe and the U.S. due to his financial support for liberal causes and democratic reforms.
Gates has faced backlash within conservative circles due to his involvement with the global response to the COVID-19 pandemic and his efforts to get people around the world vaccinated. Many baseless conspiracy theories have circulated about the former Microsoft co-founder, including that he is attempting to plant microchips in people through COVID-19 vaccines. There is no truth to these bizarre claims.
Many prominent Christian pastors and self-described prophets continue to push groundless conspiracies about the 2020 election. Conservative Christians, and particularly white evangelicals, have long been a key base of support for Trump and Republicans. Exit polls in 2016 and in 2020 showed that about 80 percent of white evangelical Christians voted for Trump.
Dozens of 2020 election lawsuits filed by Trump and his loyalist supporters have failed in state and federal courts. Even judges appointed by Trump and other Republicans rejected the baseless allegation about the election. Furthermore, the Cybersecurity and Infrastructure Security Agency at the Department of Homeland Security said in a mid-November statement that the 2020 election was the "most secure in American history." The agency, which was led by a Trump appointee, asserted that "there is no evidence that any voting system deleted or lost votes, changed votes, or was in any way compromised."
Former U.S. Attorney General William Barr, who was widely viewed as one of Trump's most loyal Cabinet members, said in early December that there was "no evidence" of widespread fraud that would change the election's outcome. Multiple audits and ballot recounts in key battleground states, including in states where elections were overseen by Republican officials, reaffirmed Biden's victory. But the former president and many Christian leaders continue to claim that the election results were fraudulent.
Newsweek reached out to Enlow's Restore 7 ministry for comment.