Pastor Johnny Enlow Says People Will Understand Donald Trump's Bravery When They Get to Heaven
Pastor Johnny Enlow, a conservative Christian who has been described by some as a "prophetic leader," said that people will understand and "respect" former President Donald Trump more once they get to Heaven.
Enlow and his wife Elizabeth Enlow are the founders of Restore 7 ministry based in Tennessee. Johnny Enlow appeared on a recent episode of The Elijah List program, discussing Trump and how people view the former president. Right Wing Watch first reported the pastor's remarks.
"The weaker, more imperfect that a vessel is—the more glory God gets from using him to accomplish what he wanted to accomplish. Having said that, we are going to respect and honor President Trump a whole lot more in Heaven once we understood the courage and bravery of what he's had to do and put up with," Enlow said.
The pastor went on to compare Trump to the biblical king of Israel, David, who defeated the Philistine giant warrior Goliath, according to the narrative recorded in the Book of Samuel. "There is that same caliber of steeliness, of resolve and of knowing that he is put there by God that is in President Trump," Enlow said.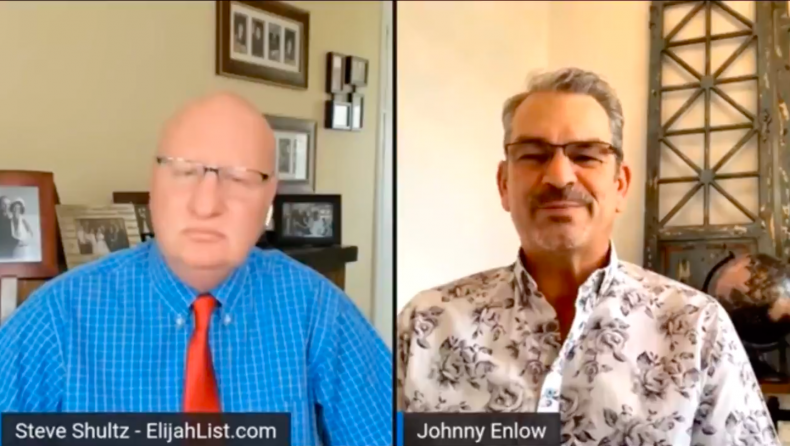 Newsweek reached out to Enlow's Restore 7 ministry for further comment.
American Christians—and particularly white evangelical Christians—have been a key base of support for Trump and Republicans. In 2016 and again in 2020, exit polls showed that approximately eight in 10 white evangelical Christians voted for the former president. Evangelicals have been largely politically animated by their opposition to women's reproductive rights, as well as further legal protections for the LGBTQ community. They see Trump, and other Republicans, as championing their conservative concerns.
A number of self-described evangelical "prophets" and religious leaders have repeatedly praised the former president. Many continue to promote baseless conspiracy theories that Democrats and President Joe Biden "rigged" or "stole" the 2020 election, a claim that has been thoroughly debunked by many Republican leaders, among others. Dozens of election challenges brought by the former president and his supporters have been rejected or dismissed in state and federal courts—including by judges appointed by Trump or other Republicans.
Earlier this spring, Enlow claimed that Trump "won the election in numbers by far," suggesting the truth will be revealed "very soon." The pastor went on to claim that military intelligence had allowed the alleged rigging to proceed as "a sting operation," saying that he had "inside military intelligence information." He said that even the state of California had actually gone for Trump—a claim that defies common sense, considering a Republican presidential candidate has not won in the deep-blue state since 1988. In the 2020 election, Biden carried the western state by nearly 30 percent.