Christian Pastor Claims Biden Surrounded By 'Demonic Hedge of Protection'
Pastor Mario Murillo claimed this week that President Joe Biden is surrounded by a "demonic hedge of protection," urging fellow Christians to pray for a "powerful move of God" to bring it down.
Murillo's remarks came during an interview with the Christian TV program Flash Point. The evangelical Christian minister leads Mario Murillo Ministries, based in Reno, Nevada, and frequently criticizes Biden and the Democrats. He has previously suggested that former President Donald Trump is still the legitimate president, not Biden. Right Wing Watch first reported Murillo's remarks this week.
"War has been declared on your faith," Murillo said during the interview, discussing his staunch opposition to LGBTQ rights, specifically the transgender community. The pastor argued that "this is not a gentle moment, this is not a courteous moment, this is a declaration of war," before taking aim at Biden.
"There is a demonic hedge of protection around Joe Biden. That's why he can say and do the most insane things with no backlash," Murillo said. He then urged viewers to "pray," saying God had changed the way he prayed for America. "He helped me to understand how to pray," the pastor said.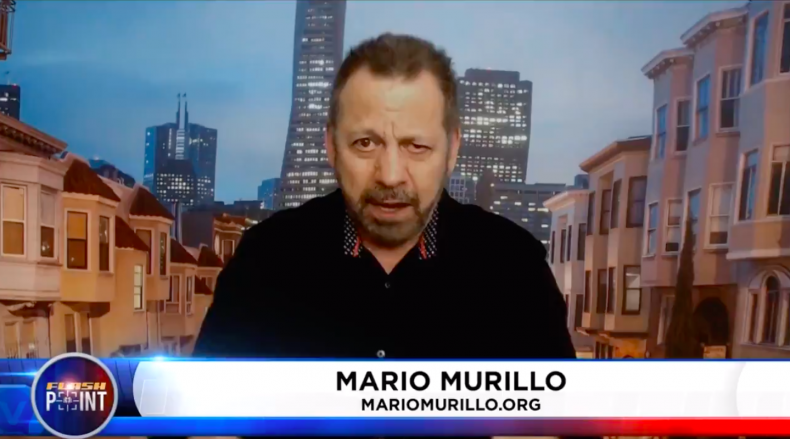 "Tear it down. So that the nation will wake up from this spell and not only understand that they were ripped off from their votes, that they're now going to have their children taken from them, their rights," he continued. "They're gonna have womanhood itself erased. And somehow the scales will fall off the eyes of pastors and a powerful move of God can begin if we will declare that those strongholds of demonic power will come down in the name of Christ."
Murillo made the same claim in a blog post this past Sunday. "The Holy Spirit let me see the demonic hedge of protection around Biden and the leftist agenda. This hedge is what is blinding millions. It is dulling the natural sense of danger and outrage that America should be feeling right now," he wrote.
Christians—and particularly white evangelicals—have long been a key base of support for Trump and Republicans. In 2016 and again in 2020, exit polling showed that about eight in 10 white evangelicals voted for Trump. The conservative religious community has been motivated to vote for right-wing candidates largely because of their opposition to LGBTQ rights and women's reproductive rights. Many Christian pastors have also promoted conspiracy theories and Trump's baseless claims that the 2020 election was "rigged" or "stolen."
However, dozens of election lawsuits filed by the former president and his supporters in state and federal courts have been rejected, including by judges appointed by Trump and other Republicans. Last November, the Cybersecurity and Infrastructure Security Agency at the Department of Homeland Security, which was led by a Trump appointee, asserted that the 2020 election was the "most secure in American history."
The agency also said there was "no evidence that any voting system deleted or lost votes, changed votes, or was in any way compromised."
Multiple recounts and audits in key battleground states confirmed Biden's victory. And former Attorney General William Barr, who was widely viewed as one of Trump's most loyal Cabinet members, said in December that there was "no evidence" of widespread voter fraud that would change the election's outcome.
Newsweek reached out to Mario Murillo Ministries for further comment but did not hear back before publication.