72 Percent of Protestant Pastors View Trans Identity as 'Immoral': Poll
Nearly three-quarters of Protestant Christian pastors in the U.S. view transgender identity as "immoral," according to a new poll. The survey data comes as several conservative states push forward anti-trans legislation and as the Senate takes up the Equality Act, which would ban discrimination against LGBTQ individuals.
The American Civil Liberties Union reported earlier this month that at least two dozen states have introduced bills that would block trans women and girls from taking part in sporting activities aligning with their gender identity. More than a dozen states have also introduced bills that would ban—and in some instances criminalize—gender-affirming medical care for trans minors.
Protestant Christian leaders appear to be largely on board with this effort. New polling by Lifeway Research, the Tennessee-based publishing and distribution division of the conservative Southern Baptist Convention, shows that 72 percent of Protestant pastors believe it is "morally wrong for an individual to identify with a gender different than the sex they were born." Furthermore, 77 percent believe gender-affirming (or sex-reassignment) surgery is "morally wrong."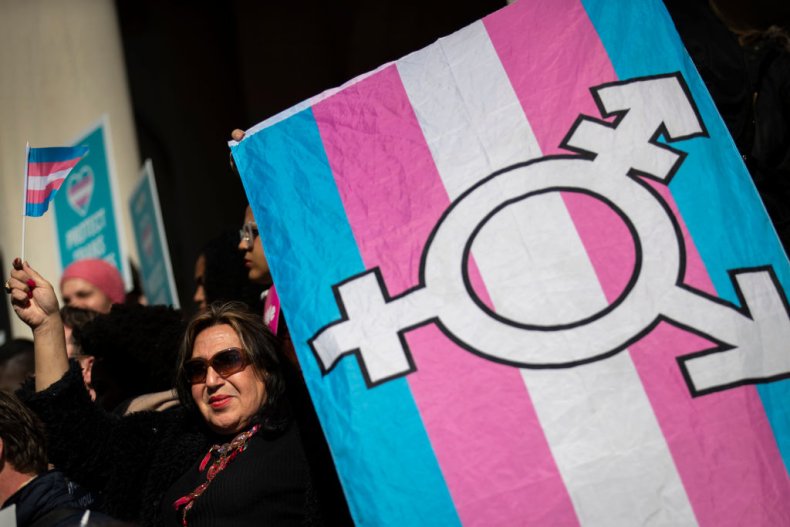 Scott McConnell, executive director of Lifeway Research, said that American society at large "increasingly views morality differently than historic Christianity," in a statement included with the write-up of the survey data.
"When pastors articulate Christian teaching, it often sounds very different from the cultural narrative because it rejects a basis for morality centered on the individual," he said.
McConnell pointed out that Protestant pastors appear to be more likely than their congregations to view trans identity as immoral. A 2016 study by Lifeway Research showed that just 54 percent of evangelical Christians agree that a trans identity is "morally wrong."
A recent Gallup survey, which was published in February, showed that about 0.6 percent of the U.S. population identifies as transgender. That was just slightly lower than the percentage of Americans that identify as lesbians, which was 0.7 percent. Meanwhile, 1.4 percent identify as gay and 3.1 percent identify as bisexual, while another identify as queer, same-gender loving or another identity within the LGBTQ spectrum.
The survey noted an overall increase in Americans identifying as part of the LGBTQ community, making up 5.6 percent of the overall U.S. population today compared to 4.5 percent in 2017.
Many evangelical Christians, particularly white evangelical Protestants, supported former President Donald Trump and conservative Republican politicians largely due to their opposition to the transgender community and abortion. Concerns over LGBTQ rights, as well as opposition to women's reproductive rights, has long animated evangelical protestant voters. About 8 in 10 white evangelicals voted for Trump in 2016 and again in 2020.
Meanwhile, trans individuals have grown increasingly visible in society. A growing number have been elected to state and local offices. President Joe Biden also nominated Dr. Rachel Levine, a transgender woman who served as secretary of the Pennsylvania Department of Health, in February to be his assistant secretary of health. If confirmed, Levine would become the first openly trans individual to hold an office requiring Senate confirmation.