Over 5,000 Christians Condemn Marjorie Taylor Greene for 'Blasphemous' and 'Evil' Rhetoric
More than 5,000 Christians have signed a petition condemning freshman Representative Marjorie Taylor Greene, a Georgia Republican, for recent remarks she made related to the COVID-19 pandemic.
Greene, a staunch supporter of former President Donald Trump, has drawn substantial controversy since her GOP primary campaign until the present. The congresswoman has promoted a number of bizarre and baseless conspiracy theories, and previously voiced her belief in QAnon's groundless claims.
Even many top Republican lawmakers in Congress have condemned her. Senate Minority Leader Mitch McConnell, a Kentucky Republican, said in February that Greene is "not living in reality," describing her beliefs as "a cancer for the Republican Party."
On Tuesday, Faithful America—which describes itself as the largest online community of Christians fighting for social justice—launched a petition condemning Greene's recent comments related to the ongoing pandemic. The Christian organization called her remarks as "blasphemous" and "evil." As of the time of writing, more than 5,400 Christians had signed the petition.
"In a viral tweet and Facebook video, Rep. Marjorie Taylor Greene (R-GA)—known for supporting QAnon conspiracy theories—recklessly told followers that life-saving COVID-19 masks 'should be a choice' and that vaccine passports are 'Biden's mark of the beast,'" Faithful America explained on its website. "Greene's spokesperson has also confirmed that the congresswoman does not plan to receive a vaccine."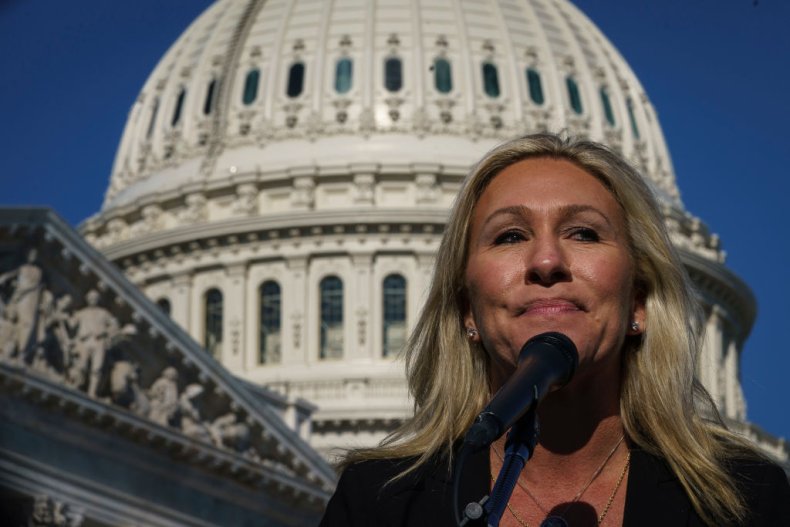 "Let's not mince words: Marjorie Taylor Greene is killing people. Twisting Scripture to interfere with COVID-19 health measures isn't just blasphemous—it's deadly, it's selfish, and it's evil," the organization wrote. "Masks, vaccines, and public-health guidelines save lives. Loving our neighbor by taking this pandemic seriously is no mark of the beast, and grassroots Christians cannot allow Greene's power-hungry, anti-life message to kill our neighbors or represent our faith during Holy Week."
In a comment emailed to Newsweek, Greene said that "Christian organizations shouldn't tell lies and sell hate in order to exhort money out of people. Thankfully, God gives us all free will. Which is another reason that people should have the right to choose whether to wear a mask or get a vaccine and shouldn't have to deal with judgement and hate from others."
"If masks work, wear them. If vaccines work and you want one, get one. I support both and I support the option to choose not to as well. I support freedom. But I do not support bullying and mandates to force others to wear a mask or get the vaccine," the congresswoman said.
Reverend Nathan Empsall, Faithful America's executive director and an Episcopal priest, said in a statement emailed to Newsweek that Christians should follow the example of Jesus.
"As Christians, we follow Jesus Christ, a healer who calls us to love our neighbor and take care of the sick. Science shows us that the way to do that during this pandemic is to mask up, receive the first vaccine we can, and follow all public-health guidance," he said.
"I wish that Rep. Greene's bogus talk of vaccine passports as 'Biden's mark of the beast' could be laughed off, but by twisting Scripture and abusing her public stature, she has managed to deceive far too many Americans into taking her dangerous conspiracy theories seriously. Rep. Greene's words and deeds are getting people killed. That isn't just unchristian and anti-life; it's evil," Empsall added.
In an apparent criticism of Greene, Representative Adam Kinzinger, an Illinois Republican, pushed back against her bizarre claim about the so-called vaccine passports.
"I'm not sure if #VaccinePassport is a good idea or not. Because I don't know the details. But here is what I do know: it's not the 'mark of the beast,' 'communist' or any dumb thing like that. It is however, the newest outrage for CASH MONEY!! Watch it grow," Kinzinger tweeted on Tuesday. The Illinois congressman was one of 10 House Republicans who voted to impeach Trump following the violent insurrection at the Capitol on January 6.
Christians—and particularly white evangelicals—have been a key base of support for Trump and Republicans. In 2016 and 2020, exit polls showed that about 8 in 10 white evangelicals voted for Trump. However, progressive Christians—like those involved with Faithful America—have been working to counter the controversial policies of the former president and other far-right Republican lawmakers.
Updated 3:59 PM ET, with comment from Congresswoman Greene.