What Top Republicans Are Saying About Vaccine Passports
Top Republican leaders have increasingly spoken out against the prospect of vaccine passports. The passports would serve as proof of COVID-19 immunization. Some venues and companies might require such passports before allowing people to crowd into their indoor spaces.
President Joe Biden's administration has provided guidance on vaccine passports for private sector businesses. However, Biden has said that there will not be a federally mandated, universal vaccine credential nor a federal database for storing citizens' vaccination information.
Nevertheless, top Republicans have begun to vocally oppose the passports as evidence of government overreach and inequality amid the ongoing pandemic.
"We are not supporting doing any vaccine passports in the state of Florida," Florida Governor Ron DeSantis said on Monday. He promised to take executive action to squash any attempts to require them in his state.
"It's completely unacceptable for either the government or the private sector to impose upon you the requirement that you show proof of vaccine to just simply be able to participate in normal society," DeSantis added.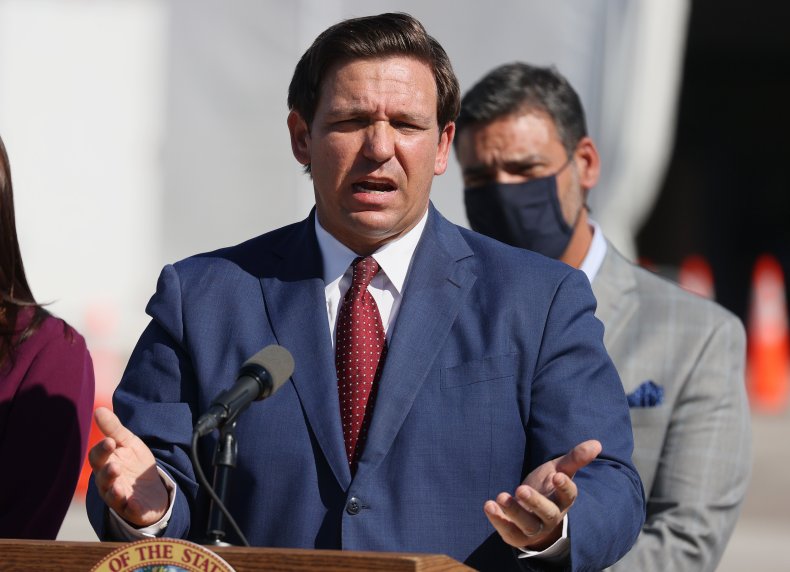 Similarly, Republican Ohio state Representatives Al Cutrona and Mike Loychik have said they will co-sponsor legislation to prohibit entities from requiring proof of a COVID-19 vaccination before allowing people to access an area or establishment.
"A vaccine should not be mandated or required by our government for our people to integrate back to a sense of normalcy," Cutrona said in a Tuesday statement. "We've had restrictions on our freedoms for over a year and more restrictions or mandates are not the answer to every issue related to COVID-19."
Other Republicans have point to the Biden administration's willingness to advise the private sector on passports as a way to blast Democrats over other issues, like voter ID laws, immigration and privacy.
"Considering that Democrats want to require vaccine IDs for people to conduct their basic daily activities, they now have zero grounds to object to voter ID laws," House Minority Whip Steve Scalise told Fox News.
Texas Representative Pete Sessions, wrote in a statement to Fox News, "Vaccine credentials would be a complete government overstep. Individuals in America have a personal responsibility for their health. Implementing a 'vaccine passport' runs the risk of undermining public trust and substantially limiting normal day-to-day essential activities."
Georgia Representative Marjorie Taylor Greene tweeted, "They are actually talking about people's ability to buy and sell linked to the vaccine passport. They might as well call it Biden's Mark of the Beast."
The Mark of the Beast refers to a Biblical prophecy. The prophecy predicts that one day for all citizens will be required to wear an anti-Christian "mark" of some sort in order to buy necessities and participate in modern secular life.
Colorado Representative Lauren Boebert tweeted, "Vaccine passports are meant to control what you can do, where you can go and how much the government can know about your activities. Privacy is a right."
North Carolina Representative Madison Cawthorn tweeted, "America will NEVER become a 'show your papers' society."
Republican Ohio Representative Jim Jordan tweeted, "The Biden Administration: -Considering a 'vaccination passport' for Americans. -But doesn't seem to care about passports when it comes to illegal migrants crossing the southern border."
Kentucky Senator Rand Paul tweeted, "If you think voter ID is racist, but a vaccine passport is just fine, you need some serious help thinking through public policy."
Arizona Representative Paul Gosar tweeted, "Vaccine passports but no voter ID. Lol. Clown country."
Donald Trump Jr., son of the former President Donald Trump, tweeted, "Authoritarian leftists want a Chinese-styled social credit system here in America. Vaccine passports via the Govt or private sector would create a two-tiered caste system. Every elected GOP officeholder worth a damn should publicly oppose this un-American concept immediately!!!"
Many schools and health professions already require students and employees to provide proof of past vaccinations before being allowed entry. As of now, it's unclear whether businesses might require vaccine passports, and whether they would allow unvaccinated people to enter spaces using a face mask.
New York recently launched the nation's first vaccine passport, called the Excelsior Pass. State residents can print out the passport or store it on their smartphones via an app to enter businesses and major entertainment venues.
"As we begin reopening the valves on different sectors of our economy, we are putting guidelines in place to ensure individuals attending events involving larger gatherings have tested negative for COVID or have been vaccinated to avoid an outbreak of the virus," Democratic New York Governor Andrew Cuomo said of the program.