Hundreds of evangelical Christian leaders have condemned the "heresy of Christian nationalism," which they believe has led to political extremism and helped spur the pro-Trump insurrection against the U.S. Capitol on January 6.
White evangelical Christians have been a key base of support for former President Donald Trump since his 2016 presidential campaign, with about eight in 10 voters from the religious demographic voting for Trump in 2016 and again in 2020. During the January 6 attack against the U.S. Capitol by a mob of the president's supporters, many carried Christian banners or symbols as prominent evangelical Christian leaders promoted Trump's false claims that widespread voter fraud led to President Joe Biden's electoral victory ahead of the riot.
Although many evangelical Christians appear to remain largely supportive of the former president, some progressive evangelical leaders are attempting to push back against the radicalization. Pastor Doug Pagitt, the leader of the evangelical progressive group Vote Common Good, organized the open letter signed by over 400 Christian leaders (as of the time of writing) condemning the rise in Christian nationalism.
Pagitt told Newsweek on Wednesday that "just watching the insurrection and how much it was fueled by the religious Christian movement, and the Christian nationalist movement" led him and his organization to launch the open-letter initiative.
"We recognize the damage done by radicalized Christian Nationalism in the world, the church, and in the lives of individuals and communities. We know from experts on radicalization that one of the key elements is a belief that your actions are 'blessed by God' and ordained by your faith. This is what allows so many people who hold to a Christian Nationalism view to be radicalized," the letter says.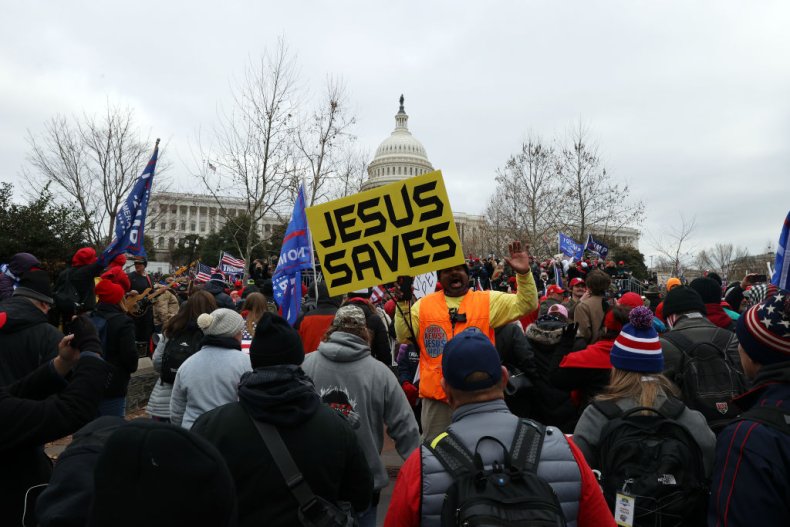 The evangelical leaders drew a comparison to prominent Muslim leaders condemning Islamist extremism.
"Just as many Muslim leaders have felt the need to denounce distorted, violent versions of their faith, we feel the urgent need to denounce this violent mutation of our faith. What we saw manifest itself in the insurrection at the Capitol on January 6, 2021, is a threat to our democracy, but it is also a threat to orthodox Christian faith," they write.
The signatories went on to urge "all pastors, ministers, and priests to boldly make it clear that a commitment to Jesus Christ is incompatible with calls to violence, support of white Christian nationalism, conspiracy theories, and all religious and racial prejudice."
Pagitt told Newsweek that he's optimistic that many evangelical leaders will begin taking a stand against conspiracy theories and Christian nationalism in the wake of the events of January 6. "We're hopeful that this is going to be a rallying cry," he said, touting the positive response the open letter has received thus far. Pagitt said they just want evangelicals to "choose the way of faith, hope and love."
"Most often people don't stop believing something. What we all do is we swap a belief, one for the other," Pagitt said. "And until you give someone another option and show them that the one they're holding is not doing them well, they stay with that belief even if that belief is really harmful to them."
The pastor suggested that many faith leaders have previously remained silent, wanting to stay out of politics. However, Pagitt is hopeful that this will change going forward as many see the dangers of extremism.
Other Christian groups, such as Faithful America, have pushing back against Trump and other right-wing political leaders as well. Faithful America describes itself as the largest online community of Christians fighting for social justice. The activists regularly put out petitions signed by thousands of Christians condemning the actions of right-wing lawmakers and the evangelical leaders that often support them.
But surveys prior to the insurrection showed that the vast majority of white evangelical Christians continued to back Trump, because he championed key conservative causes such as opposing reproductive and LGBTQ rights.
Polling conducted by the Pew Research Center last autumn ahead of the November election showed that 78 percent of white evangelical Protestant Christians planned to vote for Trump while just 17 percent would support Biden. Exit polls showed similar results, with between 76 percent and 81 percent of the religious demographic voting for the former president.