Over 16,000 Christians Demand Cancellation of Josh Hawley's New Book Deal
More than 16,000 Christians have signed a petition demanding the cancellation of GOP Senator Josh Hawley's new book deal in the wake of his objection to President Joe Biden's Electoral College victory and the violent attack on the Capitol by a pro–Donald Trump mob on January 6.
Faithful America, which describes itself as the largest online community of Christians advocating for social justice, first launched the petition last week. As of early Monday afternoon, the petition had been signed by more than 16,580 people.
Although publisher Simon & Schuster nixed its plan to publish Hawley's book, Regnery Publishing—which is owned by Salem Media Group—now plans to publish it. The petition also referenced Christian author and radio host Eric Metaxas, whom Regnery will publish as well.
"Senator Josh Hawley and Eric Metaxas both played a significant role in spreading lies about the 2020 election results," the petition says. "There is a direct line between their incendiary language and the deadly insurrection and white nationalism we witnessed at the U.S. Capitol on January 6."
The petition adds, "As Christians, we are called by Jesus Christ to speak the truth in love, and to honor the God-given dignity of every voter. Hawley and Metaxas's actions since the election run contrary to the Gospel and should not be given a platform by any Christian organization."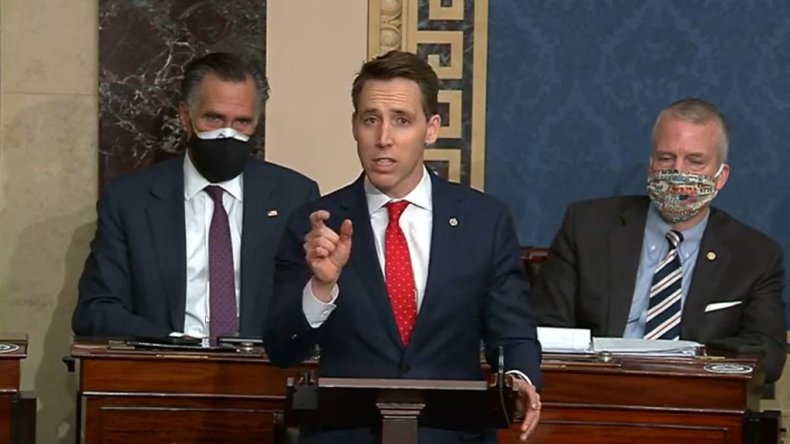 Like Hawley, Metaxas publicly disputed Biden's victory in the November election. He urged his listeners on December 9 to fight to overturn the election results. "We need to fight to the death, to the last drop of blood, because [overturning the election is] worth it," he said.
Hawley has repeatedly complained about being censored or "muzzled" in the wake of his efforts to disenfranchise millions of voters and block Biden's win. Nearly 150 fellow GOP lawmakers joined the Missouri Republican in his attempt to stop the congressional certification of Biden's electoral victory. But Hawley has received some of the harshest backlash, along with GOP Senator Ted Cruz of Texas, as the face of objecting Republicans.
"Josh Hawley can speak from the Senate floor anytime he wants, a major platform only 99 other Americans share," the Reverend Nathan Empsall, Faithful America's campaigns director, told Newsweek in a Monday email.
Empsall added, "The fact that his claim of being muzzled has been heard by millions via Facebook, Twitter and dozens of media outlets really does speak for itself. It's a misleading political stunt meant to distract us from his dishonest attack on the ballots of Black and brown voters and the resulting insurrection."
A growing number of businesses and corporations have announced that they are canceling or suspending all campaign contributions to Hawley and other Republican lawmakers that objected to the certification of Biden's win. The Kansas City Star, one of Missouri's most prominent publications, has blamed Hawley directly for the violence that ensued in the U.S. Capitol on January 6, arguing that the senator's actions helped incite the mob. A photo of Hawley raising his fist in support of the pro-Trump demonstrators before the attack has been circulated widely in the media and online.
Empsall told Newsweek that he is optimistic that Christian support for Trump and Republicans that back him will dissipate in the wake of the events of January 6.
"It is unfortunate that it took clear terrorism like the failed coup to expose Trump for the abusive despot that he was, but Americans were clearly paying attention. Following the attack, Pew had Trump's approval rating at 29 percent, the lowest of his presidency. Given that most of his remaining supporters were white Christians, there's no other group such a large drop in support could have come from," he said.
Faith leaders from across Missouri have called for Hawley to step down because of his actions.
"We are calling for his resignation," Reverend Dr. Cassandra Gould said at a press conference speaking for the group Missouri Faith Voices last Thursday. "If you are watching this from somewhere else other than Missouri, we ask you to contact your senator and ask them to have him expelled from the Senate immediately. Missouri can't afford this. Black people can't afford this. My grandchildren can't afford this!"
Hawley has dismissed the calls for him to resign or be expelled from the Senate. He has claimed that liberals are lying about his intentions. Meanwhile, the senator is reportedly considering running for president in 2024 and aims to tap into the enthusiasm of conservative voters who continue to support Trump.
Newsweek reached out to press representatives for Hawley and to Metaxas for comment but did not hear back before publication.