GOP Senators Josh Hawley of Missouri and Ted Cruz of Texas, along with other Republicans who objected to President-elect Joe Biden's win in key battleground states last week, are now facing a donation boycott from leading American businesses.
Hawley and Cruz, two prominent Trump loyalists, were joined by six other Republican senators Wednesday evening as they objected to some electoral votes as Congress met to certify Biden's victory over Trump. GOP Senators Tommy Tuberville of Alabama, Cindy Hyde-Smith of Mississippi, Roger Marshall of Kansas and John Kennedy of Louisiana sided with Hawley and Cruz in voting to overturn the results in Arizona—while GOP Senators Cynthia Lummis of Wyoming and Rick Scott of Florida joined Hawley, Cruz, Tuberville, Hyde-Smith and Marshall in attempting to disenfranchise Pennsylvania's voters.
In the House of Representatives, Congressman Mo Brooks of Alabama led nearly 140 Republican lawmakers in voting to reject the two states' results. Republican Senate leaders had strongly discouraged GOP senators from signing onto the House effort. Following the Wednesday attack on the U.S. Capitol by Trump's supporters, several GOP lawmakers who planned to object to the results changed their minds.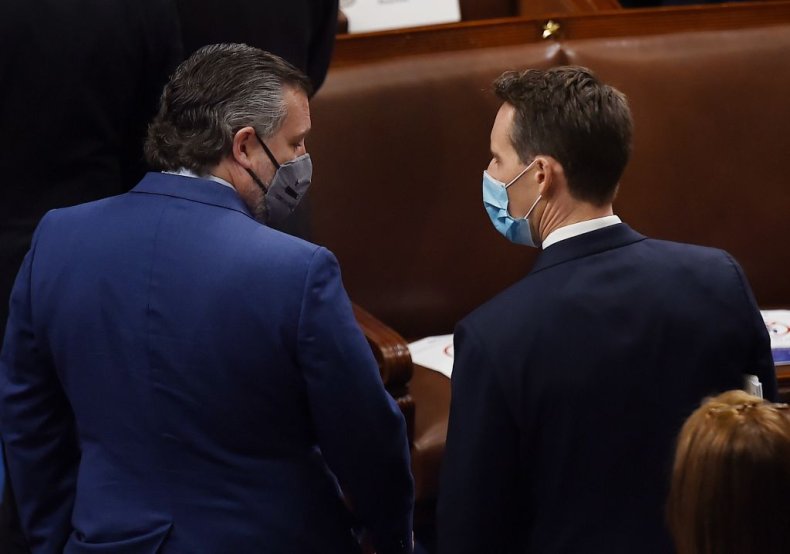 Now, Hawley and Cruz and the other Republican objectors won't be receiving donations from hotel giant Marriott International, health insurance provider Blue Cross Blue Shield and bank holding company Commerce Bancshares, the Popular Information newsletter reported on Sunday. The three companies confirmed to the newsletter that they would no longer contribute to the Republican lawmakers who objected.
Blue Cross Blue Shield's PAC, known as BLUEPAC, said it was suspending support to all Republican lawmakers who attempted "to subvert the results of November's election by challenging Electoral College results."
"At this time, we have suspended all support for officials who have impeded the peaceful transfer of power," Commerce Bancshares told Popular Information.
Separately, Citi's Head of Global Governmental Affairs Candi Wolff sent an internal memo to colleagues announcing that the company would pause political contributions for the quarter, The New York Times' journalist Lauren Hirsch reported Sunday. Wolff noted that the Citi Political Action Committee had contributed $1,000 to Hawley in 2019.
"We want you to be assured that we will not support candidates who do not support the law," she wrote in the memo.
Marriott had contributed $1,000 to Hawley and $1,000 to his leadership PAC during the 2020 cycle. Blue Cross Blue Shield's PAC contributed a combined $12,000 to Hawley, Tuberville and Marshall. Commerce Bancshare had contributed $2,500 to Marshall.
Other prominent companies, including Bank of America, Ford Motor Co. and AT&T said they were considering the events of the last week before they make future political contributions. CVS Health, Exxon Mobil, FedEx and Target said they are reviewing their political donations as well.
Newsweek reached out to press representatives for Hawley and Cruz for comment, but they did not immediately respond.
Representative Marjorie Taylor Greene, a newly-elected Georgia Republican who objected last week and previously expressed her belief in the bizarre and unfounded QAnon conspiracy theory, dismissed the corporations' decisions.
"That's fine. I'll be very happy with $5 dollar donations from 75 million Americans who donated to President Trump," Taylor Greene wrote on Twitter. "I work for the people, not the communists."
The Republicans objecting to Biden's win cited concerns about widespread voter fraud. But those were baseless claims pushed and promoted by Trump and his supporters. The allegations have been thoroughly litigated, with more than 50 lawsuits brought by the president and his supporters failing in state and local court.
Even some judges appointed by Trump and other Republicans pointed out in their rulings that attorneys did not provide evidence to support their often bizarre claims. Former Attorney General William Barr, who resigned in late December, said before leaving office that there was "no evidence" of voter fraud that would change the election's outcome.
But Trump and his loyalists continue to push unfounded conspiracy theories about the election. This led to a mob of the president's supporters storming the nation's Capitol on Wednesday, leaving five dead. Prior to the assault, which prominent Republican lawmakers have described as an "insurrection," Trump urged supporters at a Washington, D.C. rally to march to the Capitol, telling them they needed to "fight harder" to overturn the election results.