Former New Jersey Governor Chris Christie, a Republican, said Sunday that he would vote to impeach and remove President Donald Trump from office if he served in Congress, after the president incited an insurrection to attack the U.S. Capitol last week.
A mob of pro-Trump rioters stormed the Capitol on Wednesday as Congress met to certify President-elect Joe Biden's election victory. During a Washington, D.C. rally near the Capitol ahead of the assault, Trump urged his supporters to march to the legislative building and "fight much harder" to overturn the election results. The president has constantly pushed baseless claims that the election was stolen through widespread voter fraud.
"Look at what happened. What we had was an incitement to riot at the United States Capitol," Christie—a longtime Trump supporter who helped the president prepare for a September debate against Biden—said during an interview with ABC News' This Week. "We had people killed and to me, there's not a whole lot of question here," he added
On whether he thought the president's actions amounted to an impeachable offense, Christie quickly responded: "Oh sure, yeah." The Republican politician was then asked if he'd vote to impeach the president if he was in Congress.
"If I think it's an impeachable offense that's exactly what I would do," Christie responded. "But I'm not in there. If you want my opinion, that's my opinion. I don't know—I think if inciting insurrection isn't [impeachable], then I don't really know what is," the former New Jersey governor pointed out.
Christie said he's heard from fellow Republicans that "they've had enough" of Trump. He said that many GOPers believe that the president's "conduct" following the Capitol violence "has gotten them upset" as well.
Although no Republican lawmakers have publicly said they would back impeachment, several prominent GOP lawmakers have called on Trump to resign while others have said the 25th Amendment of the Constitution should be invoked to remove the president from office.
Meanwhile, Democrats in the House of Representatives are pushing forward with Articles of Impeachment. Democratic House Majority Whip James Clyburn of South Carolina told Fox News Sunday that the House would hold a vote on impeachment this week, but may hold the articles until Democrats officially take control of the Senate later this month.
"If we are the people's House, let's do the people's work and vote to impeach this president," Clyburn said, "and then we'll decide later—or the Senate will decide later — what to do with that impeachment."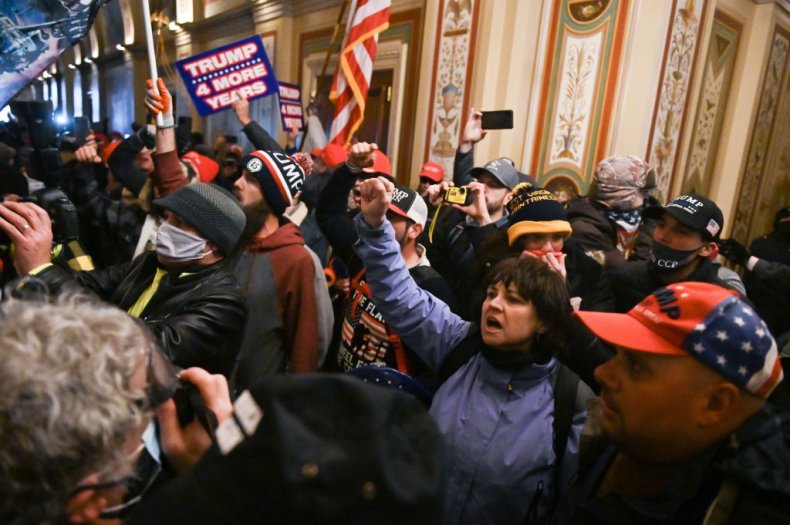 It appears increasingly unlikely that the impeachment process would be successful in removing Trump from office prior to January 20, when Biden will be inaugurated. However, if the Senate votes to convict the president, it can also then hold a second vote to bar him from ever seeking elected office again. But a vote to convict requires a two-thirds Senate majority. Although Democrats will very narrowly control the Senate after Senators-elect Raphael Warnock and Jon Ossoff are sworn in this month, they would need at least 17 Republicans to join them in the removal vote.
GOP Senators Lisa Murkowski of Alaska and Pat Toomey of Pennsylvania have called on Trump to resign, and Toomey said the president's conduct was "impeachable." Senator Ben Sasse, a Nebraska Republican, said he'd "consider" Articles of Impeachment brought by the House.
Newsweek reached out to the White House for comment, but did not immediately receive a response.