'You Did It': Fox News' Jeanine Pirro Blasts Pro-Trump Capitol Rioters, Says Don't Blame Antifa
Fox News host Jeanine Pirro didn't mince words in calling out pro-Trump rioters who stormed the U.S. Capitol last week, condemning those who have baselessly claimed that antifa was responsible for the violence.
A mob of hundreds of President Donald Trump's supporters attacked the Capitol on Wednesday as Congress met to certify President-elect Joe Biden's victory in the election. They carried out the assault—which left five dead—after the president told them at a Washington, D.C. rally to march to the legislative building and "fight" for him, while his personal lawyer Rudy Giuliani said he wanted "trial by combat" to overturn the election results.
The FBI asserted on Friday that there is "no indication" left-wing activists identifying as antifa were involved in the violence. But many of the president's supporters—including members of Congress such as GOP Representative Matt Gaetz of Florida—have falsely claimed that antifa infiltrated the pro-Trump demonstration to incite the crowd.
"I want to be clear. The actions at the United States Capitol three days ago were deplorable, reprehensible, outright criminal," Pirro, who regularly defends the president, said during her Saturday evening program. "These frightening and repulsive actions represent the most significant breach on our Capitol in over 200 years. And I don't care what happened in the past and or whether those who did it think the election was stolen. That is not justification."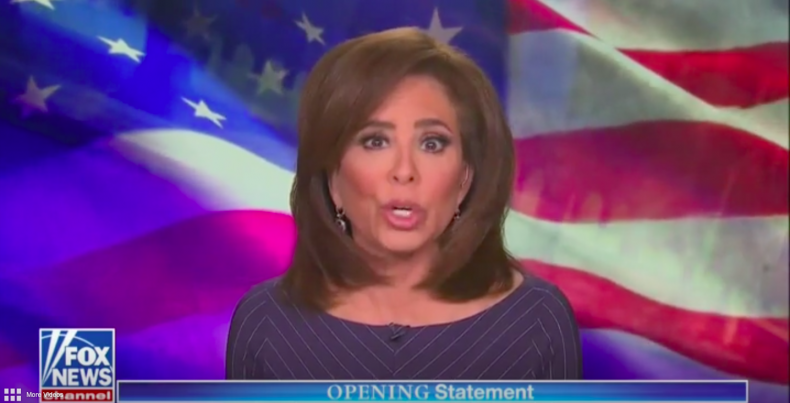 Pirro went on to call out claims that antifa was involved. "Stop looking for other people to blame, including those dirt-bag terrorists antifa. To those of you who did this, you did it, of your own will, and you will be held accountable. Take the veil of politics off," she said.
"Be totally objective, anyone watching this must condemn it," she said, going on to describe the pro-Trump rioters as a "bunch of freaks."
On Thursday, Gaetz cited an inaccurate report from The Washington Times during a House floor speech, claiming that "some of the people who breached the Capitol today were not Trump supporters. They were masquerading as Trump supporters and in fact, were members of the violent terrorist group antifa."
Other Republican colleagues have made similar unfounded claims on social media and in public remarks. The Washington Times has since retracted the report. Newsweek reached out to press representatives for Gaetz and the White House for comment, but they did not immediately respond.
Some prominent Republican lawmakers have been highly critical of Gaetz and the president in the wake of the assault on the Capitol. Representative Adam Kinzinger, an Illinois Republican, called out Gaetz and others pushing the false narrative that antifa was involved.
"This is the gasps of desperation as their gravy train de-rails, their fame subsides, and the Americans awake to the grift," Kinzinger posted to Twitter on Thursday.
Although Trump released a video amid the violence on Wednesday telling his supporters that he loved them and that they were "very special," he has since publicly condemned the attack and said those involved will be prosecuted. But a growing number of lawmakers, including prominent Republicans in the House and Senate, want the president to leave or be removed from office prior to Biden's inauguration on January 20, due to his incitement of the mob.
"I want him to resign. I want him out. He has caused enough damage," Senator Lisa Murkowski, an Alaska Republican, told the Anchorage Daily News on Friday.